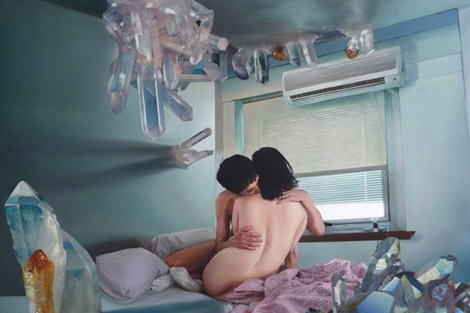 Painting by Diego Gravinese
Rush Hour are billing Decoded Messages Of Life & Love, the fourth release by B.D.I., as an "industrial" record. While there is a metallic, mechanical undercurrent at play here, it's probably wise to remember that this is Rush Hour we're talking about, an eclectic label that's pretty much united by its love for wriggling, robustly funky compositions. And B.D.I.'s last release, 2009's City & Industry, was full of them. These are essentially disco-house tracks with an industrial twist.
Audio clip: Adobe Flash Player (version 9 or above) is required to play this audio clip. Download the latest version here. You also need to have JavaScript enabled in your browser.
The title track is the more accessible cut here, immediately launching into a bouncy, conga-infused rhythm undercut by strained, gritty tones. There's little in the way of melody for its nine-plus minutes, but B.D.I. manages to maintain listener interest by keeping the drums in constant flux. There should be little doubt as to whether this will work on a dance floor — if there's one image it conjures up, it's moving in sweaty delirium in the midst of a crowd. "New Robotics #17" takes a quirkier tack with its angular rhythm. Like the flip, though, the track largely replaces melody with a whirring, dissonant backdrop. It's slightly reminiscent of the more experimental Theo Parrish tracks that appear every now and then — potentially either a devastating DJ tool or a total floor-clearer. Either way, the challenge of that industrial tendency lends Decoded Messages Of Life & Love a considerable edge.