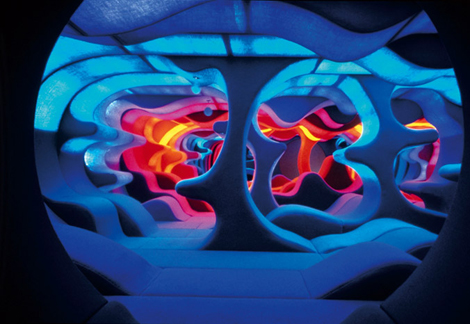 Last year was a big one for Benjamin Brunn. In April, via a new label of the same name, the German released the sprawling Colour Tracks. Featuring 19 cuts variously labeled "House," "Techno," "Acid," etc., the LP is all about concept. In fact, some touted it as a comprehensive history lesson; an absurd stance considering both the size of the electronic constellation and the obvious absence of things like drum and bass, dubstep, or trance on the 4×12″ release. Nevertheless, it remains an impressive and fascinating piece of work. Each slab of vinyl is made up of colored rings, differing hues designating particular genres, and the width of each ring showing track duration. (No more straining your eyes while searching for that pesky cue point in the dark.) A Sun Life, Brunn's second album of 2012, takes a much looser and simpler approach to concept — if it even has one, that is. I'd guess it has something to do with enjoying summer with friends. This is music for outdoors, not claustrophobic clubs. Maybe it's just the cheerful atmospheres, but it also seems like some sort of therapeutic exercise for Brunn after the boundaries Colour Tracks undoubtedly imposed.
Audio clip: Adobe Flash Player (version 9 or above) is required to play this audio clip. Download the latest version here. You also need to have JavaScript enabled in your browser.
The striking thing about the album is how simple many of the tracks seem. The first, "A Sun Life," is little more than a hearty beat overlaid with long, bright, and squiggly chords that lasts for 11 minutes. Every time I get to the end of it, I wonder how the basic arrangement didn't start to bore. In the album's upbeat first half, this is a common feeling. "U Teach Us" pairs more squiggly chords — this time a tad shorter — with bouncy Chicago-style bass, using only filters to keep things moving, yet without seeming short on ideas. In "Wheels Without Brakes," gritty, fluid synths form a racing undercurrent, while a heavily de-tuned organ chimes clumsily on top. This use of dissonance, and the contrast it creates, is superb. It's this type of counter-intuitive combination that repeatedly allows Brunn to keep things simple without falling into a generic sound.
Somewhere near the long-player's middle, a short, intricate sketch titled "Hart to Hart" seems a conscious way point; a transition from upbeat to more meandering tunes. As we've seen in the past, Brunn does both well. "Pankow Memories" — named after a suburb of Berlin — is a wonderful tease where honey-sweet melodies — or perhaps memories — are submerged in a fog of nostalgia and hard to fully grasp of as they percolate. The beatless "ISS" is just Brunn jamming on a synth, but its waves of gaseous, murky chords are in some ways lovelier than more lucid and/or saccharine equivalents. Then there's the erratic "Nash"; with its unpredictable trajectories, it recalls a runaway balloon zooming around the room. Again: counter-intuitive, but good.
Audio clip: Adobe Flash Player (version 9 or above) is required to play this audio clip. Download the latest version here. You also need to have JavaScript enabled in your browser.
While all these cuts may prove strong in isolation, when viewed as a whole things are less rosy. "Sun" and "Wheels Without Brakes" sound like different versions of the same track, for instance, and they're not the only related pair. And even when melodies are markedly different, the lack of percussive variation can impart a samey feel. The first 10 seconds of "Papanin" and "U Teach Us" illustrate this idea. That's not to say that A Sun Life sounds like 53 minutes of the same thing. On the contrary, it's a distinctive album made up of varying ideas, timbres, and arrangements, all of them interesting in their own right. And yet, it seems like it could have done with just a little more variation.