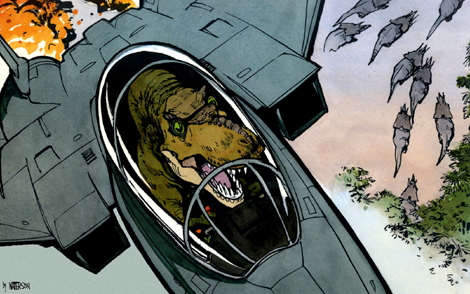 Illustration by Bill Watterson
Moving from the rainbow IDM of his first releases on Planet Mu, it might appear Brooklyn's FaltyDL is beginning to assimilate himself into more classifiable territory, releasing a 2-step garage EP in the form of Phreqaflex and now moving towards something the label calls house with Endeavour. Credit it to Drew Lustman's restless creativity, but these are no mere house tracks. Indeed, there's an interplay between Chicago and NYC here, as these tracks share a skewed shuffle with old-school Brooklyn hip-hop. The title track even adds in a bit of Detroit, as surges of warm and gooey synth nearly overwhelm the crisp drums in a syrupy blanket of soothing frequencies.
Audio clip: Adobe Flash Player (version 9 or above) is required to play this audio clip. Download the latest version here. You also need to have JavaScript enabled in your browser.
True to the hip-hop influence, "Filthy Divinity" practically walks on air, irresistibly smooth drums and malleable, handcrafted bass lines unfolding in gloriously organic fashion. The spring in Lustman's step brings a lovely warmth and humanity to his sometimes cold beats; even the snippets of speech in "Divinity" aren't too detached from their speakers, riding the groove like expert singers. The last track does much to pair this new style with FaltyDL's previous work, the agitated step and old-school-Aphex synths dancing around those same wonderful drums and jazzy horns. It's a triumph for an already-triumphant producer, transporting his computer lullabies to the age of Amiga without ever descending into gimmickry. I've said previously that "it's starting to look like FaltyDL can do anything;" Endeavour seems to confirm that he can indeed do anything, and he's yet to slip up in his short but impressive career.