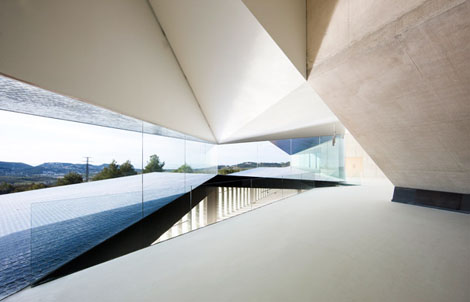 Photo of Francisco Mangado's Auditorium Moraira Teulada by Juan Rodríguez
The prospect of 100% Silk's signing of Fort Romeau was more than a little irksome at first glance. The Los Angeles label spent the better part of a year priding itself on releasing deliberately unpolished dance experiments, and while some were more successful than others, the aesthetic remained intact. So when Amanda Brown promised a mini-LP by Mike Norris, best known as the keyboardist for pop singer La Roux, it seemed like an inevitable misstep. How could Kingdoms be anything more than a vapid one-off, the imprint presumably chosen for its hype alone? What could he possibly know about grit?
Audio clip: Adobe Flash Player (version 9 or above) is required to play this audio clip. Download the latest version here. You also need to have JavaScript enabled in your browser.
A bit, as it turns out. 100% Silk is known for hosting the dance projects of noise and experimental musicians, so Fort Romeau's pop background essentially shows him approaching "homemade house" from the opposite trajectory. His tracks are plenty dusted, but instead of the dirty hiss of overheating machines and un-vacuumed rooms, think stardust, or lavender nighttime clouds from light pollution. The label has been criticized for releasing material that isn't fully realized; Kingdoms, far and away its most opulent release to date, dashes those criticisms.
Audio clip: Adobe Flash Player (version 9 or above) is required to play this audio clip. Download the latest version here. You also need to have JavaScript enabled in your browser.
Norris has acknowledged Air's Premiers Symptômes and other "thick, absorbing" music as early influences, and he filters that record's style of textured midnight sensuality through a house lens. Atmosphere is paramount here. As with so many modern dance records, there are Chicago jack-track tributes ("Jack Rollin'"), streamlined rollers with flipped R&B vocals ("I Need U"; "Say Something"), and even a little Berghain-style pummel (the end of "One Night"), but they're given gauzy twists by Norris' synth cushion and immaculate attention to detail. The refrain on "I Need U," for example, sounds impassioned because it sits on top of nervously flitting snaps and rimshots and a fine layer of mauve gas, rather than stock builds, drops, and pitch-bends. The pervading ambience on Kingdoms is summed up by the spoken sample on closer, "Theo", which detachedly repeats, "every time I wake up to go out." Its place within the already dusky arrangement is evocative of PM dawns, resembling a grandiose, escapist fantasy of living wholly for the nightlife. It's more than enough to make you forget about his day job.