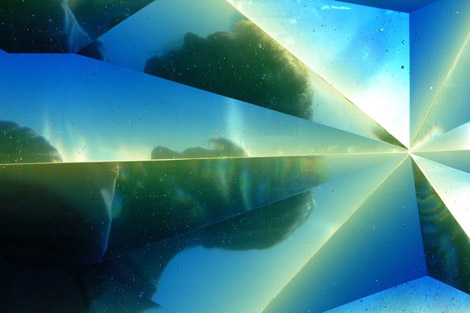 In the world of live electronic music, it's common to see two Englishmen bent over a table full of drum machines and effects, resulting in noisy and abstract waves of sound. Ghosting Season, therefore, demonstrate their uncommon traits in two ways: First, Gavin Miller and Thomas Ragsdale have guitars strapped to their chest as they bend over the their table of gadgets. Second, they use these guitars to produce sublime techno in animated, energetic fashion, more akin to rock performances than electronic ones. While this visceral performance aspect may be absent on Ghosting Season's debut album, the atmospheric pulsing is sharper, more honed, and makes for a cohesive listen beginning to end.
Audio clip: Adobe Flash Player (version 9 or above) is required to play this audio clip. Download the latest version here. You also need to have JavaScript enabled in your browser.
"Ghost Drift" starts the album with perhaps the most straightforward beat, albeit coated in skittering percussion below the kicks and a striking melody constructed out of looped guitar phrases and a multitude of effects. This and the following track "Far End Of The Graveyard" immediately call to mind some of the stellar techno coming from Modern Love. Featuring steady rhythms coupled with floating, grandiose, and otherworldly textures, you might even get away playing them in a set that includes Miles and Andy Stott. Lead single "A Muffled Sound Of Voices" takes this combination in a slower, more cinematic direction. The beat shuffles amidst shimmering guitars that mimic orchestral strings processed through a bank of delays. This more pensive sound pays off in a lovely way with the gentle "Follow Your Eyes," perhaps one of the strongest tracks here. Piano sounds stutter into an extended melody, giving way to distorted vocals and more string-like loops. The kick is subtle but essential to the movement of this song. It's a fantastic iteration of Ghosting Season's elements that sees a more expansive execution on closing piece "13."
Audio clip: Adobe Flash Player (version 9 or above) is required to play this audio clip. Download the latest version here. You also need to have JavaScript enabled in your browser.
Before we get to the end, though, the album slowing brings itself out of the dark and quiet lull that "Follow Your Eyes" created. The sequence starting with 10-minute "Lie" and "Through Your Teeth" all the way to the energetic "Time Without Question" and "Pio" is marked with inventive rhythms and beautiful passages, demonstrating a flair for making techno more than the sum of its parts. It's quite bold, then, to cap the album with an eight-minute meditation on vocals-as-instrument that recalls some of the more melodic Sigur Rós epics. The vocals are effected and dissected to such a degree that meaning is difficult to grasp, but the heartfelt emotion pervades the lilting guitar loops and light percussion tying the piece together. The dichotomy between guitar-led music and electronic dance music has been blown apart by songs such as these and makes a strong case that electronic music composition is just like picking up a guitar and working out a tune. The Very Last Of The Saints is a special debut by interesting voices who hopefully have more to say.