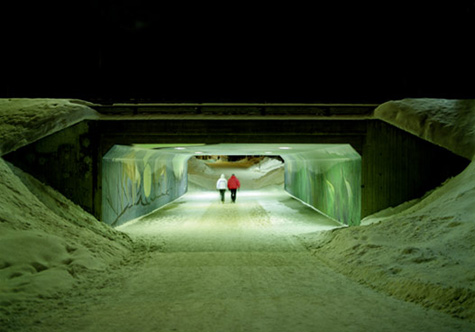 Certain schools of thought believe the highest achievements of dub techno have been long ago attained by the likes of Maurizio and his Basic Channel/Chain Reaction cohorts. However there is no denying the stunning addendums from the likes of Quantec, Rod Modell and Stephen Hitchell et al. have furthered the legacy of the deep, dubby sound. Hitchell has been carving out a name for himself since the early days of the millennium with his stunning twelves and EPs under various guises and now marks his debut foray into the full length album stakes as Intrusion.
There are other producers of this sound who have made their own mark with rich, palatable offerings of dub-wise bounty, some steeped in the blueprint of those who came before them, others presenting a more modern slant. For my money though the refined sound-sculpture of Intrusion captures the essence of this music's past as well as staying true to the ethos of dub being a future gazing sound. This becomes more and more apparent throughout listening to The Seduction Of Silence, especially on repeat as the frayed textures weave in and out of the atmospheric hiss and tape noise, that sonic grit itself punctuating the notes through various filters and gates.
Audio clip: Adobe Flash Player (version 9 or above) is required to play this audio clip. Download the latest version here. You also need to have JavaScript enabled in your browser.
This is not just a well realized and cohesive album, but also one displaying an encompassing approach to dub techno, from the spatial, languid grooves on "Montego Bay" to the more upbeat, faster paced "Intrusion" and "Tswana Dub" (the latter even sound checks its own history with a nod to the disco zaps of the 70's era Brentford Road producers). For every peak of intensity reached a more sedate, gloriously downbeat moment follows, the apex reached via the ten plus minute instrumental sounds of "A Night To Remember," which is about as heady and trance-inducing as dub techno gets. Things start winding down with "Little Angel," quite fittingly featuring the heavenly vocals of Paul St. Hilaire, the Dominican with a long associated history within the genre. More commonly St. Hilaire's lyrics are songs of praise or rastaman's lament; "Little Angel," though, is a love paean through and through and marks an exit towards the ambient rub of "Under The Ocean."
Audio clip: Adobe Flash Player (version 9 or above) is required to play this audio clip. Download the latest version here. You also need to have JavaScript enabled in your browser.
Where other albums represent a more clinical or detached take on this oeuvre, Hitchell's heart is in the analogue gear he uses, giving The Seduction Of Silence an unbridled human warmth that is the very pulse of emotion. It's this feeling — all at once melancholy yet hopeful — that keeps this album on continuous loop on my system and surely makes it worthy of consideration as as an early contender for album of the year.