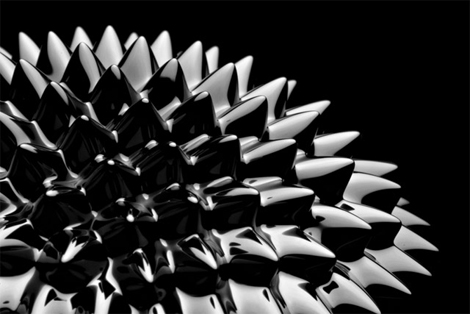 I've got a confession to make: I didn't really love Automne Fold. When Kangding Ray's second album, Automne Fold, was released in 2008 to thunderous acclaim I made sure to give it many repeated listens and close scrutiny. But while I could see the appeal, it never quite clicked for me. With its heavy-handed use of melody, the album offered some lovely songs but felt like a Raster-Noton record for people who didn't really like Raster-Noton. Being aware of David Letellier's talents, I approached his new long-player, Or, without any preconceptions about what it might sound like, and found an album about as different from Automne Fold as could be. The high-end frequencies that have characterized much of early-2000s glitch, as well as Raster-Noton's catalog, have all traveled about 5,000 Hz down the frequency spectrum, making Or an album of immense weight, full of low-end growls and threatening beats.
Audio clip: Adobe Flash Player (version 9 or above) is required to play this audio clip. Download the latest version here. You also need to have JavaScript enabled in your browser.
From the opening seconds, "Athem" further distances itself from Automne Fold with its slight vocal touches, hidden in the background as opposed to that album's fuller vocal treatments. And where Automne Fold was the soundtrack to a somber automne day, Or is foreboding: the accelerating chords of "Mojave" hint at trouble lurking around the corner. Melody is applied with a subtle, deft touch, and when the title track explodes in brief flashes of delayed melodic gratification it's well worth the wait. The album is defined by wide, grainy sounds held at bay, adding tension and atmosphere to some tracks, while exploding into the foreground in others such as "Leavaila Scheme."
Audio clip: Adobe Flash Player (version 9 or above) is required to play this audio clip. Download the latest version here. You also need to have JavaScript enabled in your browser.
Or can sometimes feel a bit homogenous, but cuts such as the short, compression-filled "Mirrors" keep the album varied enough to avoid being overly monochromatic. Closer "La Belle" sees the album out in a reflective, almost pretty fashion, with the sounds of distorted guitars vying for attention amidst tumbling percussion and delicate melodies. Or is an album that demands repeated listening in order to fully embrace its grizzled contents, but that patience is rewarded by David Letellier's coherent and balanced execution of his sound.