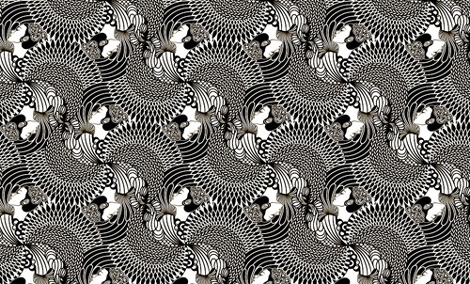 Illustration by Yehrin Tong
[History Always Favours The Winners]
The opening sounds of Intrigue & Stuff Vol. 1 might be shocking to fans of Leyland Kirby's previous opus, the three volume Sadly, The Future Is No Longer What It Was. On that follow up to his work as The Caretaker, the former V/Vm explored a stark and post-nostalgic world full of drifting pianos, radio static, and foggy electronics. While those noisy elements are still found here, Kirby has backed them with actual beats and the songs don't drift so much as relentlessly wind around their rhythms.
First track "Video 2000" caused me to double check I was listening to the correct release, as its distortion drenched loop reminded me instantly of some of the psych leaning beats of the Chemical Brothers. Lasting a full eight minutes, the distorted guitar bounces back and forth over an unchanging and submerged drum track. The short "Re-record not fade away" is more of a sketch when following the opening epic. Squiggly synths meander with seeming abandon while majestic strings sing in the background. Expanding on those strings, "Neon lit atoms" sounds like it could have fit on one of Kirby's previous releases if the synths were replaced by desiccated pianos. Here though it feels like a thoughtful science fiction soundtrack interlude.
Audio clip: Adobe Flash Player (version 9 or above) is required to play this audio clip. Download the latest version here. You also need to have JavaScript enabled in your browser.
Speaking of subjects grand and their soundtracks, "Live for the future, long for the past" was made for the BBC documentary Everything and Nothing. The documentary's goal was lofty to be sure: "explore the true size and shape of the universe and delve into the amazing science behind apparent nothingness." The song itself is certainly large enough to define the immensity of the universe, with equal parts foreboding and discovery setting the stage. Kirby seemingly harnesses the background noise of cosmic radiation to present a slow and expanding cinematic score, full of tense distortion and waves of synths. The way he uses noise to present beauty most reminds me of Ben Frost's work on By The Throat.
Closing with the horror carousel sounds of "Low entropy" and a cover of John Denver's "Annie's Song" charmingly retitled "Ruined visions," Kirby is certainly off to a good start with this four-part series of records. The cover exemplifies the warped musicology that Kirby brings to the table. Twisting the gentle ode to Denver's wife into a bombed out landscape of glacial synths and gritty textures, he subverts the conception of "pretty music" for his own purposes. It's for this reason that Intrigue & Stuff Vol. 1 is at once a shocking change in sound and also right in line for an artist that not only continually reinvents himself but also the notion of music itself time and time again.