Photo by Douglas Wojciechowski
After a week spent resting their weary bodies and sore heads, LWE correspondents Elly Schook and Michael C. Walsh offer up their thoughts on America's most anticipated electronic music festival.
If last year's edition of Movement was an indication that dubstep made an indelible mark on electronic dance music and popular culture, this year's festival proved that techno, born and raised in the city of Detroit, is still very much alive and well. Despite a few disappointing cancellations (Lucy and Marcel Dettmann both reportedly had customs and/or visa issues) and a rainy Memorial Day, this year's festival went off without too many issues. Paxahau, the group who has managed and executed the festival for the past eight years, has continued to grow the scale and professionalism of the festival. Vendor booths purportedly did more business and overall, operations and production seemed more organized. Attendance seemed to be much higher, especially on Saturday, but Paxahau chose not to use counters this year.

Dan Bell at the Boiler Room stage, photo by Douglas Wojciechowski
Many of the changes made to this year's operation were smart ones. With the addition of a Boiler Room tent, for instance, those guests with VIP wristbands were lucky enough to catch some more intimate performance experiences at the festival. Standout sets on Sunday from the likes of Daniel Bell, Ben Sims, and Magda provided excellent afternoon listening. Richie Hawtin was a Boiler Room no-show due to, allegedly, "sleeping" through his set.
Now more than ever, Paxahau is now up against several major U.S. electronic music festivals jockeying for position as a destination festival experience. While some crowd-pleasing decisions were clearly at work (the stage formerly occupied by Beatport became the dubstep-heavy Electric Forest stage to capitalize on the genre's popularity with younger revelers), the festival still honors its techno roots and celebrates its pioneers.
Peaks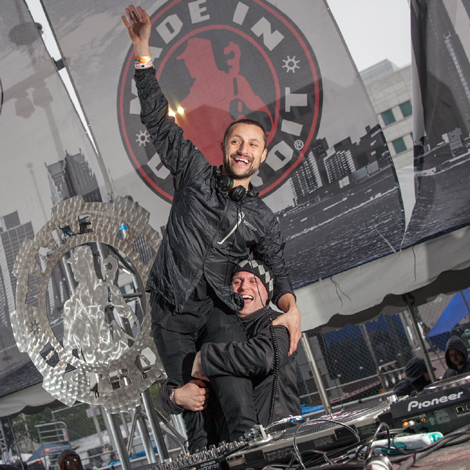 Ryan Elliot, photographed by Amy Hubbarth
With Red Bull Music Academy curating the main stage this year, festival-goers were treated to a greater variety of styles and types of performances on the largest rig than in previous editions. Unsurprisingly, though, most of the festival's finest sets and happiest memories were made by the city's hometown heroes. The Made in Detroit stage showcased the most consistent sound, the most enthusiastic dancers, and the most variety when it came to DJs' selections and live performances. Daniel Bell and Ryan Elliott delivered two of the weekend's best sets. Elliott's paid tribute to Detroit house and techno and classic Chicago sounds played at a wonderfully frenetic pace, while Bell's set undulated fluidly, taking the crowd from deep and groovy to jackin' sounds that begged for fists in the air. Terrence Parker also wowed revelers on the MID stage with an expertly mixed energetic set of funky tracks that spanned disco, house, club classics and everything in between. The Made in Detroit stage was where the real heart and soul of the festival from years past was the most palpable.

Dan Bell, photo by Amy Hubbarth
The last minute news that Lucy was forced to cancel his Saturday afternoon appearance on account of visa issues sent many early arrivers scrambling for an alternative. Luckily, T.Williams proved deftly capable of filling that void. Appearing on the tail of an unassuming festival opening set from confederate xxxy, T.Williams' outing felt off the cuff — a lacking quality against a regimented schedule wherein most acts were forced to have their sets planned prior to taking the stage. Keeping things replete, he used the encasing soundsystem to his favor, with Midland's recent "Trace" and Julio Bashmore's "Battle For Middle You" providing the most damage. The latter of particular note, as it has seemingly withstood the time-tested transition from world-beating, to overplayed and nausea-inducing, and back to world-beating — the telltale cycle of a classic.

Moodymann, photo by Douglas Wojciechowski
Arriving to the stage after five minutes spent peacocking on the riser above his turntable setup, a masked Moodymann took his spot between his two bodyguards (for lack of a better term) and got to work: thinning the initially rapt audience by half with a selection of barely-there warmup tracks that many in attendance weren't sure were coming from the house PA or Moody himself. 90 minutes is hardly enough for the man to build a vibe and he did little to accommodate his truncated time slot. And many, including those sent fleeing towards more immediately rewarding pastures, would likely object to giving his set a passing grade. But isn't that the reason why we love Kenny Dixon Jr in the first place? Because he works at no one's pace but his own? For those that stuck it out, we were treated to a clinic in patience, with the tail 45-minutes of down-home funk serving as the payoff.

Adult., photo by Joe Gall
Husband and wife act Adult., one of the only live performances not delivered through a laptop, slowly lured a crowd to the cement bowl playing a rambunctious mixture of sounds both old and new. Fans enjoyed classics like "Hand to Phone" and an excellent version of "Sharivari" alongside newer tracks like "Idle" from the duo's recently released album.

Matthew Dear as Audion, photo by Joe Gall
Given his seeming abandonment of his various production aliases in lieu of fronting of his band full-time, Matthew Dear's appearance as Audion was one of the more curious inclusions of the weekend. It also proved to be one of the more sloppy, frenetic, and enjoyably wayward sets of the weekend. Dressed in head-to-toe white and looking dapper as ever behind a stacked array of hardware, he moved amongst an array of drippy house and techno, an adventurous undertaking for the relatively safe Red Bull stage. And yes, "Mouth To Mouth" still sounds delirious after all these years.
Often times, the inclusion of an act like Mala at a festival like Movement can suggest tokenism. But this year, his performance on the main Red Bull Music Academy stage felt more like a concession of malfeasance given the neighboring Electric Forest stage and the trainwreck cacophony that emanated from there throughout the weekend. How could you have an entire stage devoted to "dubstep" without any actual dubstep on the bill? As such, Mala delivered one of the more refreshing sets of the weekend. Untethered to any lineage but his own, he selected cuts unified in their ability to rattle the concrete bowl — The Bug's "Dirty," his own "Alicia" — certainly not a first for the time-honored mainstage arena, but particularly disarming given the bright sun shining overhead.

Nicolas Jaar, photo by Douglas Wojciechowski
We've made no bones about our lukewarm stance on Nicolas Jaar's 2011 debut LP here at LWE. And though time has done little to alter our perception on that album, Monday's mainstage outing earned him some serious goodwill. Billed solely as a live set, it was slightly surprising to see him take the stage by his lonesome and not backed by the band that has recently served as his touring stable. But it worked in his favor as he stuck to a festival appropriate set mainly consisting of his older, more upbeat fare — "Mi Mujer" and "Time For Us" included. He sliced the songs' components with seeming nonchalance, lobbing in drum patterns at an unhurried rate yet still managing to stir the crowd into a frenzy without fail. Above all else, it was fun, a trait that has been sorely lacking from Jaar's repertoire for the better part of two years.
The cave-like underground stage has always been plagued by poor acoustics, muddying what could have otherwise been memorable techno sets. This year, standing right in front of the stage provided the clearest sound, if one could stomach the rib cage-rattling bass. Nina Kraviz shocked many as she played one of the hardest techno sets of the weekend. Steffi's set was equally banging as she upped the tempo considerably. Without a doubt, Saturday afternoon belonged to the ladies.

Silent Servant, photo by Aaron Jones
If not the best techno DJ in the world, Silent Servant proved Monday why he deserves to at least be in the running. Using the hollowed bunker to his advantage, he trudged through a set of angular clanging, pressuring his mixes into submission. And therein lies an odd part of his charm. Seemingly existing on the cusp of absolute discord with every transition, he always manages to swoop in last minute, resuscitating from the brink of bedlam. We can only advise to catch him by any means as he seems to be entering a rather righteous stratosphere.
Valleys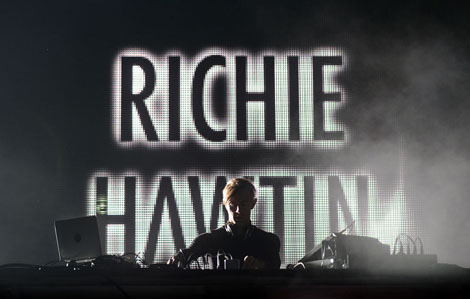 Richie Hawtin, photo by Bryan Mitchell
Playing a large-scale festival gig is Richie Hawtin's bread and butter these days. On Saturday his closing set on the main stage started off promisingly. Yet just the intro and first track alone looped on for almost 18 minutes with little variation, which was enough to send the LWE writers off to their afterparties of choice. Ellen Allien's set at the Beatport stage was a schizophrenic mixture of styles and never seemed to find its footing.

The Bug, photo by Joshua Hanford
Perhaps it was a case of misguided expectations, but The Bug's Saturday performance fell a bit flat. Billed as a live set, one could reasonably expect at least a single MC to be in attendance given the project's prominent use of vocalists. Instead, the London-based producer merely queued his selections on a laptop and tinkered with the drops until they ran their course. To his credit, the set was a breath of fresh air amongst the drivel housed on the Electric Forest stage throughout the remainder of the weekend. But it proved nowhere near the spectacle it potentially could've.

Ben Klock, photo by Aaron Jones
However sensible in concept, the Underground stage and its insurmountably rattling acoustics can sometimes feel like a cruel sentence for those slotted to perform down there. While some are quick to adapt to the cantankerous environment — Ben Klock in particular fared well by simply pitching down his bass — others are left to hang throughout the course of their set. Luke Slater's work as Planetary Assault Systems thrives off of nuance. It's all very large and bulbous, but it's the pockets throughout the commotion is where he shines. Unfortunately, those pockets were filled with concrete on Sunday. Seemingly well-and-fine in the moment, it was only upon immediate post-set reflection that we realized there wasn't a single discernible moment to take from his set. Not something you'd hope for from one of the more anticipated festival sets.

Squarepusher, photo by Amy Hubbarth
While it'd be wrong to label Squarepusher's Sunday evening headline set an outright failure — if you've seen him on his current globe-spanning A/V jaunt, it was that, exactly — there's still something that rang insincere about it all. By surrounding himself with all of those luminous bells and whistles, he seemed to be backing himself into a performance that values spectacle over output. He has a catalog that stands on its own, whether surrounded by a spaceship or a single spotlight. And given the current oversaturation of the former and the garish stadium-status connotations it brings with it, stripping it all the way back feels like the far more daring undertaking at this point.

"Did anybody order a douchebag?" Moby, photo by Paul Kelley
Though some may have exhibited finer foresight given the lapsed time since he's done anything less than cringe-inducing, Moby's Saturday evening headliner set at the Beatport stage was of some curiosity to us. But seeing as it only took him 15-minutes to climb aboard his decks, half-heartedly attempting to whip the crowd into a sugar-coated frenzy, we were quick to realize we should've known better. Mercifully, it only took another five-minutes of grotesque EDM for us to shuffle onward, wary that we were potentially on the verge of doing the "Harlem Shake."
Afterparties
TV Lounge welcomed the early arrivals to Detroit, featuring a BBQ and packed dance floors both indoors and on the nicely renovated patio space. Chicago's Smart Bar hosted the event, which featured a pleasant headlining set from Cassy, and Detroit ex-pat Derek Plaslaiko, among others. Setting the bar for the weekend and mercifully warming the frigid outdoor dance floor was Black Madonna. No frills and set to stun, she slung through a selection that traversed as wide as her own "Exodus" and Butch's "No Worries." In any other scenario, closing a set that early in the weekend with "I Can't Kick This Feeling" could've rang as overly pretentious, but she truly earned the right to close with whatever she damn well pleased.
With so many opening parties, committing to one location proved difficult. The LWE writers bounced over to the Perc Trax label party at The Works in Corktown, hosted by Oktave. We arrived in time to hear a flawlessly mixed, unrelenting, and mind-melting techno set from Mike Parker. Perc's set, which included more raucous material, kept the crowd dancing until the early-morning hours.
Saturday
TV Lounge's annual Circo Loco party has become a high-stakes coinflip of sorts. The 2011 edition was headlined Seth Troxler, Cassy, and Jamie Jones, each existing in a state prior to their current laurel resting stasis, and was one of the best afters that year had to offer. But last year was oversold and shut down by the police at 4 AM — an abject failure. So it was with some relief, given Saturday's glut of wonderful alternatives, that this year saw the party return to top form. Billed as a tribute to the late great Arthur Russell. there was little to signify as much aside from the Keith Haring wall decorations. That proved a negligible gripe. The talent on display was near overwhelming, with a veritable early morning blitz by way of Ryan Elliott, Derek Plaslaiko, Ryan Crosson, and surprise guest Skream. But of little surprise to anyone, it was Carl Craig who proved the victor, taking to the decks at 9 AM Sunday morning with a loose-limbed voracity that he too often eschews in his higher profile gigs. Backed in the booth by Kevin Saunderson and Richie Hawtin — the latter of whom blew Craig a pre-set kiss; far-and-away the most precious thing we saw all weekend — he leveled the surprisingly packed patio of late-night non-sleepers and early-morning risers.
Partygoers enjoyed a number of techno sets at Chris Liebing's CLR label event, despite the thoroughly disappointing cancellation of Marcel Dettmann, who was slated to tag with Radio Slave. Tommy Four Seven's punchy and percussive set was a treat for the small crowd down in The Shelter, the basement area of St. Andrew's Hall.
Sunday
A rare opportunity to take in some techno that wasn't submerged under Hart Plaza, Sunday evening's Interface offering by way of Droid Behavior and Blank Code proved properly morose. It was in the backroom of The Works that Luke Slater was offered the chance to redeem himself for his middling festival set. Using the bombastic system to his full advantage, he gleaned through two hours of snarling techno, set against a backdrop of stunning visuals that enveloped the entire warehouse-sized back wall. But as foreshadowed, it was Silent Servant who owned the night, keeping a taut-packed room hypnotized in spite of the sunlight starting to creep through the side door. Perhaps the standout set of the entire weekend.
Monday
Billed as a healthy alternative to Monday afternoon's festival offerings, Visionquest's always pleasant Need I Say More celebration at Old Miami seemingly upped its ante this year, stepping outside its immediate comfort zone to welcome in what was perhaps the most enticing on paper offering of the entire weekend: a back-to-back set from two of the finer DJs in the world right now, Ben UFO and Gerd Janson. In order to arrive at said B2B, we were forced to schlep through a three-hour set from Tales Of Us — though we'd be lying if we said we didn't enjoy ourselves; it's impossible not to in that environment. Eventually the pairing stepped to the plate around 4 PM, amidst an increasingly soggy backyard environment, and not surprisingly delivered a memorable set. Freewheeling, they didn't take their foot off the gas once, working around a number of obstacles that included the sagging makeshift tarp overhead. The absolute highlight came when Janson transitioned from Kerri Chandler's "Rain" into Caribou's "Sun," sensational enough to send the ever-jovial Troxler over to the decks to give him a hearty slap on the back.
For those who wanted to extend their holiday, the best choice for Monday night shenanigans seemed to be The Works, which played host to a Klockworks label party featuring extended sets from Ben Klock and DVS1, among other acts. These two DJs kept the back room packed with punishing techno mixed in expert fashion while one of Detroit's finest, Patrice Scott, provided some much needed relief in the form of a deeper and more soulful set of selections in the front room.