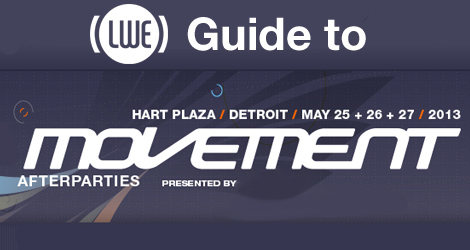 As in years past, Movement weekend 2013 has no shortage of off-festival entertainment options. Though several afterparties are still being announced, this year's happenings offer nearly every type of event, venue, and style of dance music, featuring local talent, international guests, and everything in-between. Any festival-going veteran knows that calling these events "afterparties" is sort of a misnomer. Truthfully, you could enjoy top-notch music 24-hours a day, all weekend long, without setting foot in Hart Plaza for the festival itself. (Don't make that rookie mistake — we actually DO recommend taking sporadic naps to sustain yourself.) LWE's event list highlights the best of the fest's afterparties and is not all-encompassing — you can check out movementafterparties.com for additional options. You'll probably see us enjoying many of these parties, too. Keep checking back as more parties get added.
Friday:
+ Perc Trax Showcase
The Works (1846 Michigan Avenue) / 10pm-5am / $15 before midnight/$20 after


Perc
Mike Parker
Rrose
Jeff Derringer
Mick Finesse
John Templeton
Annie Hall
Kero
Segv
Appian
+ The Smart Bar/TV Lounge Movement Opening Party & BBQ!


TV Lounge (2548 Grand River Avenue) / 8pm-4am / $15 presales
Cassy
Derek Plaslaiko
Orchard Lounge
Nate Manic
The Black Madonna
Aran Daniels
Mister Joshooa
Mike Petrack
+ An Intimate Evening with Carl Craig
Motor City Wine (608 Woodward Ave) / 10pm-2am / $10 before midnight
Carl Craig
Saturday:
+ Direct Contact
Contemporary Art Institute Of Detroit (5141 Rosa Parks Boulevard) / 10pm-4am / $8
Big Strick
Wolf Eyes
Traag
Outmode
Craow
Haves and Thirds
Rat Paws
+ Circoloco Celebrates Arthur Russell
TV Lounge (2548 Grand River Avenue) /10am-2pm /$30 presales
Carl Craig
Ryan Crosson
Lee Curtiss
Andrew Grant
D'Julz
Ryan Elliott
Kim Ann Foxmann
Skream
NIROSTA STEEL with special guest James Duncan
Rick Wilhite
Derek Plaslaiko
System Of Survival
Gavin Herlihy
Boris Werner
Mass Prod
Robert James vs Richy Ahmed vs Russ Yallop
Mister Joshooa
Droog
Sasha Navarro
Cherry

+ NDATL presents Deep Detroit V.5
+ 1515 Broadway / 10pm-5am / $15 presales
Kyle Hall
Norm Talley
Kai Alcé
+ The Chosen Ones and The Chosen Few present You are Chosen
Waterfalls (673 Franklin Street) / 10pm-4am / $20 presales
Alton Miller
Stacey Hotwaxx Hale
Al Ester
Bruce Bailey
DJ Minx
Rick Wilhite
Alan King
Terry Hunter
Mike Dunn

+ CLR Detroit 2013
St. Andrew's Hall (431 East Congress) / 10pm-4am / $30 presales
Chris Liebing
Marcel Dettmann b2b Radio Slave
Drumcell
Tommy Four Seven
Bryan Kasenic
Sunday:

+Urban Blue Print at Magic Stick
Magic Stick (4120-4140 Woodward Avenue) / 8pm-4am / $15 presales
Cassy
Buzz Goree
Dick Tracy
Alex Picone
Kitty Kitten
Spore Print
Eric Johnston
Abdul Haqq
+ Resolute Goes Detroit
Exodus Lounge (525 Monroe) / $15 presales/door tbd
Benjamin Damage
Camea
Thomas Muller
Elon
Stefny (live)
Taimur b2b Nadir
Connie
+ Still Music Presents: Stilove4Sunday
Motor City Wine (608 Woodward Avenue) / 8pm-2:30am / $10
Jerome Derradji
Basic Soul Unit
Ricardo Miranda – live
Bruce Ivery
+ Direct Contact 2.0
North End Studios (5101 Loraine Street) / 8pm-4am / $8
Manuel Gonzales
Jay Simon
BLK_OUT
Deastro
The Drum
Aphasiacs
Solid Liquid (live)
Psychic Western
+ Excursions: Detroit
Russell Industrial Center (1600 Clay Street) / $10 before 1am
Cordell Johnson
James Vincent
Marcellus Pittman
Uchikawa
Dj Taz
Jay Daniel
+ Dissolute


Steve's Soul Food (1440 Franklin Street) / 7am-5am / $15-20 presales/door tbd
Daniel Bell
Jesse Saunders b2b Juan Atkins
Kooky Scientist (Live PA)
Miguel Campbell
D'Julz
Orchard Lounge
Sergio Santos
Monty Luke
Joshua Iz
Worthy
Atnarko
Czboogie
Tyrel Williams
Soul Mob
Autoclave
Walker Bernard
N'Dinga Gaba
Secrets
Michael Perry
DJ Psycho
Free Magic & Faso
Mathew Alex b2b Ted Barrie
Nikita
Aboudi Issa
Yos
Eric Sutter
The Elders
Henry Chow
Andrew Emil
David Cook
Nešto
No Headphones
J Mack
+Special Guests
+ IT & The Bunker present No Way Back at all


1515 Broadway / 11pm-9am / $20 presales
Erika (live)
BMG
Mike Servito
Carlos Souffront
Patrick Russell
Bryan Kasenic
Scott Zacharias
+ Interface 42 – Scene 10


The Works (1846 Michigan Avenue) / 10pm-7am / $25 presales/$30 door
Luke Slater
Silent Servant
Raíz
Project 313
Luis Flores
DJ Hyperactive
Rødhåd
Andrei Morant
Mike Gervais
Joel Morgan
Altstadt Echo
Derek Michael
Aaron Litschke
BN Loko Mendez
+ New Agenda and Dax present + OK, Cool
TV Lounge (2548 Grand River Avenue) / 9pm-1pm / $10 before midnight/$20 after
Michael Mayer
Jozif
Eddie C.
Mike Huckaby
Rick Wade
Burnski
Ataxia
Dan Wagner
Mr. Joshooa
Open Cloud
Bon
Soren
Minz
Dax Lee
+ Ghost in the Soundâ"¢
4264 Grand River Avenue / 9pm-7am / $20 presales /$25 door
Deepchord presents Echospace
JPLS (live)
Population One (live)
Nospectacle (live)
Woody McBride (live)
Steve Stoll (live)
The Flashbulb (live)
Memnok (live)
Paranormal Tek
Austin Churchill (live)
A#
Monday:
+ Klockworks Label Night


The Works (1846 Michigan Avenue) / 10pm-6am / $25 presales/$30 door
Ben Klock
DVS1
Recondite (live)
Patrice Scott
Aaron Clark
John Templeton
Delic
Jay Zoney (live)
JGarrett (live)
CK
+ Endgame
TV Lounge (2548 Grand River Avenue) / 12pm – 2am / $20 presales
Delano Smith
Three
D'Julz
Francis Harris
San Proper
Keith Worthy
Terrence Dixon (live)
Taimur Agha
Bob Moses
Ted Krisko
Jamie 326
NavboX
Karina
Jubilee
Sergio Santos
Max Jacobson