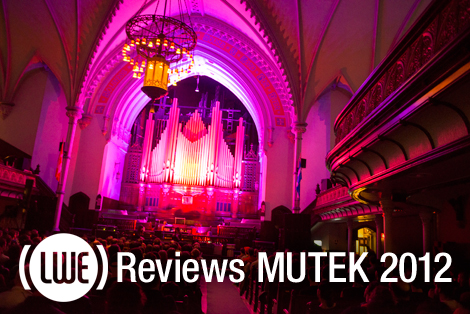 Photo by Caroline Hayeur
After some rest and time spent organizing his thoughts, staff writer Steve Kerr offers his review of MUTEK 2012
In the interest of full disclosure, I'll preface this by saying that I've lived in Montréal for a few years now, and seeing the annual MUTEK lineup always has me fluctuating between excited and dismayed. It isn't that we don't get interesting electronic music here, but more that it's often so sporadic: promoters will blow a lot of money on a great month of bookings, only to leave the next few bone-dry. MUTEK ends up being a kind of oasis, so a mediocre lineup, while a rare occurrence, is especially a letdown.
Luckily, this year's edition was anything but. Granted, a glance at the list of performers might have you wondering what year it is — Jan Jelinek, Jeff Mills, and Monolake are about as established as you can get. Its organizers are clearly not as focused on new artists as similar festivals like Unsound. Of course, there were a few younger artists who stood out — Blondes and Container, to name a couple — but on the whole, this year's MUTEK was about sticking to established performers, artists who more or less guarantee an interesting show.

Lustmord + Biosphere. Photo by Caroline Hayeur
For me, the festival began with A/Visions 1 at Ludger-Duvernay Theatre, part of the larger Monument-National, and the kind of opulent red-velvet-and-gold venue that typically houses plays. With the exception of the one on Saturday, all the other A/Visions events were held there as well. The opening performances by Nelly-Eve Rajotte and Biosphere & Lustmord blended into each other; both were fairly dour examinations of the American West, referencing spaghetti westerns and nuclear testing, respectively. The former seemed to focus on visuals, especially shots of contemporary ghost towns, more than on any kind of coherent sound, though she did notably mix audio of galloping horses with that of a freight train.
As for Biosphere & Lustmord, their presentation on U.S. nuclear testing in preparation for World War II seemed a little dated, considering the former recently released a project based on Japanese power plants. The project traced the lineage of the atomic bomb from nature to man to explosion, and engaged less with its implications than with the wonder of the bomb itself.

Robin Fox. Photo by Caroline Hayeur
I don't remember much of Robin Fox's audio, but his lasers were incredible. Frankly it's hard to describe it in any kind of academic way, as it was, in fact, a light show. Fox did a lot of crazy things with dimensions, creating whole rooms within what began as a single tube of light and a smoke machine. After the weightiness of the prior sets, it was refreshing to hear audience members' exclamations of laughter.

Blondes. Photo by Miguel Legault
DKMD opened Nocturne 1 at the SAT complex, across the street. The local duo go for a cross between minimal wave, arpeggiator disco, and house. At their best, they sound a bit like LA Vampires, but their potential was undercut by their stage presence — somewhere between nervous and uncomfortably stoic — and singer Marie Davidson's forays into divadom. Blondes' set was much longer than I expected it to be. Their tracks are famously jammed out in a few sessions, so it was great to hear them evolve in real time. Their kicks are ultra heavy live. They ran through versions of recent RVNG material and some new tracks that sounded a bit steppier or more off-kilter than I'm used to from them. I'm still holding a candle for a live album. The crowd looked really young, and judging by their reactions to the openers, I figured they were mostly there to see Apparat. Although curious, I mulled it over a bit and decided to skip him, in order to pace myself.

Andrew Pekler & Jan Jelinek play Ursula Bogner. Photo by Caroline Hayeur
A/Visions 2 began with Ben Shermie's "Transmission 1," an electroacoustic piece played by simultaneously tuning in to two radio stations at once. While an incredibly interesting concept, I can't help but think the piece would have benefited from some kind of visual aspect. Ursula Bogner's visual accompaniment was little more than a slideshow, but it was really all that was needed. Despite the Delia Derbyshire-of-Cologne backstory floating around, Jan Jelinek and Andrew Pekler (and Kassian Troyer, who wasn't present) make up Ursula Bogner. Their performance — on modular synths, what appeared to be tape, and several other accoutrements — made a compelling counterpoint to this question, with the duo presenting themselves as simple vessels for the sounds. The music's flowing dreaminess is a far cry from how austere Radiophonic music can often seem, and between raga-like passages, Jelinek's spoken monologue, and the slideshow's astral diagrams, the performance really strove for something cosmic. Fearing I'd miss any bit of Nocturne 2, I ducked out at the beginning of Pierre Bastien & Espen Sommer's Electric Folkways and headed to Metropolis.

Shackleton. Photo by Miguel Legault
Shackleton's opening set was typically ominous, with snips of older tracks like "Moon Over Joseph's Burial" and "Death Is Not Final" breaking through labyrinthine drum patterns and enormous sub pressure. In places his glassy, high-speed material even reminded me of Shangaan electro (why didn't he contribute a remix to that series?). Compared to the last time I saw him — when he was fresh off Three EPs — he was much more difficult to dance to. He's quite a bit farther down his own wormhole, and while his imagery and technical skills are as serious as ever, I wonder if he's sacrificing accessibility.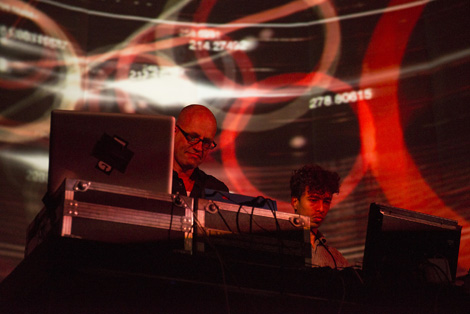 Monolake. Photo by Caroline Hayeur
Monolake's set almost immediately experienced a power cut, stunning the perpetually grinning Robert Henke and his companion, video artist Tarik Barri. Whatever happened was resolved quickly, and the pair launched into a kinetic performance of the recent Ghosts LP. I admit to not having spent a lot of time with it thus far, but the set gave me plenty of impetus to. Sounding like Monolake when it featured T++, Henke's tightly-coiled mutant 2-step was a breath of clarity after Shackleton's pea soup fog.

Jeff Mills. Photo by Caroline Hayeur
As for Jeff Mills, I had never seen him before. Before his set, a guy asked me if he was "any good" and I gave him some kind of snarky, incredulous response that definitely involved the word "legend." He told me he was going to check out the other bill instead. I feel like there's some weary raver ready to tell me Mills was better in 1994, but real talk, there's no way he was better in 1994. There's plenty of technical detail to describe, like it's probably worth mentioning that he had five decks and went from bleeping and tripping to full-on brutal jack mode and back again. The set comprised layers upon layers and so many false endings — people would turn and start trudging toward the door only for him to begin again. More than anything though, his spectacular control equaled total euphoria on the floor. Probably the best way to sum it up is that for the rest of the festival I was desperately searching for someone to recreate that feeling.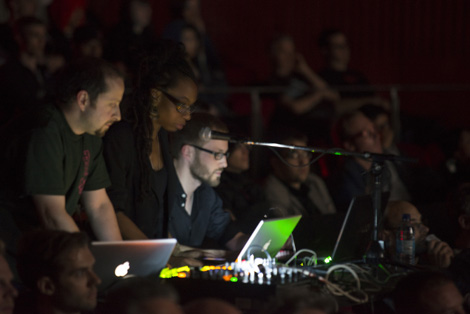 Kode 9, MFO & Ms Haptic present "Her Ghost." Photo by Caroline Hayeur
A/Visions 3 opened up with Montréal's Le Révélateur, who deal in audiovisual neo-kosmische. Their set paired busy arpeggio work with brightly bleeding VHS-via-laptop transmissions, as new age healing tapes contorted into wavy, delirious color grids. Meanwhile, Kode9, MFO & Ms Haptic's reprise of their "Her Ghost" performance, which debuted last year at the Unsound festival, was less successful. Essentially, the trio cut-up Chris Marker's seminal photomontage, "La jetée" (which I realized is pretty similar to the plot of Terminator), and added appropriately rearranged narration, from the female's point of view, and an abstract score. Although its themes of memory recall, time-travel, and dystopian futures are incredibly prescient, it felt a little pointless in light of how little it truly changed the original.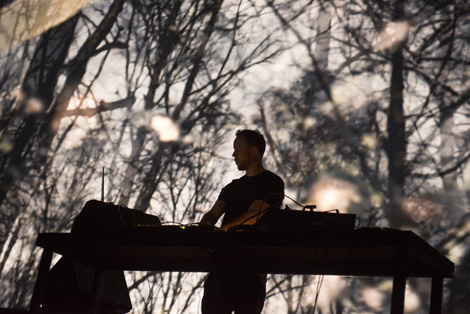 Roly Porter. Photo by Caroline Hayeur
Roly Porter was similarly uninspiring. His set seemed to channel the idea of a warzone, breaking up metallic, industrial drones with machine gun blasts amid a slow-moving projection of early or late winter (dreary and desolate, in either case) forested wetland. There was a palpable contrast between the manmade and the artificial, but it failed to say much beyond this.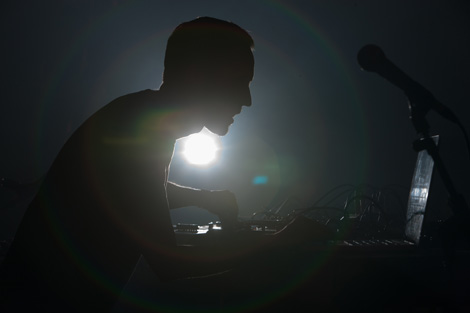 Nautiluss. Photo by Miguel Legault
I was under the impression that the Red Bull Music Academy stage was the sideroom at Metropolis, so I caught Matt Thibideau's main-room set of pulsing, tracky techno waiting for it to be set up. As I was nearing exasperation, my friend informed me that said stage was in fact at SAT, and that I had been waiting for nothing. Calling the same stage by two different names based on whether a logo is present is confusing. So for the second time in under a year, I missed Peter Van Hoesen (this time he performed with Yves De Mey as Sendai). I arrived midway through Nautiluss's set, which felt a little flat to my ears, and lacking something – bass lines, perhaps. Not so the rest of the crowd, though, which largely ate up his melancholic garage/R&B hybrids. And he's a consummate showman, which I'd attribute to his blog-house years DJing and working in the duo Thunderheist. He got on the mic, joked, spoke a little French, introduced a new track, and in these little movements set himself apart from the body of the edition's more po-faced performers.

BNJMN. Photo by Miguel Legault
BNJMN was next, and while he might work at a more uptempo clip than the likes of Andy Stott, there's nary a better term for his performance than the Stott-coined "knackered house". His records are diverse and even bright-eyed at times, but live, weighty compression and shoegaze elements took over. The effect was a lull — definitely not unpleasant, but maybe ill-timed, considering he went on right as the night was meant to be heating up.

Kode9. Photo by Miguel Legault
Kode9 didn't hesitate in bringing the energy way up. He opened with an overview of recent UK tracks by the likes of Mosca, Funkystepz, and Jam City, and the room was suddenly full and wild. I have a pretty tenuous relationship with that stuff — I swear sometimes it feels like those tracks are made solely for dudes to shout "exclusive!" over on Rinse FM — but there's no denying he was a major crowdpleaser. Still, I wanted to see what Jimmy Edgar live was all about.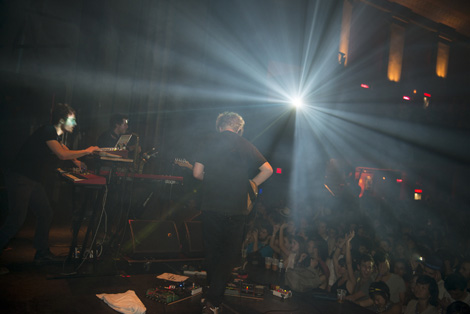 Nicolas Jaar and band. Photo by Caroline Hayeur
Nicolas Jaar was still on when we got to Metropolis. His was easily the festival's most packed performance. He's pretty much a rock star at this point. He had guitarists with him; people were singing along. Not wanting to wait through to the end of his set, though, my associate and I went back to Kode9. When we arrived, he was mixing Rustie's "City Star" into some kind of hybrid dancehall track. People in Montréal eat that kind of hybridized futuristic instrumental hip-hop up — there's a reason the city's produced artists like Lunice and Ghislain Poirier. Personally I feel like an idiot putting a gun-finger in the air and rocking back and forth, and my friend wasn't too psyched either, so we ended up going back to Jimmy Edgar, which was seriously a good idea.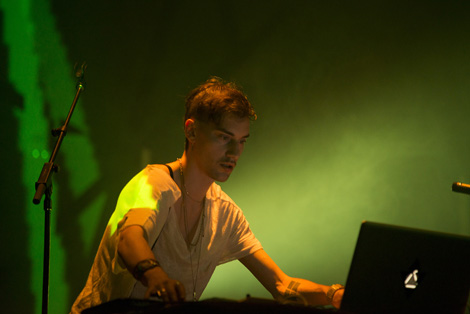 Jimmy Edgar. Photo by Caroline Hayeur
It's pretty easy to hate on Jimmy Edgar, and I think every Jimmy Edgar review I've written has something disparaging in it. But I like Jimmy Edgar! And live, with the room bathed in varying shades of violet, a girl by me doing stripper dances on an imaginary pole, he moved from skittering electro and footwork-not-footwork to slinky, half-time R&B, and his tracks took on a whole new light. The sexual aura portrayed (sometimes to obnoxious extremes) on his records was smoothly disseminated around the room, and tracks that outwardly blur the party and the personal — "Hot Raw Sex," for example — felt really inviting. It became our sex addiction.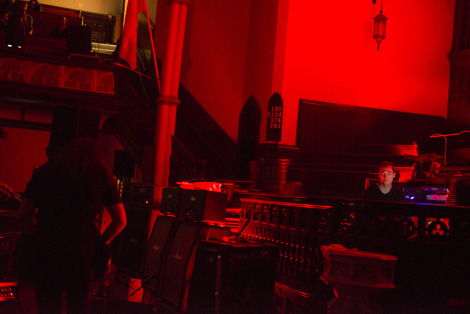 Stephen O'Malley and Tim Hecker. Photo by Caroline Hayeur
Apparently Tim Hecker and Stephen O'Malley's performance at St. James Church was sold out, and the heavy regimentation outside in the rain echoed that. Attendees were grouped into lines based on their ticket type, ushered into seating areas by workers who I can safely refer to as ushers. The church, full of hushed conversation, had the air of an "important event". After a dissonant, earthy set of abstraction by Les Momies de Palerme (half of whom, Marie Davidson, performed a few days prior in DKMD) and some brief guitar tuning by O'Malley, Hecker somewhat shyly entered to the kind of polite applause you give a conductor before a symphony. Apart from some ambient red lighting along the sides, the lights were turned down to near-blackness. The pair, especially O'Malley, were as shreddingly, seat-vibratingly loud as expected. I wore earplugs, which dulled the guitar enough to make it sound a bit like a heavier Grouper. Pretty quickly I was slumped over with my eyes closed; when I stirred every now and then I could see that much of the audience was in a similar stupor. I spent much of the set in a hypnagogic state, and somehow, between the rain outside, the dim lighting, the uncomfortable pews, and O'Malley's rumbles (Hecker's contributions weren't as discernible), I found the performance oddly erotic. When it ended, the crowd was surprisingly sparse. I'm not sure what people expected, but for such a talked-up event, it seems that many of its anticipators couldn't handle the noise.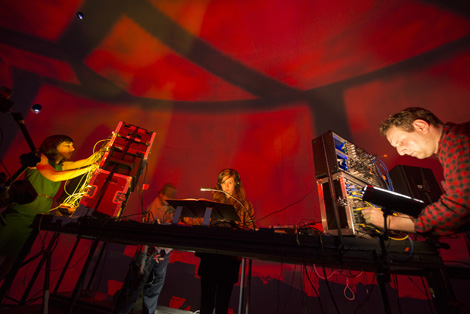 Greenspan/Sealey/Lanza. Photo by Caroline Hayeur
I made my way over to the SATosphere, which is the domed room on top of the SAT. Its design allows for projections to be spread all over the room, and this proved to be both an enhancer and a distraction throughout the night, which was based around modular synthesizers. Greenspan/Sealey/Lanza opened with a slow-building set of optimistic tones, the playful arrangements contrasting with ominous, towering visuals, taking the crowd through tunnels in space.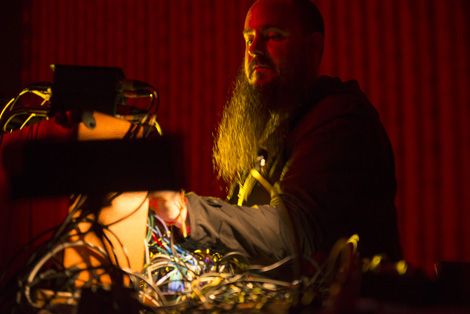 Keith Fullterton Whitman. Photo by Caroline Hayeur
Keith Fullerton Whitman makes very abstract records and wasn't especially different live. However, here he seemed to be patiently aiming for a sort of cohesion and even hinted at melody. As much as his music can sound like a random assortment of bleeps, his set, matched by coliseum-like visuals that encircled the crowd, felt like a lucid progression. After getting food, I returned to find Clark had just started. His set was, in my estimation, a hyperactive mess, but people seemed into it.

Minilogue vs Mathew Jonson. Photo by Miguel Legault
Container used a bare-bones setup, consisting of a synth and a Roland drum machine. What he lacked in frills he more than made up for in raw power, with the crowd either staring dazedly at the ceiling projections or frantically jacking in front of the stage. Afterwards I caught a bit of Mathew Jonson vs. Minilogue at Metropolis, which sounded organic and natural, but also a bit too much work to lock into when not fully lubricated.

No UFO's. Photo by Caroline Hayeur
The final evening was especially well-curated for a Sunday wind-down. No UFO's — normally a one-man operation, but here performing with an associate — seemed to emphasize sonic purity above all else. His arrangements are minimal but extremely well-tailored, with homemade Chain Reaction-style pattering rhythms poking out of foggy dronescapes.

Farben. Photo by Caroline Hayeur
The live incarnation of Jan Jelinek's Farben was ultra-precise. As much as I like his experimental work, it's a shame he doesn't release much dance music these days. He ran through a bunch of material featured on his classic Textstar, masterfully teasing out some perfect grooves that I could happily listen to on loop for hours. It was not to be, however, and Alex Smoke took the stage to make the North American debut of his Wraetlic project. This proved to be fairly cacophonous and overlong, with the vocals, supposedly its focal point, buried under clanging metallic percussion. It hinted at bass music, but contained little of its energy. Moreover, its ferocity sorely stood out from the other acts' smoothness. Public Lover's wistful, romantic house brought levels back to where they were, performing tracks from their recent A Broken Shape of You LP to a sashaying, noticeably adult crowd.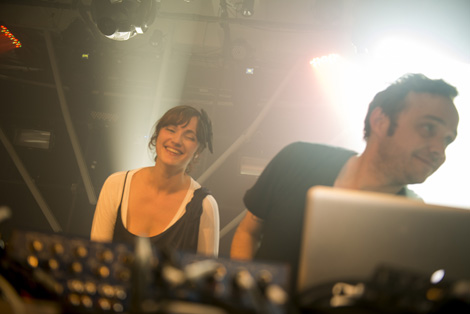 Public Lover. Photo by Caroline Hayeur
There are a thousand ways to sum up this year's MUTEK, but one of the most positive aspects was that it felt like more of a community this year. For a five-day festival, drawing lines through disparate performers is no easy task. Neither is spacing them out in a way that will keep crowds interested. They succeeded on both fronts, and as a result it was nice seeing familiar faces at different events; shouts out to the tiny girl with the backpack and the guy with his arm in a sling, because they were more excited than everyone else and I saw both of them everywhere. I still hold 2010's edition as a gold standard of how cutting-edge MUTEK can be, but this year was still quite formidable, balancing veritable legends with bold experimentation.