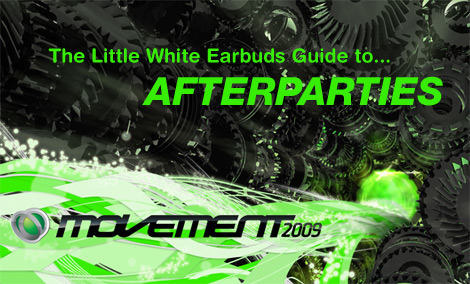 After the last kick drum rattles through Hart Plaza each night, fest-goers still craving more techno and house will not go hungry. In fact, fans are spoiled for choice this year with a surfeit of afterparties that cater to all sorts of tastes and budgets. You could even skip the festival all together and just attend afterparties and still feel like you've had a complete Movement experience. But with so many parties to choose from, it's easy to feel overwhelmed. But fear not — LWE is here to break things down and offer our recommendations for where you should end up each night.
Friday:
+ The Works (1846 Michigan Avenue) offers Mixworks Presents Electronic Stimulus Plan, with sets from Alex Picone [Mixworks], Oracy [Mojuba], Norm Talley [Beat Down] and more ($5 before midnight; 18+).
+ NYC's Bunker sets up shop at Oslo (1456 Woodward Ave at John R St.), with sets from Jan Krueger [Hello?Repeat], Derek Plaslaiko [Spectral Sound] and Spinoza [Bunker] ($15).
+ Those in town early enough for dinner should head to Corktown Tavern (1716 Michigan Avenue) for the 7th Annual Pre-Fest BBQ, with sets by James Pennington [UR], Punisher [Hej], Sassmouth [NBFC], Eric Cloutier [Bunker] and more ($5 before 10pm, $10 after).
+ C-Pop (4160 Woodward Ave) is taken over by Dirtybird/Mothership for performances by Voodeux, Claude VonStroke and Monty Luke (free with RSVP).
+ Big City Bar & Grille (1020 Washington Ave.) hosts Synergy 100% Detroit, with sets from Delano Smith, Norm Talley and more ($10 before 11pm).
Saturday:
+ River's Edge (673 Franklin) hosts The Other Nine to Five: Clink vs. Hello?Repeat, with sets from Bruno Pronsato [Hello?Repeat], Daze Maxim [Hello?Repeat], Tim Xavier [Clink], Camea [Clink], Elon [Clink] and more ($20).
+ Oslo (1456 Woodward Ave at John R St.) hosts House-N-Home, featuring sets from Cassy [Panoramabar], Eric Cloutier [Bunker], and Anthony Parasole [Underground Quality] (9pm; $20).
+ The Bohemian National Home (3009 Tillman St.) hosts The Blank Artists Afterglow with sets from Tim Sweeney [Beats In Space], Osborne [Spectral Sound], and more ($10).
+ The NDATL Muzik Release Party goes down at 1515 Broadway, and features Kai Alce [NDATL], Chez Damier [Balance] and Andres [Mahogani] ($10).
+ Detroit Pub (1326 Brush Street) hosts Street Science, with sets by DJ Bone [Subject Detroit], Aux 88, Scan 7 and more ($20).
Sunday:
+ The official Movement 09 afterparty, I'm On A Boat, is indeed on a boat, and its three floors are crammed with talent: Cheap Sunglasses Presents: Innervisions Label Night with sets from Âme, Dixon and Henrik Schwarz; Desolat vs. Cadenza label party with Loco Dice vs. Luciano continuing where their headline set left off; Red Bull Music Academy Presents: Carl & Stacey's 40th birthday Celebration!, with DJ sets from Carl Craig, Stacey Pullen, and Marc "Mk" Kinchen & Scotty Deep (boarding begins at 12am, boat leaves at 1:30am; $40)
+ Blondies (2281 W Fort St.) hosts Hejdrop, with sets from Steve Bug, Mikael Stavostrand and many more ($15 presale/ $20 on the door).
+ TV Bar (2554 Grand River Ave) hosts Resolute Goes Detroit, with sets from Adam Beyer, Matthias Meyer, Camea, and more (3am-4pm; $15 presale).
+ The Works (1846 Michigan Avenue) hosts Beretta Music: Resolution, with sets from Omar-S [FXHE], Don Williams [Mojuba], Aril Brikha (Peacefrog), Marko Fürstenberg, Kenneth Christiansen [Echocord], and more ($5 before midnight; 18+).
+ Tangent Gallery (715 E Milwaukee St.) hosts the Jeff Mills Homecoming Party, with sets from Jeff Mills, Buzz Goree, Suburban Knight, Ryan Elliot and more ($10 before midnight; 18+)
+ Z's Villa (42 Piquette St.) hosts DJs & Backpacks, with sets from Juan Atkins, Carl Craig, and more (costs one child's backpack).
+ River's Edge Grille (673 Franklin St, Detroit) hosts Night Moves, with sets from The Martin Brothers [Buzzin Fly], Jeff Samuel [Poker Flat], Falko Brockpieper [Tuning Spork], Coalition of the Killing [Auralism], and more ($15 @ wantickets.com, $20 at the door).