All photography by Stephen "Fuzzytek" Boyle except where noted otherwise.
After a few days of rest, LWE's editor-in-chief, Steve Mizek, submits his DEMF report
For many electronic music fans in America's Midwest, the most anticipated event of each year is Movement: Detroit's Electronic Music Festival, and for good reason. In spite of the reverence DJs and producer express for the region as the birthplace of house and techno, the Midwest is often passed over by DJs and producers whose U.S. tours reach no farther than New York and Los Angeles or San Francisco. While the reasons for this are too complex to tackle here, suffice it to say many Midwesterners — and those who travel from far and wide — relish the one time DJs and musicians annually descend upon Detroit en masse. It's also a chance for Detroit's homegrown talent to strut their stuff for larger audiences who seldom make it to the Motor City.
Who, What, When, Where and Why
The three day festival takes place in Hart Plaza, a large concrete-paved park nestled alongside the Detroit River which separates Windsor, Canada from Michigan. Four stages are placed at opposite ends of the Plaza with a few rows of vendors running through its middle. Since 2007, Detroit event planners Paxahau have organized and executed the festival, following several troubled years which saw various Detroit legends (Derrick May, Carl Craig and Kevin Saunderson) do their best to run the festival themselves. I have to hand it to Paxahau: this year the festival went as smoothly as I've ever seen an event of its size run. For a year likely defined by the recession, attendance was robust. The weather was temperate and perfect for enjoying a festival. DJs/musicians followed the schedule to the letter, the sound was generally loud and clear, and the crowd was managed well enough that disturbances were few and far between. Even the abundant computer-controlled sound rigs behaved; outages were more likely to be traced back to DJs' laptops than any other piece of equipment.
And bad mistakes, I've made a few…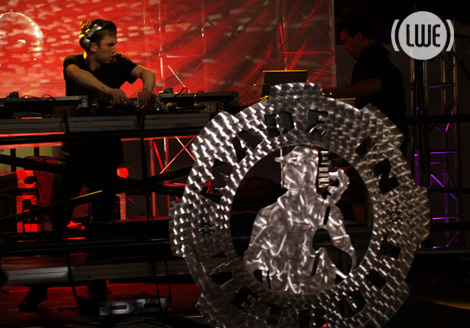 Shaun Reeves in the Made In Detroit Bunker– I mean Stage
With the rest of Movement humming along, one poor decision was greatly magnified in its stark contrast. The self-explanatory Made In Detroit stage was parked in an underground space below a long bridge leading to the main stage. Completely encased in highly reflective concrete, the stage became the place where great sounds went to die a muddled, droning death. And while revelers still filled the room, the experience was wholly unsatisfying for myself and everyone I met who braved the Made In Detroit Stage. It seem preposterous for a Detroit-born festival to stash the majority of its highly sought after local DJs and musicians in a room where they could hardly be heard. Hadn't Paxahau learned the underground made for murky sound when they placed the stage in roughly the same place in 2008? I remember enjoying the Made In Detroit stage in a long, above ground tent in 2007; sadly, a Playstation RV where fest-goers could idle away hours took its place.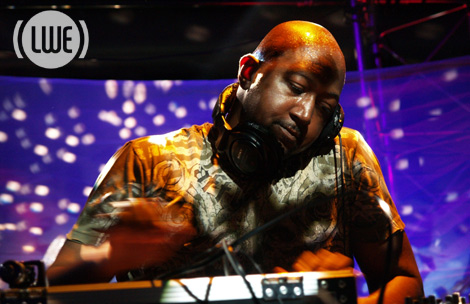 Rick Wade
A miserable venue couldn't stop Detroit's finest from turning in top notch performances: Rick Wade's set was deep and diverse, shifting from Pepe Bradock's classic "Deep Burnt" to the neon house loops of Myungho Choi's "Shakin Bricks." Seth Troxler, who appeared in a long flowing t-shirt, opened with a "Twin Peaks" track and used the room's blurry sound to get even more hypnotic. Mike Clark, Delano Smith and Norm Talley took over the stage for a great three hour back-to-back session.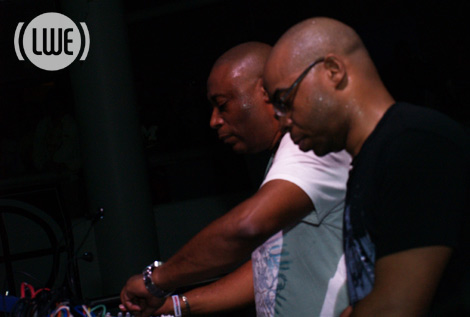 Octave One
Octave One, Audion and Anthony Rother, all of whom performed live sets, had much better luck piercing through the muck (M. Dear even recruited a female dance troop to writhe around the stage wearing masks to keep things interesting.) But the dreadful sound was enough to keep me away from the cave-like Made In Detroit stage for much of the weekend.

Audion
Keep on pushing
Kevin Reynolds and crew. Photo by iamdonte
Thankfully, there was much more to look forward to, keeping me on the move between the other three stages. The acts who kept my feet planted pushed the conventions of how techno/house/etc. should be performed. The biggest surprise all weekend was a live performance at the Redbull Pyramid stage from Kevin Reynolds, a new name to this writer; his Discogs listing is long on production credits but short on solo releases. With only drum machines, a synthesizer, an affected vocalist and trumpeter, Reynolds blew me away with fresh, evocative deep-house tunes that never stopped evolving during his hour long set.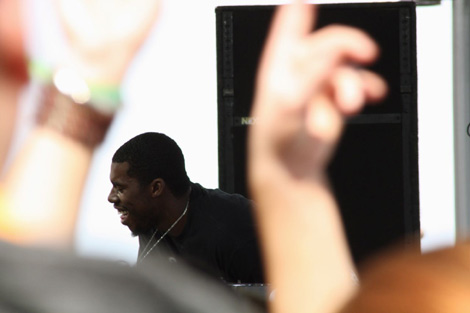 Flying Lotus. Photo by Dan Sicko
A huge crowd and myself were also enthralled with a frenetic live set from Flying Lotus, who shifted from woozy breakbeats to gut-rumbling bass wobble, admiring Detroit shout outs to "new album shit," a sample of "Baby T-pain" to Osborne's "Wait A Minute Now," delighting the throngs as we tried to keep up.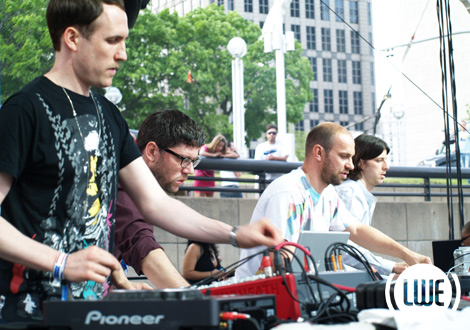 Innervisions live: A Critical Mass. (from L to R) Kristian Beyer, Frank Wiedemann, Henrik Schwarz, Dixon
Perhaps the most anticipated performance, at least for 'heads who follow European techno/house, was Innervisions live: A Critical Mass, the convergence of Henrik Schwarz, Âme and Dixon in a live, somewhat improvised setting. Like a jazz quartet, the Innervisions crew deconstructed their hits and put them back together in new combinations, tricking our ears not to recognize "Rej" or "Where We At" until their hooks revealed themselves. This didn't always work to their advantage, especially when the sound engineers left the volume at half mast. It was evident the foursome were still getting used to performing live as a group, and with time their transitions and arrangements are bound to tighten up. For Movement's main stage audience, however, the combination of weak sound and improvisation tested their patience. Personally, I never stopped dancing.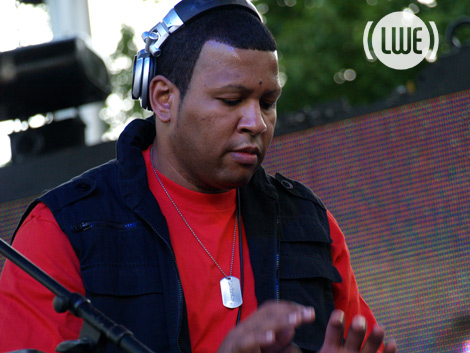 Los Hermanos
Slightly more conventional yet still quite live and vital, Los Hermanos brought a full band to fill out their Detroit techno sound. With a string section, two percussionists and a guitarist by their sides, Los Hermanos brought a road-tested intensity to the main stage as they churned out hits like "Jaguar." Ryan Elliot had the Pyramid stage sweating with an infectious, loop-heavy house set that managed both "I Can't Kick This Feeling" by Moodymann and Audion's "Look At the Moon" within five minutes of each other. And I would be remiss if I didn't mention how good Luke Hess' dubby tech-house sounds when bounding from a massive PA.
Shaking hands, kissing babies

Steve Bug
Like most festivals, Movement appealed to attendees of all stripes with a wildly diverse line up. Where else could you see Afrika Bambaataa, Busy P and Luciano tag-teaming with Loco Dice in the same weekend? This sentiment of broad appeal resonated with many DJs. Whereas Steve Bug tempered his populist instincts with darker cuts like Ben Klock's "Sub-Zero," Francois K seized upon his stadium-like setting to bombard the crowd with mostly middle-brow techno and the occasional drum and bass track (to his credit, he did air WAX "10001.2" for a couple minutes).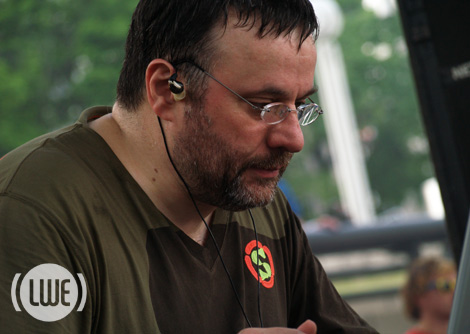 Francois K
Kevin Saunderson's brand of lowest common denominator was insufferable for a guy often called an innovator. Loco Dice and Luciano managed the same effect through different means, using samplers to stretch songs beyond recognition and pepper the mix with seemingly random instrumental loops; unsurprisingly, the crowd ate it up each time. Who knew these two, of all people, were into making what amounted to trance?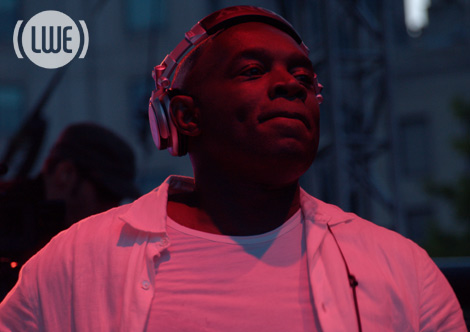 Kevin Saunderson, busy not innovating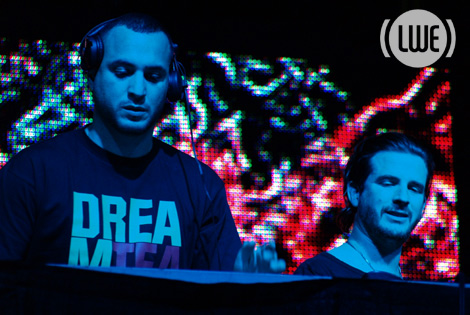 Loco Dice vs. Luciano
Even Carl Craig and Dennis Ferrer were not immune to playing for the widest audience possible, although both did so with a sense of style and the occasional nod to deeper sounds. Osunlade was the rare jock to engage audiences while staying entirely true to his own aesthetic, repping Afro-centric house interspursed with his own tracks and remixes, like "My Mirror" remixed by Deetron and the Yoruba remix of Afefe Iku's "Mirror Dance."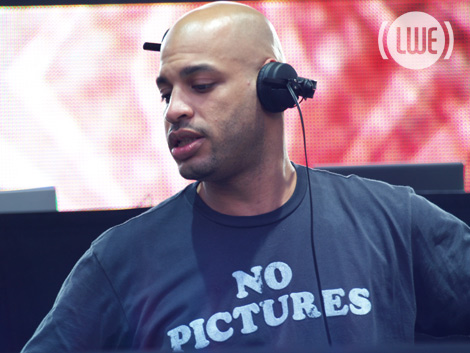 Dennis Ferrer
A couple tunes emerged as clear favorites of the weekend, foremost being Dennis Ferrer's jaunty "Sinfonia Della Notte" for Strictly Rhythm, which seemed to ring out from speakers nearly once per hour. Another was the recession chic "Why Don't You" by Gramophonedzie, which samples a jazz singer seeking to "get that money" (thanks to reader Chris for the track ID). The other one I never pinned down (nor could friends or even Steve Bug when I asked him about it): it's an extremely bouncy track whose tumbling "marimba" line practically captured the aesthetic zeitgeist of 2008 [Update 10/16: The track was Octave One ft. Anne Saunderson & the Urban Soul Orchestra, "Black Water" on 430 West, originally from 2000 and re-released in 2008.] Regardless, people went wherever big dumb grooves would embrace them. Speaking of…
Alive and well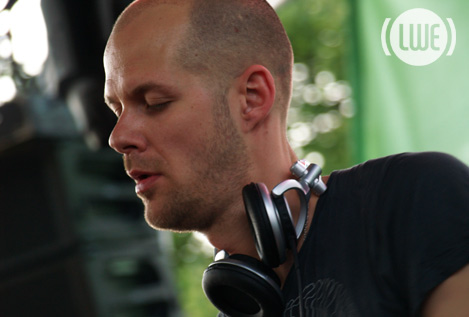 Adam Beyer
Don't let dance music critics fool you: minimal never died, it just went above ground. Anyone seeking proof needed only to spend time at the Beatport stage. Each time I returned I was faced with colorless and emotionless techno/house that made no effort to sound remotely thoughtful. Yet the stage was packed throughout the day, with only minor variations in sound with each changing of the guard: on Saturday, Heidi's ghettotech-tinged house sound gave way to the pale hues of Damian Lazarus, followed by four hours straight of bland banging techno courtesy of Adam Beyer and Marco Carola.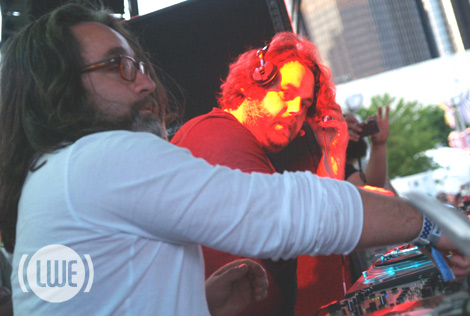 The Wighnomy Brothers stare down our photographer
The Wighnomy Brothers injected the most life into the stage with their gnomish antics and shrewd track selection: Detroit is the perfect place to play Abe Duque's "Tonight Is Your Answer," which samples far too much of President Obama's acceptance speech, if you want cheap pops. Thankfully they also played tracks like Jark Prongo's "Helios," which did "Neverending" one better in 1994. Only on Monday night as the fest drew to a close did the sound take a decidedly maximalist turn, as a raving Tiga handed the decks to (*shudder*) Bad Boy Bill and Benny Benassi.
Sunglasses at night
If the festival itself was one-size-fits-all, the abundance of after parties offered welcome respites for more discerning fest-goers. Saturday night we trekked to Oslo, a cozy restaurant/club, to see Eric Cloutier and Anthony Parasole support Cassy. Because Detroit's liquor laws compel many bars to close promptly at 2:30, we missed Cloutier's early set but were treated to mellow deep-house set from Parasole (I just knew it would be good when Point G, "Headache" followed Ron Trent, "Sometimes I Feel Like"). Relatively small with a cheerful crowd, decked out in wood slats, and very dimly lit, Oslo was the perfect setting for Cassy to work her magic. I only recognized a couple tracks and had to ask about another (something by Cabin Fever, a Radio Slave moniker I didn't know existed), but dancers (myself included) were more than happy to submit to her perfect track selection and brilliant DJ skills. After hearing about a rooftop party headlined by Omar S that kicked off at 7 am, I opted for sleep rather than searching out a stopgap party. It was not a decision I would regret when I had the energy to dance at 12 pm as Omar hit the decks. He, too, was a trainspotter's nightmare, with the notable exception of his own "Psychotic Photosynthesis," which he caned twice in four hours, and a fantastic DJ to boot.
Sunday night we headed to The Works, a much larger venue that does 18+ shows, including this Beretta Music showcase. The club is split into two rooms: the casual looking bar with chicken wire separating the DJ booth from the crowd and a warehouse-like back room, replete with exposed brick walls and tons of speakers. Although the surroundings seemed fairly liberal, security was very tight on the dance floor, charging in multiple times to collar anyone looking especially suspicious (just thinking of the children!). Arthur Oskan was holed up in the gazebo-looking DJ booth in the back, turning in a solid set of goopy colorful techno. Not long after, Omar S began his second set of the day, only to be hounded by rude fans. One persistent jerk kept trying to take photos of him in spite of being asked and then physically intimidated into not snapping pictures. An hour later, as Omar was reaching his stride, a pillhead snuck into the booth to make a "suggestion." Obviously pissed, Omar killed the deck and shoved the headphones towards the man's chest. Rather than make a run for it, the guy kept arguing until Omar threw him out of the booth. Strange that security would spend all their time on miscreants on the floor rather than protect the DJ booth. I ducked out occasionally to see what Echocord don Kenneth Christiansen and Mojuba head honcho Don Williams were up to in the front room, but the sound was too quiet to get into the feathered dub techno they were coaxing from the speakers.
For all the disappointment over the Made In Detroit stage and the tiring populism of many bigger DJs, I had a fantastic time at Movement 09. It's rather easy to be cynical about festivals, as if they could cater to each person's taste without compromising somewhere, but it's much more satisfying to enjoy the bright spots and make the best of everything else. My favorite parts of this year's fest were those I hadn't planned on seeing, like the A.D.D. outbursts of Flying Lotus and Kevin Reynold creating beautiful house music on the fly. I'm thankful I had the chance to attend Movement 09, to meet new friends and dance with old ones, and generally co-exist with so many other dance music fans. It's an opportunity that comes but once a year.