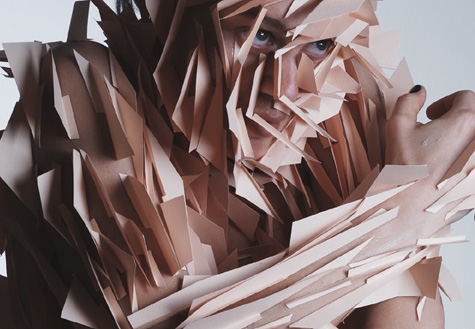 Artwork by Lucy McRae and Bart Hess
As the dark prince of the Berlin club scene, Marcel Dettmann has quite a buzz about him these days. Though he's been a resident DJ at hotspot Berghain since it opened the first time, he's a relative newcomer to recorded work, releasing his first tracks in 2006. Now, hot on the heels of his Berghain 02 mix CD comes the latest limited-edition four-tracker on his own imprint, and from the sounds of it, that buzz could soon become a deafening roar.
Kicking off with the beatless "Clime," Dettmann sets the stage for a dark, rattling trip through on a runaway train car. "Clime" pulses along with industrial noises, deep aquatic tones, and throbbing low frequency waves, full of menace and restrained fury. That fury, however, is fully unleashed seconds later as "Lattice" comes roaring out of the speakers. With a relentless kick drum leading the way, "Lattice" takes you screaming through the stormy Berlin night, heavy rain pelting the train car until finally reaching a deafening climax, jumping the tracks, and finally righting itself on the straight and narrow. Breathtaking and intense, "Lattice" goes toe-to-toe with the black helicopters of Audion's mighty "Mouth to Mouth" and comes back with a sneer, asking, "Is that all you've got?"
Audio clip: Adobe Flash Player (version 9 or above) is required to play this audio clip. Download the latest version here. You also need to have JavaScript enabled in your browser.
On the flip, the glitchy bounce of "Shatter Proof" soon gives way to a thudding off-center lope that echoes around in circles before finally dropping the bottom out and revealing its sticky, dirty underbelly. "Corebox" is the most straightforward groove here, with a simple four-to-the-floor beat and clunking acid-warped riff — punctuated midway by what sounds like duct tape being torn from flesh — working themselves into a lather over the course of six-plus minutes. Strange and strong, "MDR 04" delivers some seriously powerful gut punches. While he is still more known for his DJ sets than his productions, with a few more releases under his belt, Dettmann will surely find it difficult to keep more and more labels from knocking at his door.