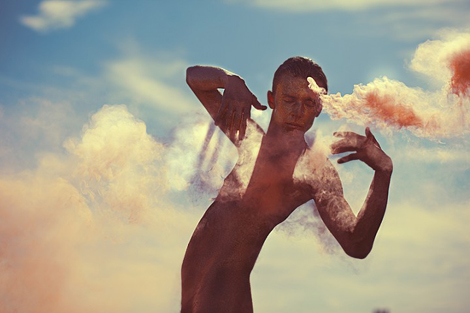 Photo by Elizaveta Porodina
Marcel Fengler's original "Thwack" is one of the most mercurially monstrous things the German producer has yet unleashed, an utterly distinctive flurry of flashbang handclaps and white-hot snares. Released last year on Luke Slater's Mote-Evolver label, it's no surprise that the track would be cherry-picked for the remix EP treatment, and its rather late arrival is well timed with the looming release of Fengler's Berghain 05 mix CD. But timing politics regardless, Thwack Remixes easily stands on its own two feet.
Audio clip: Adobe Flash Player (version 9 or above) is required to play this audio clip. Download the latest version here. You also need to have JavaScript enabled in your browser.
First up is fellow Berghain associate Norman Nodge, who provides the EP's highlight with a sped-up rework that gently tweaks rather than demolishes, putting the emphasis on a jacking rimshot progression that sends it leaping into the air every few bars. But like Nodge's recent The Happenstance EP, there are other ideas here afoot than just austere techno, and the track's extended breakdown leads it into a heady froth of simmering percussion, constantly on the verge of ignition until a massive sub-bass line fissures through the bottom and takes the track on a massive upheaval. It's the kind of queasily powerful move that feels like it's indiscriminately blasting right through whatever structure was left, and the fact that Nodge's "Thwack" rework manages to somehow rebuild itself after such a low-frequency assault is proof to his expert handling of hazardous techno materials.
While Nodge's might stand head-and-shoulders above because of its cunningly controlled chaos, the other contributions hold their own. Label head Luke Slater contributes two remixes, an electro-infused arpeggiated techno workout as Planetary Assault Systems — which sounds like his recent Temporary Suspension album with the movement confined to microscopic distances. His turn as L.B. Dub Corp comes as a digital bonus and values space and inaudible low frequencies over crashing clangor, a nice breather after three slabs of unforgiving techno. That leaves us with ambient techno producer Mike Parker, who chooses a more direct route than some of his recent material, melting "Thwack"'s elements down to thick liquid and gleefully watching them slosh and squelch in a punishingly repetitive pattern. Befitting of the source material, it's more aggressive than tracks like "Subterranean Liquid," but different enough from the others to nicely round off a satisfying package of remixes. Like any EP with four remixes of the same track, your mileage may vary, but safe to say there's at least one here for anyone who might consider themselves a techno head in 2011.