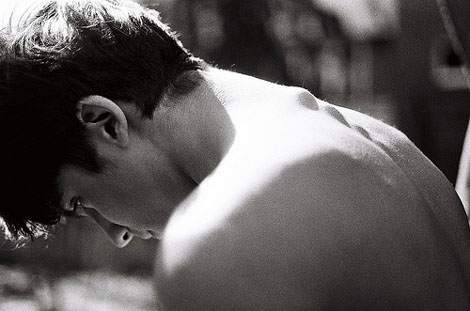 Martyn's debut album Great Lengths was lauded for its combining of dubstep and techno, but the reason it resonated so powerfully with listeners was more for its intensely personal atmosphere than any genre-related concerns. That wistful sensibility has largely dissipated from Martyn's recent compositions as he has become an even more reliable dealer of the 4/4 stuff, focusing increasingly on (increasingly German) dance floors. His second album does little to buck this trend, as Martyn is on record proclaiming Ghost People as a straight up dance floor album. It could be all of the movement, then, that makes it flow better that its predecessor, or it could be its relatively taut forty-six minutes: either way, Ghost People is, in many ways, just a more pleasurable listen than Martyn's debut. It's home listening in the living-room-dancing sort of way (indeed, the past month I've spent with this album has contained many such events), and once the Spaceape's trademark narration kicks the record off it's pretty much impossible to turn off.
Audio clip: Adobe Flash Player (version 9 or above) is required to play this audio clip. Download the latest version here. You also need to have JavaScript enabled in your browser.
That first track's bubbling neon synth landscapes (coupled with Mr. Spaceape's voice) and "Viper'"s crunched, almost metal-alike chords and engulfing arpeggios (an awful combination on paper, but trust me, it works) ratchet tension perfectly, but it's not until "Masks" that Martyn finally lets the kick drop. Sweat drenched and stomping, it's Martyn at his dancefloor finest, and the next couple tracks keep things moving at a blistering pace. "I Saw You at Tule Lake" allows for a (very) short breather, while "Ghost People" and "Twice As" are unmistakably Martyn in their slightly fractured rhythms and simple, effective leads. Up until this point the album is very much Martyn at his best, but also Martyn at his most recognizable.
Audio clip: Adobe Flash Player (version 9 or above) is required to play this audio clip. Download the latest version here. You also need to have JavaScript enabled in your browser.
"Bauplan" is where things change up, and the album enters its final third: the part that turns Ghost People from a very good album to something rather special. "Bauplan" is all crystalline synth arpeggios which, instead of slowing things down, just keeps driving along despite its lack of percussion. "Horror Vacui" is a sloppy rhythm track in all the best ways, with snares ratting away, ubiquitous raygun samples, and grimy bass lines. And then there's "We Are You In The Future," the last, longest, and easily best track of the album. At first it sounds like Martyn could be going the trancy route, but UK hardcore percussion takes over and firmly places things in early 90s Warp terrain. The track veers all over the place, taking a detour through very ravey sounds for a couple of minutes, but returns for a coda that takes what was so great about early 90s Sheffield techno (a sound that surprisingly has yet to really make a comeback) and makes it thoroughly modern. And that's pretty much Martyn's thing: the touchstones are always clear, but even so, something about Martyn's music ends up sounding new and fresh. One could delve into a discussion of retro-fetishism, but then again it's probably best you just put Ghost People on really loud, move your body, and watch that you don't hit your furniture.