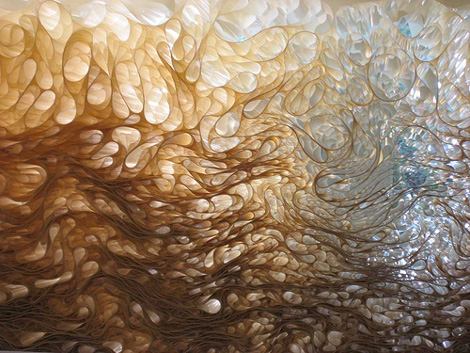 Illustration by Tara Donovan
For their latest single, Hamburg's Smallville Records reached well beyond its usual cohort of producers to host an unexpected collaboration by Thomas Melchior and Bruno Pronsato. Both are natural collaborators — Melchior with Baby Ford, Tim Hutton, and Bruno Maman; Pronsato alongside Daze Maxim, Sammy Dee, and Ninca Leece — and yet seeing their names linked by an ampersand was enough to elicit a double take. The confluence of Melchior's understated, hypnotic house aesthetic and Pronsato's loose, almost improvised arrangements certainly seemed like an alluring prospect. Perhaps Melchior would lend a bit of discipline to Pronsato's more meandering compositions while Pronsato would help coax Melchior out of his supremely focused grooves. Sadly, Puerto Rican Girls, the fruits of their time together, doesn't live up to the high standards set by their work apart.
Audio clip: Adobe Flash Player (version 9 or above) is required to play this audio clip. Download the latest version here. You also need to have JavaScript enabled in your browser.
Throughout the EP it's evident that Pronsato and Melchior have musical and personal chemistry, yet at times their sonic revelry comes across as hubris and a lack of editing. "Puerto Rican Girls" opens on a moonlit house groove of hand claps, playful bass lines and truly luscious Rhodes chords that makes you sit up and take notice. Vocals by Ninca Leece wonder, "When did I see you, when did I see you around the street?" The tune's soft surface is scored with eruptions and arcs elicited from a tangled web of modular synth work. So when Pronsato interjects at the fourth minute, "You know this shit is dope," I was inclined to agree but perplexed that it needed to be stated. All bets are off as Pronsato and his detuned shadow address "all y'all motherfuckers out there" between laughs, cues ("I'm going to wait for the Rhodes to come in"), and shouts, obscuring what was once a promising tune just because they could.
Where "Puerto Rican Girls" seemed most under the direction of Pronsato, its flipside, "We Make It Right," feels tighter and in the grips of Melchior. Its precisely clipped vocal snippets and Rhodes stabs are immediately recognizable as his, although its detached drum kit percussion and sunken vocals are Pronsato's calling card. Pleasant if not particularly urgent, the track kicks into gear halfway through when hi-hats are followed by frantic progressions of what sounds like a hoarse flute and tingling synth tendrils. It seemed a weak finish for an otherwise satisfying track, as once again the inveterate producers put undo faith in elements that should have been left in the session's dustbin.