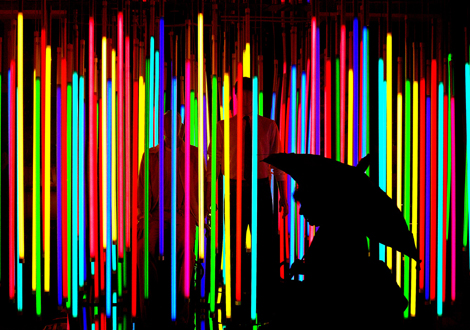 When DJ Koze, renowned master of the unexpected, minted the Pampa label in 2009, it was only a matter of time before he put out something like Xmas Rush/Mi Cyaan Believe It, his new split 12″ with the English producer Nathan Fake. The label's four previous releases have been well in line with Koze's madcap persona, but this split is perhaps its first passion project. None of its tracks are obvious singles, but there's no shortage of ideas here either.
Audio clip: Adobe Flash Player (version 9 or above) is required to play this audio clip. Download the latest version here. You also need to have JavaScript enabled in your browser.
Nathan Fake's "Xmas Rush" pits a dusty, sentimental vocal sample about "Christmas [rushing] through" against a variety of changing backdrops. The original mix dips in and out of glitchy IDM-style passages before settling into a loping schaffel rhythm, with Fake filtering and high-speed looping the sample on top. The producer is at his vertiginous best when he runs primary elements through those unmistakable filters, and as hyperactive as they are, both original and dub mixes contain flashes of that lightheaded beauty. However, the nearly-ten minute dub really cannot seem to sit still, and this haywire turbulence makes it a difficult piece to navigate.
Meanwhile, DJ Koze's "Mi Cyann Believe It" is a tribute to Michael "Mikey" Smith, based around samples of the deceased Jamaican dub poet reciting his poem of the same name. Fittingly, Koze takes several cues from 1980s digital dancehall, evidenced in the tinny repeating synth tone, gargantuan bass drops, and stepping percussion. There are a few Koze-isms — particularly the nosediving deep house pads and the way the track disintegrates midway through, as if in computer error — but he mostly keeps wild experiments at bay, mindful of the guest vocalist's legacy. The strategy works: its minimal structure accentuates the power in Smith's words, his voice nimbly riding the beat. Commercially risky though it may be, the release is another achievement for what's becoming an eminently collectible label.