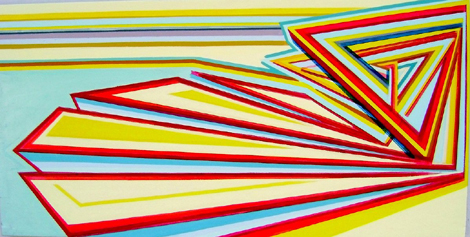 Painting by Nauman Humayun
Only two releases old, Thesongsays has already accrued an interesting profile. It was initially a platform for Bruno Pronsato's own productions, chiefly LWE's number four tune of 2009 "The Make Up The Break Up," a druggy 38-minute trip through his soundbank. Yet release number two was penned by the hitherto unknown team of Benoit & Sergio, featuring the lovely, saccharine "Full Grown Man." The third single from Thesongsays is equally unexpected, arriving under the auspices of Franco-German producer Ninca Leece who released an album titled There Is No One Else When I Lay Down And Dream earlier this year. Feed Me Rainbows certainly piques my interest like its predecessors and has me wanting to know more.
Audio clip: Adobe Flash Player (version 9 or above) is required to play this audio clip. Download the latest version here. You also need to have JavaScript enabled in your browser.
Kicking off with buzzing feedback and droney guitar soundscapes, you would be forgiven for thinking the first couple minutes of "Feed Me Rainbows" sounds like an old Cluster tune. Far from aping anyone or sounding unoriginal, however, Ninca's slight narration and broken kick drum patterns firmly contextualize things within the 21st century. Once the kick stabilizes, the terrain grows spongy and a killer bass line rears its head, allowing all the pieces fall into place. It's enough to have long-time techno heads pulling out those Neu! records and reevaluating just how danceable they could have been. Kraut rock and techno are hardly strange bedfellows, but when the two are combined this well I just can't help but enjoy the hell out of it. It feels almost too short at ten minutes, but throughout its length I feel like chomping on (if I had to guess) Froot-Loop-flavored rainbows myself. Even more surprising than side A is the reshape provided by Public Lover (aka Ninca and Bruno Pronsato) on the flip. Their slow, post-mnml brew of organ chords and snappy percussion just doesn't capture me the same way the original does. While hardly stagnant throughout its 16 minute run time — indeed, Bruno can be found discussing recording in stereo while Ninca sneezes — its spacey drift lacks the drive that made "Feed Me Rainbows" so magnetic.