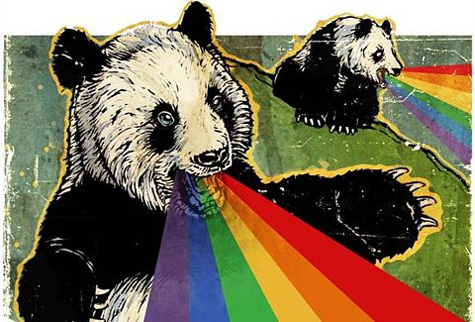 Echocord's offshoot imprint Echocord Colour is meant to allow for a bit more stretching to the standard label's Berlin-influenced dub-techno sound, and the first two releases have indeed pushed the boundaries further than what is usually heard on the parental label. Echocord Colour's third limited-edition, colored-vinyl (this time a gorgeous marbled canary yellow) release comes from Quantec; and while it certainly wouldn't have sounded too far out of place on the main label (Quantec just released his Unusual Signals album there earlier this year), there are indeed some new wrinkles evident on this three-tracker.
Audio clip: Adobe Flash Player (version 9 or above) is required to play this audio clip. Download the latest version here. You also need to have JavaScript enabled in your browser.
The A-side features two versions of the title track — Quantec's original and a dubstep-style remix from A Made Up Sound (aka Dave Huismans, better known as 2562). The original is a shimmering ghost of a track, opening with echoing skeletal chords hovering in the ether that are eventually joined halfway through the running time by the minimal snap of a glitchy mid-tempo Berlin beat and just the hint of a melody and bassline. A Made Up Sound's version doesn't attempt to reinvent the wheel, but does up the rhythmic quotient considerably, adding a crooked breakbeat and some new variations on the original's endless dangling chords. It's subtle, but effective and infectious, with a maximum effect gained from just a few simple changes of arrangement and rhythm; a marvelous example of not messing with things in a track that don't need to be messed with. More "remixers" should try it.
The sidelong B-side "Crank Eye" ventures into deeper, bleaker territory, resembling some of Basic Channel's more ambient moments in spots, a dark shudder of pulsating chords over an alternately pounding and shuffling rhythm that gets denser with every cycle through. But the real thrills are on the A here, where both tracks illustrate the growing sympathy between dub techno and dubstep, with the winner being the open-minded listener.