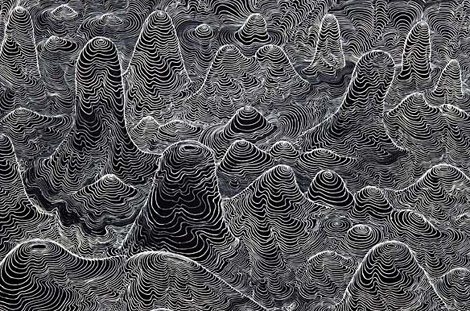 Illustration by Heike Weber
Mysterious German producer Redshape is one of the most impressive examples of a general shift in techno back to classical sounds and styles, and "Paradox Dubs," released in tandem with his stellar Dance Paradox debut album, will reinforce his reputation as a torchbearer for traditional techno. Even the presentation typifies a purism — and I thought I'd never get to say this — that is welcome against the backdrop of a seemingly infinite slew of paper thinly produced techno. "Paradox Dubs" is available on a limited edition 10″, dished out on a first come, first served basis to customers who buy the vinyl version of the album. Until the next major Redshape project, "Paradox Dubs" also brings a neat, though possibly unwitting sense of closure to his output to date.
Audio clip: Adobe Flash Player (version 9 or above) is required to play this audio clip. Download the latest version here. You also need to have JavaScript enabled in your browser.
"Dead Space" was the B-side on Redshape's first Present release, and here the "Next Door Ultra Dub" adds an extra dimension to an already multi-layered arrangement. Recalling the point where rave met Detroit techno's fathomic, almost austere sensibilities and the more esoteric end of nascent UK bleep techno — in particular to Nexus 21's productions — the new version factors in thunderous claps and a rolling bass-led rhythm, its drunken swing eschewing any prospect of a DJ-friendly proposition, pushing the production farther down the space techno rabbit hole. "Man Out of Time" is of a similarly ethereal bent, but the "Major Space Dub" version — and the original, but perhaps to a lesser extent — negate any accusations that Redshape is merely a backward-looking copyist. Drafting in T.Raumschmiere's drummer to play on the lopsided groove, while the man in the red mask plays keys that reach back to early Carl Craig as a reference point, but don't stop there, and lean equally on Miles Davis and John Coltrane for inspiration. An esoteric, enigmatic and irresistible release, right down to the final bar.