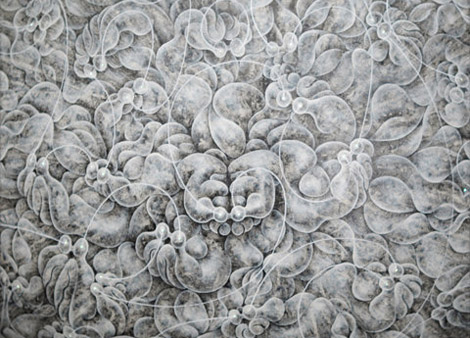 Photo by Christopher Jonassen
Close observers of dance music trends will remember the so-called Romanian invasion of late 2007-early 2008, when a pack of fresh-faced producers were catapulted into prominence with the patronage of Luciano, Ricardo Villalobos, and others. The funny thing about invasions, though, is their effects are often felt long after the press no longer sounds the alarm. In the years following, Romania's house and techno scene has continued to proliferate; and though few of its exports have reached the name recognition of the [a:rpia:r] stable (our old friends Petre Inspirescu, Rhadoo, and Raresh), many more have achieved respectability. One particularly ambitious example is the all Romanian-staffed All Inn Records, which in its three years of existence has expanded to include the All Inn Black and All Inn Limited sub-labels. Following a single by Summed & Dot that included a Tobias Freund remix, All Inn splurged for its last 2011 release — a remix single by two of 2011's biggest names, Kassem Mosse and DJ Qu.
Audio clip: Adobe Flash Player (version 9 or above) is required to play this audio clip. Download the latest version here. You also need to have JavaScript enabled in your browser.
All Inn's recent output has been largely compatible with current trends: raw, melodic, and thoroughly influenced by classic American house. Yet when remixing label adherents Sailor Mood and Summed & Dot, Mosse and Qu reimagine the subtle and hypnotic aesthetic with which many Romanians were first associated. In Qu's hands, Sailor Mood's "Brick Brick Brick" is all about tracking the slight switch-ups in tapped-out percussion patterns, leaving two weaselly synths and the occasional stretched vocal to provide momentum. Mosse has much the same M.O. when remixing Summed & Dot's "East Brick Wall." The twitch of clattering hi-hats at different depths lets flickers of watercolor pads filter through, leaving the deeply resonant bass line to compel butts to motion. Very much in line with KM's glut of 2011 remixes, it's more likely to build or extend DJs' sets than define them. It's unusual that an eye-catching release like this plays such a submissive role, even among All Inn's catalog. Its all-star cast and low print run of 200, however, mean this 12″ is likely to be snapped up regardless.