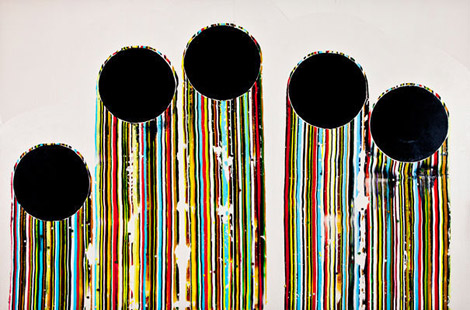 Shifted has encountered criticism for lacking a concrete identity in his sound, but this could be seen as a case of calculated subtraction, beginning on the dance floor with brutish, unfussy abandon in Drained, through to the brittle, delicate experimentation of his white label release on Avian. Crossed Paths, his debut long-player on Luke Slater's excellent Mote-Evolver imprint, is minimal techno completely sure of itself and fully evolved. Over 11 honed tracks, it exhibits a feathered, skeletal sound, an ambient-industrial hybrid with attention to detail that rewards in its measured establishment of mood and slow, generous climax.
Audio clip: Adobe Flash Player (version 9 or above) is required to play this audio clip. Download the latest version here. You also need to have JavaScript enabled in your browser.
The album begins by setting up its palette and terms in "Yearning," a slab of glaucous drone peppered with industrial clutter and clangs, a prep piece compelling the listener to enter the compression chamber to follow. A light, breezy atmosphere is established over the next 15 minutes before hinting at the rush in the suddenly impatient "Coax," before the emergence of "Leather," an early plot point full of bent cowbells and dark corners, its upfront bangs swooping by like tree trunks suddenly identifiable in the mist. Soothing Porter Ricks pads wash over "Colour of the Fall" before the arrival of "Suffocate," a percussive, tribal blinder with shades of Robert Hood's "Invincible." The pace stays remarkably on point, developing themes gradually until closer, "Disconnected," a cloudy denouement that allows the album to simply disappear.
Audio clip: Adobe Flash Player (version 9 or above) is required to play this audio clip. Download the latest version here. You also need to have JavaScript enabled in your browser.
Throughout the album, the beats are always gaseous, never weighed down, giving the feeling they could either dissolve or turn momentous and aggressive. With this unpredictability and the contrasts on hand, it could have turned out to be a jarring, paranoid record, but the mood most favored is mysterious and inquisitive. The overgrown train track on the cover seems to signify a meeting point for the machinated and the organic, and that's precisely what is offered: a rounded, delicate kind of techno, neither liquid nor solid, less an architectural structure than a line of groynes at the edge of the sea. Judging by his recent contributions with Samuli Kemppi to Mote-Evolver's Parallel Series 2, Shifted shows no signs of softening completely, and with the devastating monotone pulse of "Gates" sounding deliriously exotic in Monoloc's March Berghain mix, he looks set to make a decisive mark on the techno landscape. Crossed Paths may seem cold or stubborn on early listens in comparison to his floor-ready work, but with a little time and close listening, it opens up beautifully.