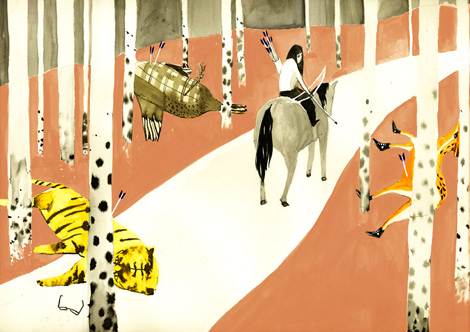 "The Hunter" by Andrea Wan
[Philpot]
Having already crossed paths a couple times on wax, by way of splits and remixes and label connections, the team-up of collabo-keen auteurs David Moufang (Move D) and Michael Baumann (Soulphiction/ Jackmate) doesn't come as much surprise. The first fruits of their labor (with further releases already mooted) find the duo mining a shared musical heritage for a miniature set of mild-tempered, organic house.
Despite pressure from the steadily throbbing bass, the easy-going title track glides by at a poolside pace. Funky splashes of guitar add some twinkle to the sleepy-eyed, Dial-style keyboard melody, while a cool patter of live-sounding drums uphold the comfortably unwound rhythm. Amiable hand claps complete the picture, and you can practically see the crowd pleasantly swaying to the music. There's a sonic kinship to Isolée's "Albacares," but the immaculate sound design is far less busy. Lazy, summery, and deeply relaxed, "Limelight" sets a mood rather than demanding attention, and you'd be forgiven for mistaking the vocoder-voiced provocations to "shake it baby" for a drink order. A solid remix from Trus'me retains this mellow ease, but pursues a little more activity on the floor, rigging the track with an uptempo house bass line and more determined keyboards. Just to make sure he's understood, there's also an overlay of whistles, hoots, and "oh yeah"s to point you in the right direction.
Audio clip: Adobe Flash Player (version 9 or above) is required to play this audio clip. Download the latest version here. You also need to have JavaScript enabled in your browser.
But if "Limelight" is content to recede into the background, "The Essence" comes across with more urgency and feeling. Staying true the EP's balmy vibes, "Essence" pairs an almost luxurious bossa nova rhythm with some wearied guitar reverb. Though "house" is the appropriate categorization, "Essence" works with a pretty straightforward "roots" palette, citing jazz, funk, soul, disco, and also highlighting a shared ancestry with certain strains of contemporary hip-hop, R&B, and even rock. A brief spoken word contribution delivers a manifesto calling for the conscious elevation of meaningfulness in music. "To do this," we're instructed, "we must always understand that our work must be, one: collective, two: functional, three: committed." Sounds about right for these two.