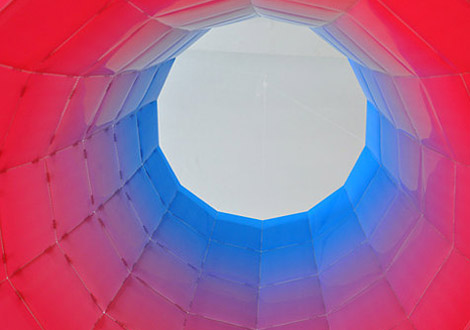 "Chromaesthesiae" by SOFTlab
Coming on like some kind of disparate super group, the Bright Star EP brings together Hamburg-based producer Stimming; the owner of Buzzin' Fly, producer for '90s act du jour Everything But The Girl and man behind legendary London party Lazy Dog, Ben Watt; and the vocal talents of jazzy singer Julia Biel. With this much talent you might expect sparks to fly — or fizzle. If you chose the former, one wouldn't be too far off. But one wouldn't be too harshly judged for being apprehensive as, to be fair, as I was prior to listening. Without taking anything away from the man, Watt's Buzzin' Fly label has tended to lean a little too far to the tracky soulful deep house side for my liking. This is somewhat unsurprising seeing as the aforementioned Notting Hill Lazy Dog party was among the most influential places in London to hear deep house of that ilk from 1998-2003. Indeed, many well known promoters and DJs including the Secretsundaze boys, Giles Smith and James Priestly, frequented the fortnightly Sunday party and one would suspect, were somehow inspired by it. Although the music was good though, eventually it became a canon of it's own devising — a gilded cage if you will — harking back to the recent past rather than the future. Bright Star, however, is a volte-face.
Audio clip: Adobe Flash Player (version 9 or above) is required to play this audio clip. Download the latest version here. You also need to have JavaScript enabled in your browser.
Stimming has proven on impressive cuts such as "Kakusei" on the Buxton Pipes EP, the underrated "The Anger" on Liebe*Detail, or "Kleine Nachtmusik" for Buzzin' Fly that he has his throbbing, shimmy inducing, slightly out of the ordinary deep house down to a science. But it's his skills on the groove twinned with Ben's pedigree working with vocalists which sets this release apart from the rest. The "Sunrise Mix" is pure Stimming; its bass line bounces under Beil's Billie Holiday-like tones, which are filtered through what sounds like an old microphone recommissioned from the '40s. Heard amid flickering drums, perfectly placed clicks and tense, brassy synth notes, it's a sound that teases a dance floor into a state of frenzy by subtly hinting at a breakdown without giving in. A fine line well trod. The flipside "Sunset Mix" is a much more demure experience. As opposed to submerging the vocals, the jazzy, emotion-laden lyrical content is the central figure among spacious arrangements. It's placed on a spindly frame of warm if slight pads, organic and wonky bass notes, and golden, slo-mo horns, all of which suggest this side will get more play on the home hi-fi than through club tackle. Despite being a touch predictable for anyone who has heard Stimming develop, Bright Star is as impeccably produced as one would expect from a trio this talented and experienced. I hope there's more like the precariously perched "Sunrise Mix" in Buzzin' Fly's future.