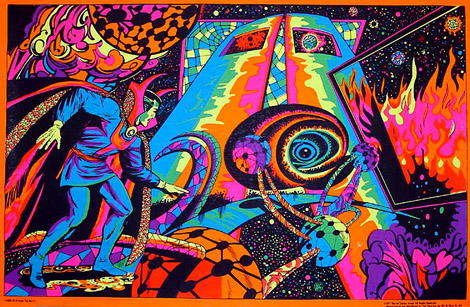 Every producer wants to make records that set themselves apart from other records. You'd think this would have to be true, right? Otherwise, why would anyone take the time and considerable cost necessary to create a piece of dance music? Practically every producer I hear strives to differentiate him or herself by way of the sounds — to get them as far away from the presets as possible; to design the presets of tomorrow, perhaps. Yet so many of the best moments in house and techno are those when the music itself fades away into a feeling. You can tune your drum machines all day, but if you can't get something more out of them than soundwaves — if you can't tease out that hypnotizing x-factor that makes certain dance records good beyond words — then you're missing something critical.
Audio clip: Adobe Flash Player (version 9 or above) is required to play this audio clip. Download the latest version here. You also need to have JavaScript enabled in your browser.
When most producers just want to get their head above the floodwaters, it's easy to get tunnel vision about crafting the most distinctive and attention-grabbing sounds possible. STL (born Stephan Laubner) certainly makes distinctive, attention-grabbing tracks; his smash "Silent State," for instance, made it to the top of our 2009 poll. But as soon as he's got your ears, he strives to switch them off and just make you feel. It might be that STL's latest, … And His Quest For Sound, has approximately twice as many tracks as his typical transmissions, but I found this dissociative quality to be particularly potent on this doublepack. As I listened to these tracks, replete with the kind of lilting beats and narcotic micro-melodies that have long characterized STL, I found myself zoning out pretty consistently, and in the best way possible.
Which isn't to say that STL's Quest For Sound hasn't produced a collection of tracks that's tightly constructed and deliciously varied. Tracks like "Jump And Run" and "Cranky" pair his signature mix of nerves and nerdiness with a big-room, floor-executing, vintage techno-referencing stomp. Sometimes, like on "Night Sky Watching," he's content to give those nerves free-reign, letting Oni Ayhun-style resonance slowly meander out of murky triplet rhythms. He finds a similarly off-kilter groove on "Come Together," but melodically, he's found himself squarely in lush deep house territory. It's commendable how fresh the guy can make those same Moodymann chords practically everyone's been ripping off for the past few years. Even when STL is at his moodiest and subtlest, as he is on "Third Ear," he makes sure everything sounds like it's in its proper place: as if they're kicking fog, extremely detailed drums shake around heavy, sustained dub chords for a surprisingly tense nine-and-a-half minutes.
Audio clip: Adobe Flash Player (version 9 or above) is required to play this audio clip. Download the latest version here. You also need to have JavaScript enabled in your browser.
Anyone familiar with the prolific STL's output won't be terribly surprised by the music etched into these four sides. But I can't help but feel like this Quest For Sound has brought STL even closer to that place where his sonic signature is something you can't merely hear. The appropriately titled "Silent State," with its ultra-minimalist snare and nearly invisible wisps of melody, undoubtedly reached this ideal, but it made for something of a sonic departure. Back on his own Something label, STL achieves this kind of silence while sounding like no one but STL. He has long ended his sides with "Loops," locked grooves featuring twitchy beats that will keep pounding away as long as you leave the needle down. Four of these make their way onto Quest For Sound, but I can't help but wonder if Stephan Laubner has started to move beyond them, if he's finally getting his linear productions to coax listeners into the state that an extended playing of these circular ones long has: time disappears, attention is lost, and the music becomes merely a vehicle for sweet, sweet hypnosis.