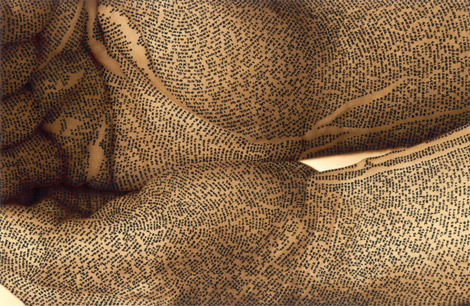 [Live At Robert Johnson]
Frankfurt producer Christian Beißwenger is a consummate team player. Since 2002 he's been half of several production duos, most fruitfully as Arto Mwambe with Phillip Lauer, but also as High Tide with Lukas Bacsoka, The Exile Missile with Philipp Lange, and most recently B.H.F.V. with Oliver Hafenbauer, manager of Live At Robert Johnson. Beißwenger's solo works appear more sporadically: his last CB Funk release, the sought-after Subway To Cologne 12″ for Story, arrived in 2008. While this year has seen him keeping busy with Arto Mwambe and working behind the scenes on records by Lauer and Ata, Beißwenger found time for a new CB solo project. The Citizen's Band makes its debut on the white hot LARJ imprint with 77 Reasons.
Audio clip: Adobe Flash Player (version 9 or above) is required to play this audio clip. Download the latest version here. You also need to have JavaScript enabled in your browser.
Although Beißwenger's catalog could hardly be described as staid, there's a cheekiness to "West 42nd" that immediately distinguishes The Citizen's Band's material from the rest. Opening with an irreverent deployment of kick drums that could challenge even seasoned DJs, the tune becomes a head rush of effervescent tones that begin to streak as they hit warp speed and twinkle when slowing down. Fortified by playful, garage-influenced drum programming and sublime pads, "West 42nd" bustles with kinetic energy while whirling around listeners' heads. The title track is slightly more conventional but just as accomplished, imbued with a similarly brazen spirit. Ear-catching tones flicker against a spectral slate of rippling organ tones before the track drops into a dogged, bass-aided groove. An early break lets the organ roam and triggers the bass line's long-legged walk, setting off a dazzling blend of elements you'll want to soak up with your eyes closed. 77 Reasons is not only Christian Beißwenger's stunning return to solo releases, it's perhaps the finest capstone LARJ could desire for a year of stellar releases.