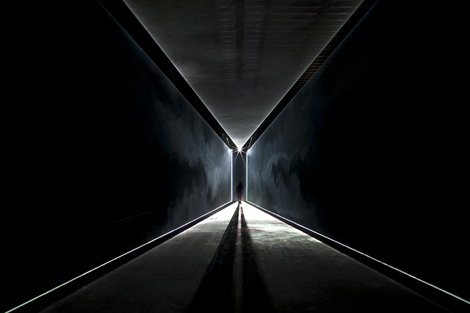 For a label that's only been around for five years, Ostgut Tonträger has done a fine job of canonizing itself at an alarming rate. At this point, if the almighty Ostgut isn't mentally evoked at the very mention of techno, you must not be paying attention. As the official release outlet of the mythical Berghain/Panorama Bar club in Berlin, they've not only reinforced the club's lofty reputation but have steered the gaze of an entire world of techno toward the doors of the abandoned power plant. In 2010, steely banging techno meant for the Berghain is the standard.
Audio clip: Adobe Flash Player (version 9 or above) is required to play this audio clip. Download the latest version here. You also need to have JavaScript enabled in your browser.
Ostgut Ton have always had a stoic austerity about them. Their music speaks for itself, and the stark, beautifully designed sleeves only add to the chilly indifference. Yet they've tried their hand at grand gestures as well, namely 2007's ambitious Shut Up And Dance! Updated compilation. A ballet set to techno curated by the label, it made for a uniformly great accompanying CD but the performance itself engendered a mixed reception; safe to say, one of the few possible slip-ups the label has ever committed. It seems they've learned their lesson. The celebration of their fifth birthday (a few enticing celebratory club nights aside), Fünf is a purely musical affair, a 2-CD compilation containing all new material from nearly everyone ever associated with the Ostgut crew and then some. Each track on Fünf is built from a field recordings made by the Berlin-based UK producer Emika ("Cooling Room"), recordings of the very inner-workings of the club itself. It's an enviably brilliant idea that audibly stitches the very character, the very essence of the Berghain into the music.
Two possible worries need to be dispelled before continuing. Label compilations like this are rarely cohesive and are often patchy collections of leftover rejects; not so here. Similarly, the idea of a 2-hour-plus album composed of the same palette of sounds seems a bit frightening — but thankfully, not so. Each producer imagines Emika's field recordings as a blank slate on which to project themselves, taking a shared sound palette and constructing their own idiosyncratic grooves and sounds. Every tune is a neat little portrait of each artist painted with the same brush — like a casting call for the label's growing cohort — in one fell swoop solving any issues of continuity or dullness.
Audio clip: Adobe Flash Player (version 9 or above) is required to play this audio clip. Download the latest version here. You also need to have JavaScript enabled in your browser.
While it's a mammoth listen to digest in one go, you'd be hard-pressed to find a better collection of singular techno tracks. It's difficult to pick highlights out of a collection so consistent, so varied, and so thoroughly impressive, but there are a few blinders. Label head, one half of MyMy, and hush-house producer Nick Höppner provides the compilation's most fragile, transcendent moment with "I.S.P," a syncopated house track that spills out delicate percussion, the sound of tube amps lightly knocking together. Marcel Fengler throws down one of his typically violent rhythms in "Shiraz" and Fiedel contorts the industrial noise into a thrashing raver characteristic of this year's anthemic "Nous Sommes MMM." Meanwhile the big names maintain their reputations: Herr Dettmann drops a track far more brutal than anything on his debut album in "Scourer," which strips and polishes the source material into a typically sleek banger, while Ben Klock continues in his new hollowed-out house(ish) direction with "Bear." Perhaps most surprisingly, Shed drops his most straightforward track since "That Beats Everything!" with "Boom Room," the industrial sounds a natural match for his breaky techno.
The house quotient is well-represented — no one's forgotten about Panorama Bar. Prosumer's "Daybreak" sounds like it was dug up out of a time capsule, and Elif Bicer lays a lovely vocal on top of the pillowy production from Murat Tepeli on "Hold On." Other producers find an encouraging middle ground between deep house and minimal; Cassy's contribution features a haywire drum machine, Dinky wraps warm samples in fractured minimal arms, and Tama Sumo's debut production "Iron Glance" is a gaunt, wiry thing. There are enough experiments to keep even the most jaded, fairweather dancers interested. Len Faki drops a downtrodden electro-ambient weeper with "Kraft Und Licht," Norman Nodge provides a near-ambient thing that sounds more like a field recording than the actual field recording and SCB's "Down Moment" is almost painfully sharp, kicks and snares refashioned into daggers. Soundstream even makes a hallowed appearance with "Wenn Meine Mutti Wüsste" where he fashions misty dub techno chords out of the industrial sounds, cutting his soft clouds with bits of metallic impurities and factory detritus.
Audio clip: Adobe Flash Player (version 9 or above) is required to play this audio clip. Download the latest version here. You also need to have JavaScript enabled in your browser.
In spite the kind of backward-looking introspection a birthday often instigates, Fünf has its eye firmly on the unknown and uncompromising future. It's so very Ostgut of them to give us two whole discs of new material rather than a label best-of which itself could have been the best thing released this year anyway. But nothing less should be expected from the label that relentlessly pushes forward, the label that not only sets the trends but predicts them and then moves on while everyone is catching up. You might as well get used to the sounds of Fünf because you're going to be hearing their influence ringing in the tinnitus-riddled ears of techno for years to come.