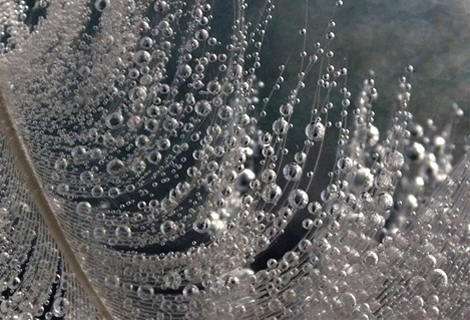 [Kompakt]
Seasons come, seasons go, and with them Kompakt's Pop Ambient series, where the label's clockwork ticks much slower than usual. Not that Pop Ambient's reliability has never been in question: every time a new installment filters through the opinion-maze of web- and music criticism, someone proclaims it's not as good as the last one, or the series' key idea is petering out, or maybe Kompakt should stick to making IKEA techno, or that it's too much of the same thing, or whatever. Regardless of the occasional arcs in quality (I seem to recall 2006 to 2008 not grabbing my attention quite so strongly), the complaints are a tad confusing. Surely Pop Ambient's brief is to be "too much of the same thing," to essay myriad variations on that lovingly hazy, gaseous, oddly catchy, plastic ambient sound they've perfected, to take a relatively long time to say relatively the same thing at pretty much exactly the same time of year? Ragging on Pop Ambient for being stagnant is much like complaining that Phill Niblock plays the same note for a long time. It is kind of the point — well, not so much stagnancy, but certainly the careful exploration of a rather small patch of land. Sometimes Niblock plays two notes, too.
[zero r="Pop Ambient 2010″ a="Bvdub" t="You Know Where To Find Me"]
Pop Ambient releases are set free into the deepest European winter. Certainly, there's something of the chafing cold, of being rugged up against the elements, in the way things unfold: witness the geological rate of development in tracks like Brock Van Wey/Bvdub's "Will You Know Where To Find Me," which takes over fifteen minutes to slowly unwind itself. The overarching tenor here is misty and blurred, whether the aqueous repose of Mikkel Metal's "Blue Items," the gray lagoons of Triola's "Schildergasse," or the latticed ice-shards of opener "The Sound Of One Lip Kissing," yet another of Marsen Jules' attempts to make the world stop and start according to the power of his computer's delay setting.
[zero r="Pop Ambient 2010″ a="Marsen Jules" t="The Sound Of One Lip Kissing"]
But Pop Ambient 2010 turned up down here, in the Southern Hemisphere, in the midst of a blazing summer. I've already spent many long weekend days with it circling on repeat in my apartment, the audio streaking the air while sun floods the room, weaving its way through the Venetian blinds and illuminating dust particles swimming through the heat fug. All things are not the same, it seems. If anything suits the mood in Australia, it's the oddly sluggish loops of Wolfgang Voigt's "Zither Und Horn," which suggest a folk band dosed on so many downers they can barely lift their fingers to play their instruments, or the queasy drones that flutter below and around the pointillist piano of DJ Koze's "Bodenweich," which for some reason recalls a spritely, happy-sad version of Japan's "Ghosts." Or maybe that's just the heatstroke.
[zero r="Pop Ambient 2010″ a="DJ Koze" t="Bodenweich"]
If Pop Ambient could do anything for its next installment, it would be to stretch its tentacles of community further, maybe call on figures like Andrew Chalk, William Basinski (who received a dedication on Pop Ambient 2009), Leyland Kirby, or Robert Haigh, whose delicate miniatures and hazy dronology isn't actually too far removed from some of the more questioning moments on Pop Ambient 2010. But hey, alright — it's still one of the loveliest things you'll hear all year. And if you're coming back from a long night out, it's the perfect thing to tuck you in to bed in the morning. Comedowns for the post-club hours. Your lounge-room's now the chill-out zone.
[zero a="Various Artists" r="Pop Ambient 2010″]