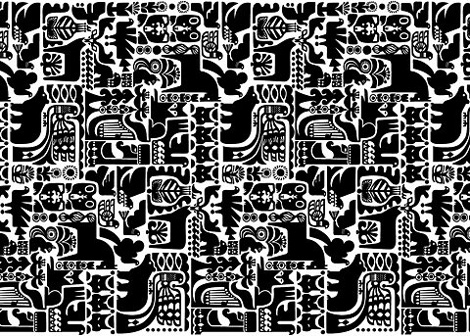 Art by Sanna Annukka
Not yet a year since the release of the first "Tsuba Samurai EP", the London house label offers up a sequel, "Return of the Samurai." Though this two-part release brings a keeper to the bin, three remaining tracks are compilation fodder — representative, likable, but altogether unmemorable. Despite its too-restrained style, "Return of the Samurai" is altogether a practice in good taste. Initially I pulled this pick from the pile for its inclusion of David Pher, previously known to me only for his "Harare," a dynamic gem I first heard in Julietta's Ibiza Voice podcast. The chants of children appear again here in "Sweet Little Sin," but with far less levitation than before. An emerging marimba melody makes an attempt at evil, but the edges are too soft, more decorous than dangerous. Nima Gorji can be complimented for the shuffle-inducing, sashaying percussion in "Japanese Sword," but the goofish warrior vocals are a bit too big for their britches. Phaser effects do little to expand the track, but the near-end, sneak-in melody almost saves an overall growthless track.
Audio clip: Adobe Flash Player (version 9 or above) is required to play this audio clip. Download the latest version here. You also need to have JavaScript enabled in your browser.
"Muramasa" presents the predictable set of round, percussive pings for which Rozzo is well-loved, complimented by sweeping ambient swells lending the track an unanticipated moodiness. The well-paced entrance of the beat lends "Muramasa" the groove it needs to uphold the spooky bells jutting into the mix. But like many of Peter Dildo's other productions, this track descends as soon as it unfolds and we hardly get a chance to know him here. Tsuba saved the comp's sleekest skill for the second slab. Two Armadillos' "Jaz Falutin" starts in motion and stays there, deep and true throughout. Last year the U.K. pair peaked ears with "Nostalgia," and here again they construct the sort of track that, at its height, has you picturing not only a dance floor full of closed-eyed groovers, but evokes an image of the very musical elements themselves dancing together in their own loopy way. Piano flourishes get down with feel-good pizzicato, bass melodies support the cowbell pops — the smooth rhythms and emotive punches all manage to dance without stepping on each other's toes. Despite a lack of luster on the rest of the "Return," this track got me moving, pronto.