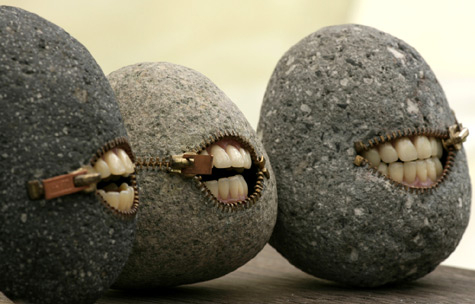 [~scape]
While compilations by Soul Jazz and Skream have highlighted the rude bwoy and raved up ends of the dubstep oeuvre respectively, the Round Black Ghosts compilations have become the touchstone of the more subtle, techno influenced fare. Any discerning fan of the artists and the sound on display here will most likely already have this swag of non-exclusive treasures which have mostly been out for the past few months. Looking through the track listing it's a round up of the usual suspects, with TRG, Scuba, Pole, Kontext and Martyn all featured and all artists who helped define the course of this particular branch of dubstep in the past 12 months. ~scape owner Pole, for his part, seems to have been reinvigorated by dubstep, his productions once again sounding vital after many years of rehashing the same idea to the point of tedium. The RBG compilations highlight the deeper end of the spectrum, though that isn't to say these tracks are without their dance floor appeal.
Audio clip: Adobe Flash Player (version 9 or above) is required to play this audio clip. Download the latest version here. You also need to have JavaScript enabled in your browser.
Appropriately, it's Peverelist and Appleblim's "Circling" that marks the beginning of the compilation, a track which made it on to many year end lists in 2008 for its contrasting elements of lush, swirling textures and stark overtones. Scuba's "Bleach" appears to be the only unreleased track of the bunch, and in typical Scuba fashion it is a densely packed, yet restrained affair of cavernous proportions. It almost seems strange seeing Zed Bias' name on the liner notes. For most people he will irrevocably be synonymous with 2-step and garage, though the only tell-tale sign of his past in the instrumental mix of "The Cauldron" is the wobbling bass (though set to much lower frequencies here). Two of the finest moments on RBG 2 come from the startling percussion of Kode9 and Badawi's "Den Of Drumz" and Kontext's fathoms deep, glitch-stepping masterpiece "Blinkende Stjerne." The tracks respectively represent the clubbier and home listening ends of dubstep.
Audio clip: Adobe Flash Player (version 9 or above) is required to play this audio clip. Download the latest version here. You also need to have JavaScript enabled in your browser.
At first listen RBG 2 could seem unwelcoming, too distant and unyielding, but ensconce yourself in a darkened room with a quality pair of speakers or headphones and all will be revealed. These tracks may mostly be available already but they lose none of their polish by being assembled here in one place.