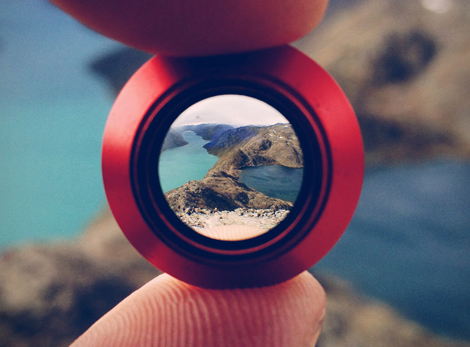 Photo by Henning Mella
Emerging last year on beats labels like Astro:Dynamics and left_blank, Bristol's Seb Gainsborough instantly established himself as an artist to watch. Superficially, his sound cuts between his home city's post-everything bass scene (his "Nylon Sunset" was remixed by Peverelist) and the underwater funk of Newworldaquarium and Actress, but parsing where exactly he is coming from is a more difficult task. Gainsborough has signed to Tri Angle for his debut full-length, Order of Noise, a move that further complicates his identity.
Audio clip: Adobe Flash Player (version 9 or above) is required to play this audio clip. Download the latest version here. You also need to have JavaScript enabled in your browser.
Tri Angle is not an eclectic label. It seems to have been minted specifically for its roster, with each artist offering a slightly different take on melancholy, disembodied pop production. Gainsborough's main press photo may not show him draped in a white sheet, but it does depict him creepily grimacing with words painted on his face, and his tracks do tend to have dark-tinted atmospheres. The prospect of a Vessel album on Tri Angle makes some sense, but one would also rightly expect it to veer from the label's m.o.
Audio clip: Adobe Flash Player (version 9 or above) is required to play this audio clip. Download the latest version here. You also need to have JavaScript enabled in your browser.
Instead, Order of Noise opens in near pastiche. "Vizar" and "Stillborn Dub" are pure slow-motion melodrama — all chopped, pitchbent vocals and grim strings, laced with requisite deep reverb. It isn't a heartening beginning, as one wonders whether he felt pressured to conform to the label's aesthetic. The grime-infused "Images of Bodies" fares a bit better, but its halted halfstep lacks momentum. On these earlier tracks (and some near the end as well), the LP is little more a beat tape; a series of hesitant — if richly textured — experiments.
Audio clip: Adobe Flash Player (version 9 or above) is required to play this audio clip. Download the latest version here. You also need to have JavaScript enabled in your browser.
But partway through, things begin to change. "Lache" molds splintery waves to another grime-house arrangement, but this time finds them pushed to a beguilingly uplifting finale. On centerpiece, "Aries," Gainsborough truly finds his stride. The track's eerie main phrase is redolent of Actress but is executed faultlessly. It's matched with a backdrop of blustery, tunneling seriousness, the mood only lightened by stray plonks and other odd squiggles of percussion that emanate from somewhere other than a drum machine. These scrappy quirks permeate many of Gainsborough's productions, and usually have a similar effect. "Plane Curves" is marked with echoing pots-and-pans percussion, a reckless compliment to its squashed, thudding groove. The outsized bass line on "Court of Lions" is nothing if not imposing, and its sense of drama is heightened by streaky synths. But shambolic tinges again lurk like interference, tempering the track and leaving it on the right side of over-emotional. Gainsborough is no doubt a talented, imaginative producer, and the flirtations with Tri Angle's signature sound prove his versatility. He's at his best, however, when his tracks threaten to rip apart at the seams. Order of Noise is a slightly uneven debut, but one hopes Gainsborough recognizes this unevenness is frequently his greatest asset.