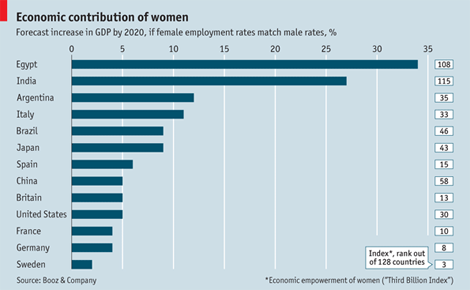 Chart courtesy of The Economist
01. SLG, "Blurry" [Studio Barnhus] (buy)


Studio Barnhus continually proves itself as a mysterious place where you never know what will round the corner next. They've introduced a host of new Swedish producers to the world and hosted Jesper Dahlbäck, one of the country's veteran producers, as well. Their latest release is similarly a curveball: The Potop EP is from Polish producer SLG, who was most active between 2005-08 in affiliation with Riley Reinhold's Trapez imprint. This release bears little in common with those days, instead adopting a loose, sample-friendly house style which nicely suits its home. "Blurry" is my pick because its rich atmosphere is so successfully realized. Integrating a torrent of vocal syllables as their own instruments into a popping frame of electrofied beats, the track shoots past utterly pleasant and into rather memorable. That it shares some territory with Lauer's recent productions only helps its case in my mind. If the Barnhus boys can help revive the musical career of SLG, who knows what else they're capable of.
Audio clip: Adobe Flash Player (version 9 or above) is required to play this audio clip. Download the latest version here. You also need to have JavaScript enabled in your browser.
02. Morning Factory, "Anna Logue's Sleepover"
[Clone Jack For Daze Series] (buy)


When I quizzed them on their choice of name, Morning Factory's Jozef Lemmens and Pierre van der Leeuw professed utmost respect for the duo of Chez Damier and Ron Trent but insisted they were not trying to repeat their sound. With a discography as versatile as Morning Factory's it would be hard to claim they had. Only on this latest single for Clone Jack For Daze does the twosome really try on a jacking Chicago style. Not surprisingly their taste for dreamy melodies lends itself to the Chicago-influenced drum programming, and on "Anna Logue's Sleepover" it's a particularly affecting combination. The filtered hi-hat is a cutting foil for the melancholic tones seeping from the synths, alongside which pronounced claps and a robust kick give the contemplative track the momentum to carry us all through. What's incredible about Morning Factory is they can move from strength to strength without bringing much more than their melodic sensibilities.
Audio clip: Adobe Flash Player (version 9 or above) is required to play this audio clip. Download the latest version here. You also need to have JavaScript enabled in your browser.
03. Christopher Rau, "New Stuff" [Never Learnt] (buy)


Christopher Rau is one of those quietly prolific producers who has been able to churn out two albums in two years, made time for three singles per year, and contribute to two different collaborative projects (Bon & Rau and Roaming). The Hamburg denizen has done well at this pace, spreading his music across a wide swath of labels beyond his home base of Smallville. This year included the Marbled World EP for Never Learnt, from which I've chosen the plainly titled "New Stuff." One thing Rau does quite well is put together a subtle yet delectable groove around which he can tweak the details. This quivering mass of organ chords, vibrated by a restlessly burrowing bass line, is a splendid foundation for his pitch-shifted birdcall tones and hi-hats that spark and flicker like sparklers. Although it ends on some needless, detuned vocals, the tune's music-box sensuality caters to head-nodders while its bass stirs the dance floor. That's a success in my book.
Audio clip: Adobe Flash Player (version 9 or above) is required to play this audio clip. Download the latest version here. You also need to have JavaScript enabled in your browser.
04. Steven-J Aka Wobblejay, "Let Me Know"
[City Fly Records] (buy)

Born from a Leicester-based club night that's run for more than eight years, City Fly Records is a relatively new face on the vinyl scene. In its four releases, however, they've showcased a number of bright new faces in UK house. Their Creative Swing Alliance EP was late favorite of mine from 2011, and now they've followed Flori with Steven-J Aka Wobblejay. The latter is a relative unknown who, like his label peers, sets out a 90s-informed house aesthetic, adorned in samples and suffused in sweet organ melodies. This sound is one we've heard a lot of in 2012 and I expect to hear for a while longer. To hear tracks like "Let Me Know" from Steven-J is to be reassured this particular craze will definitely include some gems. Its ephemeral female vocals circle a pleasantly charging organ progression, suggesting a fragility in something that's actually quite sturdy and somewhat recalls a sound Agnes does so well. City Fly have done us the favor of providing yet another artist to watch out for in Steven-J and certainly have me anticipating their next release, as well.
Audio clip: Adobe Flash Player (version 9 or above) is required to play this audio clip. Download the latest version here. You also need to have JavaScript enabled in your browser.
05. Ripperton, "It's Time" (Agnès Thursday Take 1b) [Sthmlaudio Recordings] (buy)

The friendship and collaboration between Ripperton and Agnès, two of Switzerland's most beloved contemporary producers, was first committed to wax in 2006 and has always yielded compelling results since. Much like their last release, the ambiguously credited + 91 Ahead Session 2, this latest missive for Agnès' Sthmlaudio has a somewhat murky authorship. What we know for sure is that on a Thursday, Agnès tried his hand at versioning "It's Time." He's nothing if not dependable although sometimes a bit predictable, and this tune bears some of both. Lucky for fans of Agnès, the plundering bass lines and glowing atmosphere we've come to expect is nailed in place by sniper precision drum programming. Shot through with troughs and eddies as twisting as the vocal samples repeated throughout, it's a DJ friendly tool that can help a drowning set float. Here's to many more years of friendship and enigmatic collaborations.
Audio clip: Adobe Flash Player (version 9 or above) is required to play this audio clip. Download the latest version here. You also need to have JavaScript enabled in your browser.
06. NeferTT, "Blue Skies Red Soil"
[Hotflush Recordings] (buy)
07. Francis Inferno Orchestra, "Here's To Always Feeling Good" [Fina Records] (buy)
08. Juju & Jordash, "Track David Would Play" [Dekmantel] (buy)
09. Maxxi Soundsystem feat. Name One, "Regrets We Have No Use For" [Hypercolour] (buy)
10. Carlos Nilmmns, "N'oublions Pas"
[The Smuggler's Inn] (buy)
Staff Charts
Per Bojsen-Moller
01. Devin Dare, "Feels So Wrong" [Stilove4music]
02. Xosar, "Nite Jam" [Rush Hour Recordings]
03. Lena Deen, "Sleep Don't Come Easily" (Claudio PRC Remix) [Prologue]
04. Legowelt, "Clap Yo Hands" [Clone Jack For Daze Series]
05. Braiden, "Belfry Tower" [Rush Hour Recordings]
06. Delroy Edwards, "When The Glue Won't Burn (4 Club Use Only)" [Long Island Electrical Systems]
07. Alex Israel, "Witchetty Dreams" [Night Gallery]
08. George FitzGerald, "Every Inch" (Deetron Remix) [Hypercolour]
09. Unbroken Dub, "I Want To Make This Louder" [Delsin]
10. Jovonn, "Get Up" [Objektivity]
Brandon Bussolini
01. Dino Sabatini, "Icaro" [Prologue]
02. Two Dogs In A House, "Eliminator" [Long Island Electrical Systems]
03. Legowelt, "Elements Of Houz Music" [Clone Jack For Daze Series]
04. Bee Mask, "The Story of Keys and Locks" [Spectrum Spools]
05. Andy Stott, "Hatch The Plan" [Modern Love]
06. Vessel, "Court Of Lions" [Tri Angle]
07. NeferTT, "Pyramel" [Hotflush Recordings]
08. Juju & Jordash, "Track David Would Play" [Dekmantel]
09. Ital, "Deep Cut" (Live Edit) [Planet Mu]
10. Lukid, "USSR" [Werk Discs]
Carlos Hawthorn
01. Jimmy Edgar, "Sex Drive" (Jon Convex Remix) [Hotflush Recordings]
02. Black Jazz Consortium, "Free Your Mind (feat. Minako)" [Soul People Music]
03. Jets, "Sin Love With Me" [Leisure System]
04. Jets, "In Her City" [Leisure System]
05. Move D, "Got 2 B" [Electric Minds]
06. Basic Soul Unit, "Late Night Shift" [Midnight Shift]
07. Pangaea, "Middleman" [Hessle Audio]
08. Ripperton & Agnès, "It's Time" (Agnès Thursday Take 1b) [Sthmlaudio Recordings]
09. David K, "Step of the Clouds" [Dame-Music]
10. Ill Blu, "2nd Nature" [Madtech Records]
Steve Kerr
01. Sensate Focus, "X" [Sensate Focus]
02. Bell Towers, "Private Time (Dub)" [Hole In The Sky]
03. Obsolete Music Technology, "Swell" [Dolly]
04. Vatican Shadow, "Al Qaeda Possess Nuclear Capacity" [Hospital Productions]
05. Ike Yard, "Loss" (Regis Version) [Desire Records]
06. Automatic Tasty, "I Seen You Through A Crowd" [Wil-Ru Records]
07. Container, "Refract" [Spectrum Spools]
08. Benjamin Brunn, "Pankow Memories" [Third Ear Recordings]
09. Frak, "Untitled" (DJ Sotofett Remix) [Sex Tags Mania]
10. Pharoah Sanders, "Kazuko" (Live) [white]
Chris Miller
01. U-202, "Straightjacket" [Long Island Electrical Systems]
02. Bee Mask, "Moon Shadow Move" [Spectrum Spools]
03. Lee Gamble, "DTI" [PAN]
04. Bookworms, "360 Waves" [Long Island Electrical Systems]
05. Vatican Shadow, "Jordanian Descent (Sharia Law)" [Hospital Productions]
06. Joey Anderson, "Hydrine" [Deconstruct Music]
07. Xosar, "Elixir of Dreams" [Rush Hour Recordings]
08. Redshape, "Moods & Mice" [Running Back]
09. Bass Clef, "Dawn Chorus Pedal" [Idle Hands]
10. Pangaea, "High" [Hessle Audio]
Brandon Wilner
01. Erdbeerschnitzel, "Let Go" [Mirau]
02. Legowelt, "Elements Of Houz Music" [Clone Jack For Daze Series]
03. Less Monday, "Take Em Down" [Crime City Disco]
04. Kim Ann Foxman, "Return It" [Needwant]
05. Juju & Jordash, "Loosey Goosey" [Dekmantel]
06. Bonnie Banane, "MUSCLES" [Weirdata]
07. NeferTT, "Pyramel" [Hotflush Recordings]
08. Jets, "Lock Lock Key Key" [Leisure System]
09. Amir Alexander, "Dazed & Amazed" [Hype_LTD]
10. Behling & Simpson, "Tape Hiss" [Apple Pips]