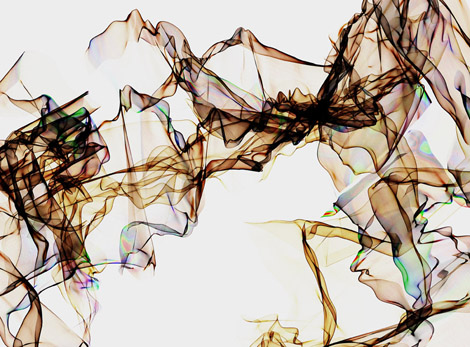 Graphic by Eno Henze
Fresh off the heels of The Please's debut 12″, Yør's Rave is the second offering from the new Dutch label Purple Maze. Yør continues the label's streak of new and unknown producers — he's apparently German, but that's about all that can be gleaned from the Internet at the moment. Like its predecessor, Rave comprises a slinky, low-slung house sound, but it's marked with a consistently darker mood.
Audio clip: Adobe Flash Player (version 9 or above) is required to play this audio clip. Download the latest version here. You also need to have JavaScript enabled in your browser.
"Rave" builds a downcast atmosphere around slow, heavy kicks and low-down bass. A sullen melody sluggishly twists amid draggy percussive shuffle as twinkling keys dance in the background. The track feels a bit like it's sleepwalking — dividing attention between the somewhat urgent keys and the weighty, lethargic underbelly, the listener is left dizzily in the middle. "Golden Boy" is more clarified, and though its BPM is equally low, it marches along at a more sprightly clip. Booming dub chords are airily complemented by a puttering tone which pans for the duration. "2712" begins with a solid two minutes of crackly field recordings and eerie Radiophonic-style tones before the kicks finally drop. Some Theo Parrish-style, minor-key somnolence is added as the arrangement progresses, before the whole thing dips back into cloudy industrial steam. Yør may be working with gloomy elements, but his ability to match them with a sense of funk keeps Rave an engaging and very promising debut.