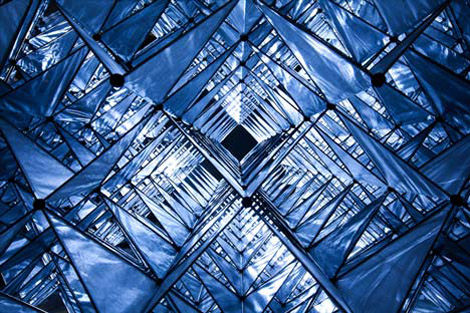 "Little Shining Man" by Heather and Ivan Morison
Space Dimension Controller seemed to just suddenly appear as one of those artists with a fully-formed identity, whose work cribbed from familiar but not-quite-fashionable artifacts of the past, just enough to grab the attention of aesthetes but also rope in dance music outsiders with his seductive blend of melody and sensual rhythm. Taking the silkiest bits from Detroit house and techno, the Irishman was a bit like a more polished Kyle Hall (with whom he's since collaborated), but his last release, the mammoth R&S doublepack Temporary Thrillz, seemed to show him stalling stylistically even if it was still executed with style and grace.
Audio clip: Adobe Flash Player (version 9 or above) is required to play this audio clip. Download the latest version here. You also need to have JavaScript enabled in your browser.
Since Thrillz there's been talk of an SDC album, and in typically gratuitous fashion Jack Hamill and R&S end the year with a 49-minute "prequel" to said long-player. But don't be discouraged by the diminutive "prequel" tag — The Pathway to Tiraquon6 is essentially an album in its own right. Better yet, it's Hamill's most confident work yet, finally branching out from the pitter-patter, synth-appendaged house he's made his name on. The difference is pronounced right from the beginning: "2257 AD" is a chugging synth landcrawler, like a 2011 update on Alan Parsons Project's ubiquitous "Sirius," faux-melodrama and all. From there the Controller indulges himself in some jittery electro scuttles: "Pulsovian Invasion" makes good on the other half of his music's obvious debt to Drexciya, and "Usurper" is the toughest thing he's put to his name yet, grounding the producer's usual airy fluffiness with real grit.
Audio clip: Adobe Flash Player (version 9 or above) is required to play this audio clip. Download the latest version here. You also need to have JavaScript enabled in your browser.
The record's second half is a little more business-as-usual, but it's not merely a retread of Temporary Thrillz (which was itself already something of a retread of Hamill's first two EPs). He returns to the silky melodies and funk inflections but lets them twirl out into wide-open space, with hesitant percussion and delicate beats on tracks like "Max Tiraquon" and "Tiraquon's Return (A New Home)." (Sensing a theme here?) The only time the whole "prequel" thing raises its head is the record's "closer," which feels more like a tantalizing "to be continued" ending than anything else. "Closing Titles" revisits the late-70s pop-prog touches of "2257 AD," with its searing guitar and Autonomic soundscape. It's a very different ending for a Space Dimension Controller record, but Pathway to Tiraquon6 is quite different in itself. I'll admit that with the advent of Temporary Thrillz I was starting to get sick of SDC's very particular sound, but he's got me all worked up again. And really, even this "prequel" is great — just in case we forgot how potent a talent he really is.