Writing a column on the "most overlooked" records depends on what wasn't overlooked. If you hadn't noticed, experimental and rough tracks are in vogue right now. Labels I may have once been able to include, like Acido, are at peak popularity. Concurrently, there is an ongoing fad for "good enough" white labels. Lots of them are overlooked, whether they contain aggro industrial techno or undead Chicago house. While I acknowledge the importance of tracky dance records and occasionally do fall in love with them, I am not a professional DJ, so I have little use for most beyond dancing to them (and usually they just fill space in between the really good records). Before you get huffy because I disowned such a big part of dance culture, which I am supposedly an expert on, let me clarify. There are a lot of decent dance records quietly scuttling about. If I have a violently negative reaction to music, it's usually because it is overdone, overpackaged, nauseatingly slick. White label labels, keep doing your thing. There might even be a couple on this list. I've tried to consider unique records for this list, and though obviously my taste is a factor as well, these represent a range of the records that haven't quite received the recognition they deserved. Feel free to add your own picks in the comments.
Global Network is a reissue of a tape by Kevin Harrison and Peter Every; the original edition came out in 1985, possibly on some transitional midpoint between the dying cosmic scene in Italy and the acid-era rise of Ibiza (I am fully aware no such tradeoff truly existed). It remains to be seen whether these were Neo's intentions, but the five tracks here have an infectious hybrid energy, balancing arpeggiated, new beat/lo-NRG chuggers with subtropical synth-pop and new age motifs. True to its title, there is a fourth-world, cosmopolitan feel throughout. The clubbier parts have an endearingly homespun awkwardness that reflects the decade's development of dance-floor mannerisms, while the mellower tracks unfold with the calm restraint of experience. Standout track "Eros in Exile (Parts 1 & 2)" is an absolute earworm, opening in a sublimely chilled, utterly peaceful suite, before moving into a more wistful second half laden with glassy, rite-like drums. It's another sterling entry for the already essential Emotional Rescue/Emotional Response conglomerate.
Audio clip: Adobe Flash Player (version 9 or above) is required to play this audio clip. Download the latest version here. You also need to have JavaScript enabled in your browser.
Specter / Jose Rico, Our Own Organization
[Semantica Records] (buy)
Although Specter made one of LWE's favorite tracks of 2011 in the relentless "Pipe Bomb," much of his catalog leans toward slower, sparser material. Ditto Jose Rico, his sometime labelmate on Downbeat. It's a little weird seeing them release for Spain's Semantica, which tends to put out blistering techno and high-drama electro, and perhaps this is why Our Own Organization, their split EP, has flown under the radar. Specter's "Law of the West" coasts along, smoothly accumulating tumbling percussion as shrill tones fly overhead, while his counterpart's "Gatos Cuidan La Casa" uses a similar palette to a more unnerving end, laced with clotted, zappy bass. But it is Rico's "Mind Weapon" that steals the show. It could easily be a Workshop dirge and recalls Vessel's druggier moments as well; sauntering through an unsavory district on eerie drones and a crawling bass line, odd elements continually pop out from the corners, keeping the creep factor high. Twitchy, narcotic, and ultra seedy, it's one of the best in its class this year.
Audio clip: Adobe Flash Player (version 9 or above) is required to play this audio clip. Download the latest version here. You also need to have JavaScript enabled in your browser.
Myown, Bubble EP [Kimochi] (buy)
Area's Kimochi label seems to represent an American variation on Anton Zap's Ethereal Sound (a sorely underrated label in its own right), and, following those two, Myown is an artist who has released for both imprints. I remember the press release for his EP on left_blank intimating something about mental health issues, which was probably a cheap sales technique, but still makes some sense when considering his seriously discombobulated approach. Bubble is a suite which begins and ends in ambience, and it is indeed prettier and more logical than anything the Russian producer has come up with before. But make no mistake: Myown is still mightily focused on dissociation. There is a high-altitude, heliumized vibe throughout, and in tandem with wildly shifting compression, the tracks recall some of Lee Gamble's recent efforts. Rhythmically, however, Myown pairs this atmosphere with slippy, subby patterns. "Voronezh Rave" abstracts UK garage by highlighting a metallic "snare" thwack, and combined with that perpetually shifting, wispy atmosphere, the result is nothing short of vertiginous. Countless tracks these days have sidechain, swing, and distended emotion. Myown's willingness to go in on all three, full-stop, sets him apart.
Pjotr, Udacha 4 [Udacha] (buy)
A stock review of Pjotr's first EP for Russia's Udacha would undoubtedly provide a laundry list of elements we've all heard thousands of times before. It is a deep house EP, and it has filtered-down chords and swampy bass and clattering percussion. How can new life be pumped into an old genre? Many producers have decided the answer is improvisation, or infusions of roughness and noise, but there is something to be said for the careful approach as well. Pjotr is never finicky, but you can hear him pruning every detail of these tracks, maintaining a fine balance between his drums' push and ethereal, floating melodies. Every track here is special, but my favorite is the finale, "I See." Its grooving, aquatic bass reminds of Efdemin's "Night Train," and its fluttering percussion sets up an interplay between otherworldly, A.I.- (or even better, The Connection Machine-) style synths and the mechanized, mantra-like nudge of confidence, "I see something in you/ you can't see in yourself." Pjotr plainly pours himself into this EP. Deep house doesn't come more sumptuously textured.
Audio clip: Adobe Flash Player (version 9 or above) is required to play this audio clip. Download the latest version here. You also need to have JavaScript enabled in your browser.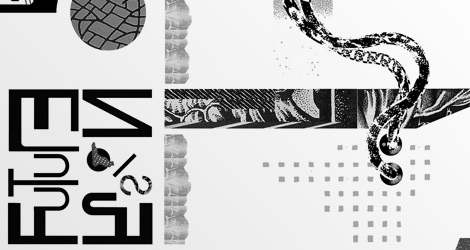 Streetwalker, Future Fusion [Cititrax] (buy)
Veronica Vasicka's Minimal Wave/Cititrax organization is one of the best in any genre, but sometimes it seems like the labels' international DJ founder is more their face than the actual artists are. That isn't meant as a knock on her, more so on the press that surrounds the label, which tends to focus on her digging skills. Chicago denizens Elon Katz and Beau Wanzer make up Streetwalker, and their debut on Cititrax is probably the highest-profile release on this list. Heavily informed by their city's lineage of industrial and house, it has a tightly wound slightness that also exists in Katz's work in the duo White Car (e.g. lack of reverb, panted vocals, the influence of Conny Plank) — these tracks need to be cranked to reveal their full effect. Both artists have turned in impressive work before (Wanzer is probably best known as half of Mutant Beat Dance), but on Future Fusion their ambitions really seem to click. That nervous energy is deployed on snakelike grooves, which pulse with a kind of wound-up, breathy sexuality. The pair's kinetic body music expertly modulates between recklessness and restraint, moreover proving Ms. Vasicka is just as adept at sourcing contemporary material.
Audio clip: Adobe Flash Player (version 9 or above) is required to play this audio clip. Download the latest version here. You also need to have JavaScript enabled in your browser.