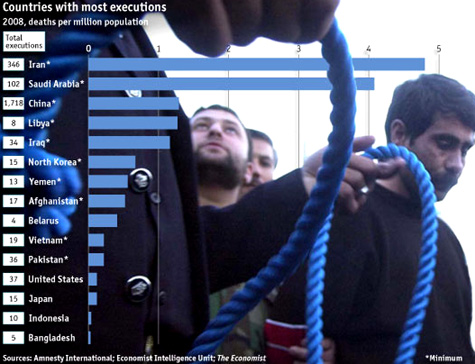 Chart courtesy of The Economist
In the month since we debuted And Charts For All there's been an interesting turnover of favorites, pushing many of last month's top 20 either down or off the charts. One which bucked the trend and moved up is La Peña's "Free From Love," with Joker's "Digidesign" and the "MDR 05" EP from Norman Nodge just barely hanging on. March was a great month for free tracks as Audion's self-released "I Am the Car" claimed the top spot and the LWE-distributed "The Spitzer Group" from DJ Koze landing at number six. Dubstep is also especially well represented this month: Kode9 captured #3, and Martyn's Shed remix and "Yet" for Tectonic, Pangea and Joker all ranking. Isolee's Diynamic revival and Mountain People's return to melody also scored quite high, as did Stefan Goldmann's club-storming "Art of Sorrow" and Prins Thomas' "Mammut" single. Cadenza's long awaited return to releasing 12s" was understandably popular: Michel Cleis scored the eighth spot and Argenis Brito's "Lolipop" just missed the cutoff. But March's biggest surprise is how quickly Ben Klock fell off the charts; while a few album tracks received votes, none nabbed enough to make the top 20.
We urge you to tell your friends, enemies and frenemies about And Charts For All to make next month's results an even bigger success. The more people who contribute the more accurate our polls will be. We're going to encourage our DJ friends to send in their charts; we hope you do the same. Oh, and one last fiddly thing: These charts are for TRACKS ONLY, not full releases. LWE wants to ensure we get your tastes right, and listing a full EP means we often end up guessing. Keep that in mind and we'll all be fine.
01. Audion, "I Am the Car" [audion.me]
02. Isolee, "A Nightingale" [Diynamic Music]
03. Kode9, "Black Sun" [Hyperdub]
04. Mountain People, "Mountain007.1" [Mountain People]
05. Prins Thomas, "Mammut" [Full Pupp]
06. DJ Koze, "The Spitzer Group" [LWE]
07. Stefan Goldmann, "Art Of Sorrow" [Victoriaville]
08. Michel Cleis, "La Mezcla" [Cadenza]
09. La Peña, "Free From Love" [La Peña]
10. Nick Höppner, "Foundling" [Ostgut Tonträger]
11. The Detroit Experiment, "Think Twice" (Mark E Pressure Dub)
[Juno Records]
12. Shed, "Another Wedged Chicken" (Martyn's 131 remix)
[Ostgut Tonträger]
13. Jay Haze & Ricardo Villalobos, "Mellow Dee" [Contexterrior]
14. Martyn, "Yet" [Tectonic]
15. Dplay, "Huub Sand" [Running Back]
16. Loco Dice, "Tight Laces" (Marcel Dettmann Response 1 + 2) [Desolat]
17. Pangaea, "Bear Witness" [Hotflush Recordings]
18. Matt John, "Sacing" [Perlon]
19. Joker, "Digidesign" [Hyperdub]
20. Norman Nodge, "MDR 05" [Marcel Dettmann Records]