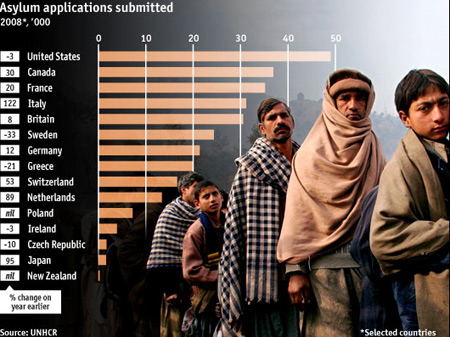 Chart courtesy of The Economist.
01. St. Plomb, "Flight Back" [Contentismissing] (buy)

Only four releases into their existence, the Swiss label/collective Contentismissing has quickly become a reliable source for eclectic techno slates bearing thought-provoking artwork. Their latest, "24h," rounds up tracks from Rene Breitbarth, Buttha, Hofuku Sochi and St. Plomb, whose "Flight Back" is the clear standout. Amid glistening pads and hitched up hats a juicy organ progression sloshes from side to side, threatening to splash over the sides as the track intensifies. An essential gear from this often reserved producer.
Audio clip: Adobe Flash Player (version 9 or above) is required to play this audio clip. Download the latest version here. You also need to have JavaScript enabled in your browser.
02. Audio Werner, "Easygoing"
[Hartchef Discos] (buy)

Two years after his "Flat Funk" slunk its way into many DJs' crates, Audio Werner has returned with a new 12″ for the underrated Hartchef Discos. "Easygoing" is well positioned to please the new wave of 'heads cottoning on to Werner's script-flipping house sound, feeling like a follow up to 2005's "Still Jackin'." Its minor stabs balance nimbly on skinny legs, laying out the palate for Werner to smear into longer melodies. Although the understated bass line comes as a surprise, Werner's glib vocal samples and endless minute tweaks are sure to keep listeners on their feet.
Audio clip: Adobe Flash Player (version 9 or above) is required to play this audio clip. Download the latest version here. You also need to have JavaScript enabled in your browser.
03. Glimpse, "Drifting" (C2 Deep Mix) [Planet E] (buy)

Sometimes we think Carl Craig signs tracks to Planet E because he sees their innate potential as fodder for his signature remixes. Now we can add prolific producer Glimpse to Martin Buttrich and Sebastien San as producers whose like-minded Planet E tunes provided C2 with the kit for something much larger. Both of his versions are unhinged to better swallow the dance floor, metallic jaws crunching down on simmering percussion, ostinato drones and roiling acid vamps. It's hard to pick a favorite, but the "Deep Mix" has a raw bite that can't be beat.
Audio clip: Adobe Flash Player (version 9 or above) is required to play this audio clip. Download the latest version here. You also need to have JavaScript enabled in your browser.
04. Spencer Parker, "Untitled Head"
[liebe*detail] (buy)

Fitting vocal snippets into techno mosaics is hardly a new production technique but it's seen a big resurgence in the last year with varying degrees of success. One of the better examples, Spencer Parker's "Untitled Head," is found on liebe*detail's latest platter. By grooming and programming mono syllabic vocal samples, Parker creates the illusion of a plucked guitar riff darting between thick tom runs. Its outward simplicity makes its infectious groove even more contagious and dangerous in the hands of DJs. We look forward to more from Mr. Parker.
Audio clip: Adobe Flash Player (version 9 or above) is required to play this audio clip. Download the latest version here. You also need to have JavaScript enabled in your browser.
05. David K, "73 Tomtom Avenue" (Jimpster remix) [Tsuba Records] (buy)

Speaking of tracks focusing on vocal samples, "73 Tomtom Avenue" by David K and remixed by Jimpster offers a more traditional and equally enjoyable take on the tactic. Ever the reliable and insatiable remixer, Jimpster wedges the original's strengths into his wheelhouse of deep, melodic house. More in the mold of Ron Trent and Chez Damier, the tune dribbles a beatboxed sample like a basketball cloaked in dubbed out melodies and stretched strings. And while Jimpster avoids taking many risks, dancers and DJs alike will revel in its consistent good vibes and surprisingly fresh execution.
Audio clip: Adobe Flash Player (version 9 or above) is required to play this audio clip. Download the latest version here. You also need to have JavaScript enabled in your browser.
06. House of House, "Rushing to Paradise (Walkin' These Streets)"
[Whatever We Want Records] (buy)
07. The Mountain People, "Mountain007.1"
[Mountain People] (buy)
08. Shed, "Another Wedged Chicken" (Martyn's 131 remix) [Ostgut Tonträger] (buy)
09. DJ Koze, "Spitzer Group" [LWE]
10. Loco Dice, "Tight Laces" (Marcel Dettmann's Response 1 & 2) [Desolat] (buy)
Check out LWE staff charts after the jump.


Staff Charts
Bill Bearden:
01. Starkey, "Gutter Music" [Keysound]
02. Rusko, "Moaners" [Sub Soldiers]
03. Martyn, "Yet" [Tectonic]
04. Untold, "Sweat" [Hotflush Recordings]
05. Rusko, "Get Your Cock Out" [Dub Files]
06. Toasty, "The Knowledge" (Untold remix) [Hotflush Recordings]
07. Pangaea, "Mosaix" [Hotflush Recordings]
08. A-Trak, "Say Whoa" (Sinden remix) [Kitsune]
09. Joker, "Digidesign" [Hyperdub]
10. Kromestar, "Alien" [Southside Dubs]
Per Bojsen-Moller:
01. Various Production, "Lost" (Actress remix) [Various Production]
02. Stefan Goldmann, "Art Of Sorrow" [Victoriaville]
03. Pangaea, "Bear Witness/Mosaix" [Hotflush Recordings]
04. La Roux, "In For The Kill" (Skream's Let Get Ravey remix) [Not On label]
05. Marko Furstenberg, "Esbenhain" [Baum Records]
06. Isolée, "October" [Diynamic Music]
07. Mark Broom, "Deal Or No Deal" [D1 Recordings]
08. Adele, "Chasing Pavements" (Various Production remix)
[Various Production]
09. Stewart Walker, "Stundenzimmer" [Persona Recordings]
10. L.D., "Traumatic Times" [Hyperdub]

Chris Burkhalter:
01. Black Jazz Consortium, "New Horizon" [Soul People Music]
02. Isolée, "A Nightingale" [Diynamic Music]
03. Pangaea, "Bear Witness" [Hotflush Recordings]
04. Trackleton, " While My Sequencer Gently Weeps" [Yore Records]
05. Kode9, "Black Sun" [Hyperdub]
06. Nhar, "Hexoflip" (Tobias remix) [Mobilee]
07. Snd, "3" [Raster-Noton]
08. Pan-Pot, "Ape Shall Never Kill Ape" (Cassy remix) [Mobilee]
09. Mark Broom, "Runners" [D1 Recordings]
10. Argenis Brito, "Lolipop" [Cadenza]
Peder Clark:
01. Ben Klock, "Grip" [Ostgut Tonträger]
02. Dplay, "Huub Sand" [Running Back]
03. Lawrence, "Hamtramck" [Mule Electronic]
04. Anthony "Shake" Shakir, "It Erased Me" [Morphine Records]
05. The Detroit Experiment, "Think Twice" (Henrik Schwarz Live Edit) [Juno]
06. Wireman, "Armour" (Move D remix) [Prime Numbers]
07. Wbeeza, "Roks Dogg" [Third Ear Recordings]
08. Kerri Chandler, "Pong" (Ben Klock's Bones & Strings Rework)
[Deeply Rooted House]
09. Actress, "Crushed" [Prime Numbers]
10. Kapuchon & Benny Rodrigues, "Unexpected" [Beyond Recordings]
Nate DeYoung:
01. Fever Ray, Fever Ray [Rabid Records]
02. Audion, "I Am the Car" [audion.me]
03. The Popular People's Front, "Love EP" [The Popular People's Front]
04. Ernesto Ferreyra, "Hunted" [Cadenza]
05. Horsepower Productions, "Damn It" [Tempa]
06. Shontelle, "T-Shirt" (Crazy Cousinz Extended Mix)
[Universal Island Records]
07. Prins Thomas, "Mammut" [Full Pupp]
08. Osborne, "Hovercrafting EP" [Spectral Sound]
09. Madioko 'N Rafika, "Ellelli" (Kalabrese remix) [Innervisions]
10. Michel Cleis, "La Mezcla" [Cadenza]
Shuja Haider:
01. Moody, "Desire" [KDJ]
02. The Future, "They Call Me" [Sect Records]
03. Lerosa, "Minefield" [Real Soon]
04. Mountain People, "Mountain007.1" [Mountain People]
05. The Mole, "There's Hope" [Internasjonal]
06. Actress, "Crushed" [Prime Numbers]
07. Jitterbug, "No Pressure" [Uzuri]
08. Prins Thomas, "Mammut" [Full Pupp]
09. Jus-Ed, "Sweetness" [Underground Quality]
10. Tony Lionni, "Divine Being" [Mule Musiq]
Todd Hutlock:
01. Kode9, "Black Sun" [Hyperdub]
02. Stefan Goldmann, "Art of Sorrow" [Victoriaville]
03. Jay feat. Ricardo, "Mellow Dee" [Contexterrior]
04. tobias., "Clapper" [Diamonds and Pearls Music]
05. Prins Thomas, "Mammut" [Full Pupp]
06. Andy Stott, "Drippin" [Modern Love]
07. Matt John, "Sacing" [Perlon]
08. Thabo, "Berlin" [Ornaments]
09. Argenis Brito, "Lolipop" [Cadenza]
10. Marko Fürstenberg, "Espenhain" [Baum Records]
Will Lynch
01. Nick Holder, "Feelin' Sad" [Sushitech Purple]
02. Wolf + Lamb, "If U Had" (Shaun Reeves Edit) [Wolf + Lamb]
03. Jason Fine, "Half" (Anton Zap remix) [Kontra-Musik]
04. Luke Hess, "Agape Dub" [Modelisme Records]
05. The Descent, "Spice Market" (Black Pepper Shrimp Mix)
[Railyard Recordings]
06. Norman Nodge, "Attitudes" [Marcel Dettmann Records]
07. Nils Anthes, "Lost Soul Chapter 1" (Sascha Dive's Sex Wax remix)
[Be Chosen]
08. Pendle Coven, "Optimal" [Modern Love]
09. La Peña, "Free From Love" [La Peña]
10. Wireman, "Armour" (Move D remix) [Prime Numbers]