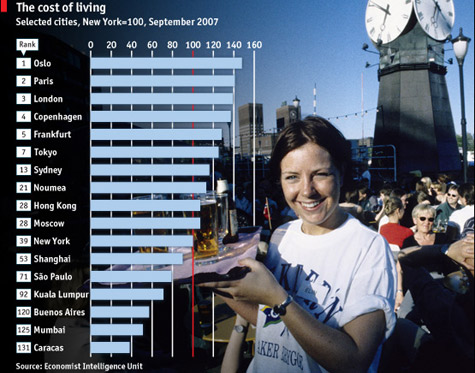 Chart courtesy of The Economist
01. DJ Bone, "Sect 1" [Sect Records] (buy)


This enigmatic three tracker defies placement in space and time, with a sound well versed in classic methods but as fresh as anything else out there. Here's hoping whoever sent "Sect 1" to me is prepared to share its wealth with a much larger audience.
Audio clip: Adobe Flash Player (version 9 or above) is required to play this audio clip. Download the latest version here. You also need to have JavaScript enabled in your browser.
02. dOP, "Cum With Me" [Milnor Modern] (buy)


When dOP goes on to greater success (it's coming; I can see it already), critics will look back to their "God Bless the Child EP" as a watershed moment for the trio. Bursting through genre boundaries like French Kool-Aid guys, dOP experiment with Malian kora music and lithe, funky house songs ("Cum With Me") without skipping a beat. Watch this space for more from dOP later this week.
Audio clip: Adobe Flash Player (version 9 or above) is required to play this audio clip. Download the latest version here. You also need to have JavaScript enabled in your browser.
03. Osunlade, "My Reflection" (Deetron remix)
[D:vision Records] (buy)


What I love about Deetron's "My Reflection" remix is how he mixes spikey analog stepping stones and fluid synth whirls to chart a decadent path for Divine Essence's quixotic lyrics. That Sam Geiser can maintain a deep atmosphere with a techno toolkit is impressive, letting Osunlade's soulful expressions shine through while wholly owning the track. Deetron strikes again!
Audio clip: Adobe Flash Player (version 9 or above) is required to play this audio clip. Download the latest version here. You also need to have JavaScript enabled in your browser.
04. The Mole, "Baby, You're the One" [Wagon Repair] (buy)


As on his forthcoming album, As High As the Sky, Colin de la Plante (aka The Mole) whips up a cyclone of frantically looped samples on the lengthy house mover, "Baby, You're the One." But this is no natural disaster; The Mole's clever programming keeps listeners of all stripes stuck in "Baby"'s groove as it mutates across 13 minutes.
Audio clip: Adobe Flash Player (version 9 or above) is required to play this audio clip. Download the latest version here. You also need to have JavaScript enabled in your browser.
05. Luke Solomon, "People, Places, Thoughts And Faces" (Ajello Remix) [REKIDS]

I have to admit, I'm late to the party on Luke Solomon, but his forthcoming "Robots" EP for REKIDS certainly alerted me to what I've been missing. While the package also contains an incredible Prins Thomas diskomiks, it's heretofore unknowns Ajello whose piano-led, Black Devil-esque remix is stuck on repeat here at LWE HQ.
Audio clip: Adobe Flash Player (version 9 or above) is required to play this audio clip. Download the latest version here. You also need to have JavaScript enabled in your browser.
06. Intrusion, "Intrusion" (Model 90 Reshape) [echospace [detroit]] (buy)
07. Tadeo, "IO" (Cassy Moving On Mix) [Apnea] (buy)
08. Henrik Schwarz & Kuniyuki, "The Session" [Mule Musiq] (buy)
09. Pitto, "Sex Vibe" [Arearemote] (buy)
10. Kawabata, "Persuasion" (Serafin's Back to New York Re-Interpretation) [Drumpoet Community] (buy)