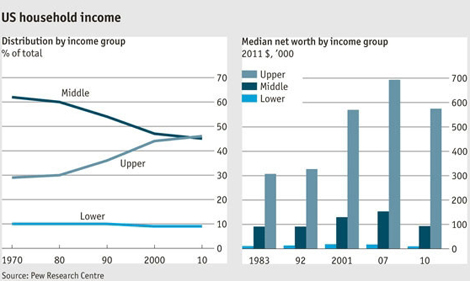 Chart courtesy of The Economist
01. Trackman Lafonte & Bonquiqui, "Pacific House" [Long Island Electrical Systems] (buy)

Surfing isn't easy. You have to maintain your balance on an unsteady and occasionally unpredictable force below in order to smoothly ride a wave. Yet for the best surfers, a graceful muscle memory kicks in and the whole thing can look effortless. On "Pacific House," the title track of Danny Wolfers' second release in collaboration with girlfriend Sheela Rahman, the duo offer such an elegant take on good natured, balmy dance music it lives up to the term "surfer house," as emblazoned on its sleeve. Its synths are as light and comfortable as a beach-side breeze, anchored by purposefully stammering bass lines and light, nimble percussion. Yet it's the tight arrangements that lift "Pacific House" higher than companion tracks on the EP and many tracks in general, drizzling just enough of several memorable synth progressions between a catchy assortment of female vocal syllables. Dancers and DJs have been eating this up like a swarm of ants on a cracked coconut, and I'm right there with them.
Audio clip: Adobe Flash Player (version 9 or above) is required to play this audio clip. Download the latest version here. You also need to have JavaScript enabled in your browser.
02. Kevin Reynolds, "Instruction"
[Love What You Feel]

For the label's third release, Love What You Feel put together what has proven to be something of a sleeper hit. Every track has found its audience, from Anaxander's moody deep house on "Moons of Jupiter" to the hypnotic oscillations of Disco Nihilist's "Telephone" and the slinky bob of "Nite Owl Video" by Pittsburgh Track Authority. My pick of the jamming litter is even more of a sleeper hit, the reflective "Instruction" by Kevin Reynolds. There's a patient confidence in the way the Detroit producer lays out scrolls of synth lines, lining the tune with persist yet unimposing bass arpeggios that steadily guide listeners through Reynolds' lesson plan. His gently glowing production wears his influences lightly yet evokes a familiar sound, as if containing a wisdom passed down between generations. It's the kind of foundational tune more DJs will want in their crate; packaged with three other tasty cuts, that want becomes a need.
Audio clip: Adobe Flash Player (version 9 or above) is required to play this audio clip. Download the latest version here. You also need to have JavaScript enabled in your browser.
03. Tony Ollivierra, "Eve Did The Smurf"
[Northside District] (buy)


You probably know Tony Ollivierra best as Ibex, the Detroit producer whose singles adorn the back catalogs of Planet E, Rush Hour, Yore Records, and his own Ibex Music. But if his given name didn't sound familiar at first, I suspect it will get stuck in record buyers' memories soon. That starts with "Eve Did The Smurf," the title track of his latest record and second for his recently launched Northside District imprint. Think of this tune as the guy at the party who busts out the biggest, baddest dance moves without a care in the world about how the people around him will perceive his unstoppable display of energy and mojo. Its charged synth lines have a delightful syncopated strut and burst at the ends of phrases, eventually reaching a point where they're barely in control except for the basic pitch. Darts of synth strings and some fine, feathered vocals make sure the tune isn't all bombast, but there's no doubt that the general aim is to hit the folks in the cheap seats with gloriously forthright melodies. Some may try to dismiss this as electro-house, but the connection between this and a recent classic like T.S.O.S.'s "Over & Over" is hard to deny. And no matter what, you're likely to have a strong opinion about "Eve Did The Smurf."
Audio clip: Adobe Flash Player (version 9 or above) is required to play this audio clip. Download the latest version here. You also need to have JavaScript enabled in your browser.
04. Andrew Grant & Lomez, "3rdwave" (DJ QU's Infant Keys Remix) [EDEC Music Outlet] (buy)


"3rdwave," a collaboration between American producer Andrew Grant and Norwegian producer Lomez, is perfectly good DJ fodder but not the track that brings the boys to the booth. DJ Qu's "Infant Keys" remix, however, is more singular while maintaining a similarly late night sleazy vibe. But the sketchy characters this version hangs out with dabble in the occult and are looking for the soundtrack to some kind of ritual. Its lunging rhythms are often strung together by droning male voices and gentle marimba patterns that loosen up and shake out into catchy new leads. While the original's creators likely had a certain aim in mind when assembling "3rdwave," Qu took things much further and explored more angles: eye-popping metallic clangs, third rail electrified vamps, and vocals from the original woven in sporadically to give each more potency. It feels like the difference between chemistry and alchemy, because DJs are going for the gold when they put this one one.
Audio clip: Adobe Flash Player (version 9 or above) is required to play this audio clip. Download the latest version here. You also need to have JavaScript enabled in your browser.
05. tobias., "Perfect Sense"
[Ostgut Ton] (buy)

Tobias Freund is one of few dance music producers who has been more prolific in recent years in album-sized chunks, first with his Leaning Over Backwards LP for Ostgut Ton and followed by the Grand Blue CD with Uwe Schmidt. For his latest release, however, he returns to the 12″ single format last taken up in 2009, and purposefully so. The standout, B-side "Perfect Sense," sprawls out in a linear fashion, providing DJs long landing strips for takeoffs and arrivals. But avoiding narrative arrangements also puts the focus on the quality of the sounds entering and exiting without any drama. A constant bleep situated just next to the kick and syncopated plucks give the straightforward track a squishy buoyancy, a theme taken up by the slow-to-decay synth stabs — delicate blue streaks that add personality and relatability. Needing only some carefully switched up snare hits and powdery tambourine to feel near capacity, "Perfect Sense" doesn't need to seem busy to convey the care put into its every detail. Wouldn't mind seeing more single forays from Mr Freund if that's all that needs to be said.
Audio clip: Adobe Flash Player (version 9 or above) is required to play this audio clip. Download the latest version here. You also need to have JavaScript enabled in your browser.
06. John Roberts, "Crushed Shells" [Dial] (buy)
07. Ike Release, "Phazzled"
[M>O>S Recordings] (buy)
08. 808 Mate, "Untitled" [Workshop] (buy)
09. Tin Man, "Manifesto Acid" [Absurd Recordings/Acid Test] (buy)
10. Tom Demac, "Four Leaves Right"
[Glass Table Music] (buy)
Staff Charts
Nick Connellan
01. Jahiliyya Fields, "Water Breaker" [Long Island Electrical Systems]
02. The Mole, "Hippy Speedball" [Ostgut Ton]
03. 808 Mate, "Untitled" [Workshop]
04. DJF, "Inca City" [Area 51]
05. Suzanne Kraft, "Feel" [Young Adults]
06. Trevino, "Tweakonomics" [Revolve:r]
07. Schweiz Rec., "Untitled" [Workshop]
08. Steffi, "Schraper" [Ostgut Ton]
09. Dices, "Evening Clouds" [Udacha]
10. Jimpster, "These Times" (Jimpster Dub) [Freerange Records]
Steve Kerr
01. Vessel, "Aries" [Tri Angle]
02. Thought Broadcast, "Fortune Teller" [Olde English Spelling Bee]
03. Tase, "Come Back" [Meakusma]
04. Terrence Dixon, "Fountain Of Life" [Tresor]
05. Lee Gamble, "Plos 97s" [Pan]
06. Innercity, "Birthnight" [Further Records]
07. Marcellis, "Untitled" [Workshop]
08. Juju & Jordash, "Track David Would Play" [Dekmantel]
09. Sensate Focus, "Y" [Sensate Focus]
10. Hot Coins, "Geek Emotions" (Ajukaja Remix) [Hot Coins]
Kuri Kondrak
01. Huerco S., "Bypass" [Wicked Bass]
02. The Exaltics, "Node#2" (Delta Funktionen Remix) [Modal Analysis]
03. Loftsoul & The Latin Soul Brothas, "Soul Insipration" (Moog Mix) [Loft Soul Records]
04. Earth House Hold, "We Live This" [Love's Label]
05. Trackman Lafone & Bonquiqui, "Pacific House" [Long Island Electrical Systems]
06. Parris Mitchell, "Climb The Walls" [Ghetto House Classics]
07. Lego Feet, "Part 4" [Skam]
08. Innergaze, "Shadow Disco" [100% Silk]
09. DJ Dex, "Guanaco" [Ican Productions]
10. John Heckle, "Fly City" [Mathematics Recordings]
Chris Miller
01. Egisto Macchi, "Moonsong" [Gemelli/Roundtable]
02. Xian Orphic, "Hi-Five" [Pre-Cert Home Entertainment]
03. Ricardo Villalobos, "I'm Counting" [Perlon]
04. Silent Servant, "Moral Divide (Endless)" [Hospital Productions]
05. Madteo, "TTTree Low G. Tapes: Mad Dip Revue" [The Trilogy Tapes]
06. Archie Pelago, "Brown Oxford" [Mister Saturday Night Records]
07. Cheap and Deep, "Beautiful" [Modular Cowboy]
08. Delroy Edwards, "4 Club Use Only" [Long Island Electrical Systems]
09. Olin, "Tomorrow's News" [Argot]
10. Blawan, "His Money" [Hinge Finger]
Harry Sword
01. Vatican Shadow, "September Cell" [Bed Of Nails]
02. Martin Kemp, "Cracks" [Frijsfo Beats]
03. Blawan, "Why They Hide Their Bodies Under My Garage" [Hinge Finger]
04. Mala, "Cuba Electronic" [Brownswood Recordings]
05. Joy Orbison, Boddika & Pearson Sound, "Faint" [SunkLo]
06. The Bug, "Can't Take This No More" [Ninja Tune]
07. Kyle Hall & FunkinEven, "Night" [Wild Oats]
08. Jon Convex, "What I Need" [Convex Industries]
09. Ancient Methods vs Kareem, "Zealots" (Ancient Methods Interpretation) [Fondation Sonore]
10. Alex Cortex, "Future Acid" [Killekill]
Brandon Wilner
01. Steffi, "Schraper" [Ostgut Ton]
02. Morning Factory, "Anna Logue's Sleepover" [Clone Jack For Daze Series]
03. Suzanne Kraft, "No Worries" [Young Adults]
04. Tr One, "Living In, Now" [POGO Recordings]
05. Stefan Goldmann, "Dead Cat Bounce" [Macro]
06. Olin, "Finally" [Argot]
07. Portable, "A Process" (Flutramental feat. Lcio) [Live At Robert Johnson]
08. Ryan Daniel Hammer, "Long Face" [Positive Beat Recordings]
09. Torn Hawk, "A Piece of a Storm" [Long Island Electrical Systems]
10. Dexter, "X7D" [Ostgut Ton]