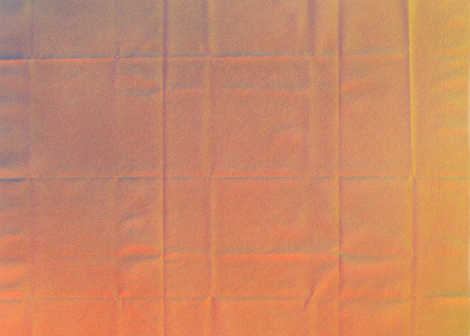 Artwork by Tauba Auerbach
Although Tr One's last release, Drum Dance, was clearly outshined by its remixes from John Heckle and Juju & Jordash, I get the feeling that it pales in comparison to their live show version (seen here in a set at Twisted Pepper last year). The Irish duo of Dean Feeney and Eddie Reynolds have been known to pack up to two carloads worth of gear for their gigs showing an indelible commitment to live performance. Their recent 12″ for POGO Recordings capably translates that live energy and likewise offers up some slamming DJ ammo as well. "Living In, Now" opens with a stomping kick drum, skipping clave and a pronounced snare, but it's only when the beat gets drenched in reverb that it fires up a deeper wall of bass that envelops the track. A vocal sample of the track title is cut up, shifting from stuttering mono-syllabic splices to slightly fuller versions that connect the "living in" to the "now" with a satisfying build-up technique. Its clever use of effects and drum programming hearken to Chicago's tracky house past, yet the production is clearly of today.
Audio clip: Adobe Flash Player (version 9 or above) is required to play this audio clip. Download the latest version here. You also need to have JavaScript enabled in your browser.
The rhythm is even harder hitting on "Herd Of Trains," as the open hi-hat and bass drum are quickly augmented by growling analog bass and synth bleep. An acid line appears but is overwhelmed by intense monochrome synth work and effects, something akin to watching plastic melt in searing flames. It's not that far off from early Axis-era Mills gear, yet at a slower, more manageable tempo for today's floors. The bouncy, elastic acid sequences and shuttling snare pattern of "Love Letter" close out the release. Its minor-key bass line adds a darker feel, while subtle synth chords create a mellow ending as it fades out; at its nine-plus minute run-time, it could have come sooner. "Living In, Now" is certainly the standout and has already had been documented be caned by Moodymann, making this one ripe to move Tr One up the food chain.