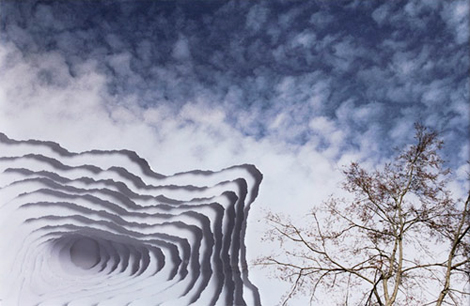 Johannes Auvinen has very nearly made a career off a couple of classic machines and his own baritone murmur. Early releases put "acid" boldly in the forefront — Acid Acid, Keys Of Life Acid, Love Sex Acid; while others, namely Wasteland and Cool Wave, found him detached and downtrodden in his native Southern California atop string pads and slow 808 pulses; a Random Circuits review of the former even aptly evoked Kanye West's 808s and Heartbreak as a reference point. He's since transplanted that feeling to Vienna, and later efforts have paired those telltale instruments with more classical, European sensibilities.
Audio clip: Adobe Flash Player (version 9 or above) is required to play this audio clip. Download the latest version here. You also need to have JavaScript enabled in your browser.
All of this brings us to Neo Neo Acid, his latest LP for Absurd's Acid Test program. Auvinen has been having an odd year as records like Sample House and Going No Where are uncharacteristically party friendly, but Neo Neo Acid, confirmed by its comfortingly familiar cover font, snugly slots into the Tin Man catalog. As the title suggests, it's very much a return to the producer's acid roots, with the melancholy he's so studiously cultivated also readily apparent. In the past, his distinctive vocals have been the crux of that pensive atmosphere, but all of the tracks on Neo Neo Acid eschew them. In fact, they eschew most of everything aside from 303 lines, accompanying synthwork, and a steady, thumping, 120-BPM pace.
In its 30 years, the 303's signature squelch has been put through every imaginable ringer, and the machine and its clones have gained such a reverent following that acid is still widespread today. Acid is prevalent on Gatekeeper's latest album, Exo, as a retrofuturist, borderline camp device, while Jacques Greene continually uses the sound as a foil for soft, romantic tropes. And of course there are scads of artists for whom the 303 is so central that it informs their name — SFV Acid, Dungeon Acid, Chris Moss Acid — though they tend to be more cult concerns than emblems of the zeitgeist. At any rate, the arrival of Neo Neo Acid in 2012, on a label devoted to acid no less, is not an entirely exciting proposal.
Audio clip: Adobe Flash Player (version 9 or above) is required to play this audio clip. Download the latest version here. You also need to have JavaScript enabled in your browser.
Granted, Auvinen is as deft a 303 practitioner as one is likely to find, and his intimate knowledge of the machine yields uncommonly pure results. Virtually every track sounds like an end-of-the-night anthem, though it can be difficult telling them apart. Auvinen's acid lines sit front and center, and while some are more piercing than others, AFX-style, stirring melodies pervade. Even among these tracks, "Devine Acid" stands out, as its main motif is subtly tweaked to rushing, euphoric heights. The flowery "The Muses," meanwhile, breaks out of its acid body and into hearteningly beautiful chords to close, and "Absurdist Acid" does something similar with aggressive rave stabs. Auvinen's take on acid is robust and assured, but it's telling that some of the album's best moments are when the 303 is toned down to introduce other elements. As cloyingly archaic as acid in 2012 often seems, though, Neo Neo Acid proves it can still make for a graceful genre study.