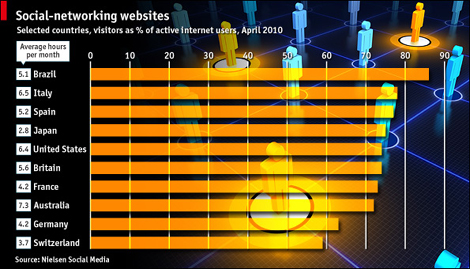 Chart courtesy of The Economist
01. Kassem Mosse, "Untitled" [Laid] (buy)

I'm sure Gunnar Wendel's trickle of new releases is partially about quality control, but I also get the sense he also spends a tremendous amount of time on each track before sending it off into the world. While "Untitled" from the Laid released Workshop EP comes across as effortless and resplendent it's easy to imagine how many hours Wendel spent hunched over a table full of hardware to arrive at it's sumptuous level of detail. From a raw and rigorous starting point the track takes a more blissful turn into hypnotic pulses and dreamy progressions that are impeccably layered and deftly stripped out — it's beautiful from all angles. With such stunning results whenever they leave Wendel's lab, I'm ready and willing to be patient.
Audio clip: Adobe Flash Player (version 9 or above) is required to play this audio clip. Download the latest version here. You also need to have JavaScript enabled in your browser.
02. Space, "Deliverance" (Justus Köhncke's Wild Pitch Mix) [Nang Records] (buy)


Remixing "Deliverance," by renowned Euro disco group Space must have been a great honor for Justus Köhncke, one of three tapped by Nang Records for the task. To my ears his "Wild Pitch Mix" treat its as such and is the best of the bunch, homing in on the original's gritty and alluring bass line and choice vocal bits to be enmeshed in moody house elements. Both its main lyric and the tenacious tone of the pads and piano chords demands, "Who are you?" Dark, sassy and insistent, Köhncke's mix is arresting and deserves to be in house DJs' bags en masse.
Audio clip: Adobe Flash Player (version 9 or above) is required to play this audio clip. Download the latest version here. You also need to have JavaScript enabled in your browser.
03. D-Bridge, "ZX81" (Shed Remix) [Fat City] (buy)


Known for producing everything from floor-flattening dubstep to tough yet melodic techno and classically influenced house, it's never a sure bet which René Pawlowitz is going to show up on a release or remix. To some extent that's part of the appeal — he's more than talented enough to pull off almost any style he tries — and on Shed's remix of D-Bridge's "ZX81" almost every angle of his multifarious skill set is brought to bear. Gritty crackles and muted percussion suggest the start of something aggressive, a hunch that's seemingly confirmed by the growling bass line clawing its way through the din. Yet only moments later blithe melodies whistle through the carnage like singing wasps that eventually open up the tune for a dizzying breakdown. Mowed over but with smiles on their faces, audiences get everything they could want from Pawlowitz in the space of five minutes. We'll see how his diverse collection of sonic palettes fares on a larger canvas with his forthcoming sophomore album, The Traveller.
Audio clip: Adobe Flash Player (version 9 or above) is required to play this audio clip. Download the latest version here. You also need to have JavaScript enabled in your browser.
04. Challenge, "Wind Up" [Marketing Music] (buy)

In the rush to be a part of the burgeoning nu-disco scene a lot of producers have fallen prey to replicating the easiest, most reliable tropes like slapped bass lines and cheesy 80s synth presets. That's not the case for Challenge, the pairing of Pete Herbert (also of Reverso 68) and Tim Paris (Marketing Music label manager and a fine producer in his own right). The pair made their debut on Kompakt's K2 sub-label back in 2008 but they're likely to make a much bigger splash with the Broken Clock EP for Marketing Music, especially because of the big B side, "Wind Up." Used to kick things off with a bang on my Curator's Cuts podcast, "Wind Up" is all about friction where its peers try to be smooth: bristling synth timbres, nagging vocal samples, and kit percussion that feels bashed out by a live drummer. The overall effect is one of unexpectedly bountiful catchiness as its thorny textures find more ways to get caught in listeners' ears. With an easily distinguishable sound married to accomplished songwriting, "Wind Up" is more than enough to brave hunting down a record on an unGoogleable label.
Audio clip: Adobe Flash Player (version 9 or above) is required to play this audio clip. Download the latest version here. You also need to have JavaScript enabled in your browser.
05. Azari & III, "Reckless (With Your Love)" (Tensnake Remix) [Permanent Vacation] (buy)


As an avowed fan of late 20th century pop music, Tensnake was an ideal candidate to remix Azari & III's "Reckless (With Your Love)," a fantastic tune that draws inspiration from roughly the same time period. It's not terribly surprising, then, that his remix plays up the common ground between them: pinwheeling cowbell hits, bright piano chords and exuberant pads, and oddly familiar drum breaks evoke the period with panache as Starving Yet Full's vocals repeat themselves like a hall of mirrors. In this XLR8R feature Tensnake swears he eschews samples in favor of recreating recognizable sounds on his own gear, and on this remix he pushes that claim to the edge of believability as the familiar synth jabs of C+C Music Factory's "Gonna Make You Sweat (Everybody Dance Now)" interject and lock into the now recognizable drum patterns. Purists might shun the remix for taking such a big bite from an obvious touchstone, but it doesn't change the fact that it's perfectly jubilant and otherwise expertly executed. The reference is a bridge between the artists' styles that's sure to drive dancers crazy, and unlike Joris Voorn's "The Secret" it's not the track's basis. Still, Tensnake should be careful of the tantalizing trap that is being a gimmicky artist — it's the difference between a tune slotted at #1 and #5.
06. The Gathering, "In My System" (Jef K's System Mix) [Silver Network] (buy)
07. Midland, "Play The Game" (Dexter Remix) [Phonica Records] (buy)
08. Function, "Untitled" [Sandwell District] (buy)
09. Jitterbug, "Thanks Spencer" [Uzuri] (buy)
10. Peter Van Hoesen, "Irrational X" [Exone] (buy)

Staff Charts:
Per Bojsen-Moller
01. Âme, "Rrose Sélavy" [Innervisions]
02. Mount Kimbie, "Before I Move Off" [Hotflush Recordings]
03. M. Miutante, "Seeing Crystals" [Ruf Kutz]
04. Dave Aju & The Sol Percussion Ensemble, "Flexa" [Circus Company]
05. Peverelist, "Fighting Without Fighting" [Punch Drunk]
06. Area, "Tiny Moments" [Ethereal Sound]
07. Red Rack'em, "Underground" [Shift]
08. Audision, "Outside My Window" (Sten Remix) [&nd]
09. Tornado Wallace, "Swimmin'" [Delusions of Grandeur]
10. Darque, "Son of Soil" [Smooth Agent Records]
Chris Burkhalter
01. Fred P, "On This Vibe" (Original Raw Mix) [Esperanza]
02. Urban Tribe, "Insolitology" [Planet E]
03. Juju & Jordash, "Tattoo's Island" [Philpot]
04. Beautiful Swimmers, "Big Coast" [Future Times]
05. Zak Khutoretsky, "Polyphonic Love" [Transmat]
06. Lost Trax, "Birth" [SCSI-AV]
07. Bottin, "Sage Oil" [Artifact]
08. Hauntologists, "EP3 B1" [Hauntologists]
09. Jitterbug, "Catacombs" [Uzuri]
10. Gunnar Wendel, "578" (Omar S. Rude Boy Warm Mix) [FXHE]
Luke Hawkins
01. Tevo Howard, "Spin" [Beautiful Granville Records]
02. Redshape, "Brick Brack" [Present]
03. Stingray313, Sentiment/Sphere of Influence [[NakedLunch]]
04. Moritz von Oswald Trio, "Nothing 3" [Honest Jon's]
05. Milton Bradley, Do Not Resist The Beat 5 [Do Not Resist The Beat]
06. Morphosis, "Musafir" [M>O>S]
07. DJ Jus-Ed/Fred P/DJ Qu, Semesters II [Strength Music]
08. Kassem Mosse/Lowtec, Workshop EP [Laid]
09. STL, "Vintage Hunter" [Something]
10. LB Dub Corp, "Take It Down (In Dub)" [Ostgut Ton]
Anton Kipfel
01. The Gathering, "In My System" (Jef K System Mix) [Silver Network]
02. Âme, "Rrose Sélavy" [Innervisions]
03. Tiga, "Gentle Giant" (Martyn's Heaven Remix) [Turbo]
04. Moritz Von Oswald, "Cocoon Dark Dub" [Cocoon Recordings]
05. Peter Van Hoesen, "Irrational X" (Slow Mix) [Exone]
06. Pezzner, "The Tracks Are Alive" (Rozzo Remix) [Freerange Records]
07. Joe, "Claptrap" [Hessle Audio]
08. Jitterbug, "Catacombs" [Uzuri]
09. Oriol, "Coconut Coast" (FaltyDL Remix) [Planet Mu]
10. Kez YM, "Natural" [Yore Records]
Kuri Kondrak
01. Steven Tang, "Verged" [Aesthetic Audio]
02. Juju & Jordash, "Tattoo's Island" [Philpot]
03. Automatic Tasty, "An Cnoc Rua" [Lunar Disko]
04. Brian Barian, "Track 2" [Bbarian]
05. Carlos Nilmmns, "The BBQ" [Don't Stop]
06. Two Dogs In A House, "Scream In The Night" [L.I.E.S.]
07. Urban Tribe, "Program 3" [Mahogani]
08. Claude Young, "Impolite To Refuse" [Astralwerks]
09. Jamie Principle, "Waiting On Ron's Angel" (Ron Hardy Re-Edit)
[Not On Label]
10. The Paul Simpson Connection, "Use Me, Lose Me (Reprise Me" [Streetwise]
Chris Miller
01. Kassem Mosse, "Untitled" [Laid]
02. Autechre, "ilanders" [Warp]
03. Fred P., "Emotive Vibrations" [Finale Sessions]
04. Ramadanman, "Work Them" [Swamp81]
05. Silent Servant, "SDSMP2A1" [Sandwell District]
06. Boo Williams, "Teckno Drome" [Rush Hour]
07. Zinja Hlungwani, "N'wagezani My Love" [Honest Jon's]
08. Deepchord presents Echospace, "Burnt Sage" [Modern Love]
09. Drexciya, "Organic Hydropoly Spores" [Tresor]
10. Jus-Ed, "No More Pain" [Underground Quality]
Braden Pemberton
01. Peverelist, "Fighting Without Fighting" [Punch Drunk]
02. Sigha, "Early Morning Lights" (Marcel Dettmann Remix) [Our Circula Sound]
03. Stingray313, "Sphere of Influence" [[NakedLunch]]
04. Vaccine, "Ochre" [Nonplus+]
05. Xhin, "Mind" [Stroboscopic Artefacts]
06. Sepalcure, "Feeling That I Know So Well" [Hotflush Recordings]
07. Terror Danjah, "Bruzin VIP" [Hyperdub]
08. LB Dub Corp, "Take It Down (In Dub)" [Ostgut Ton]
09. Kontext, "No More Room In Hell" [Immerse Records]
10. Truss, "Osbasten" (Tessela Remix) [Perc Trax]
Andrew Ryce
01. Hyetal, "Phoenix" [Orca]
02. Peverelist, "Better Ways Of Living" [Punch Drunk]
03. Falty DL, "Filthy Divinity" [Planet Mu]
04. Al Tourettes, "When I Rest I Run" [If Symptoms Persist]
05. Shed, "The Bot" [Ostgut Ton]
06. Ramadanman, "Work Them" [Swamp81]
07. ASC, "The Touch" (Vaccine Remix) [Auxiliary]
08. Kassem Mosse, "We Speak To Those" [NonPlus+]
09. Midland, "Play The Game" (Dexter Remix) [Phonica Records]
10. Pinch, "The Boxer" [Tectonic]
Colin Shields
01. Ramadanman, "Fall Short" [Swamp81]
02. Rick Wilhite, "Analog Love" [Rush Hour]
03. Cooly G, "Up In My Head" [Hyperdub]
04. Cajmere, "Let Me Be" [Cajual]
05. Space Dimension Controller, "Journey To The Core Of The Unknown Sphere" [Royal Oak]
06. James Blake, "Postpone" [R&S Records]
07. Lovestation, "Teardrops" [Fresh]
08. Derrick May, "Atl Mi" [NDATL]
09. Jackie Mittoo, "Wall Street" [Studio One]
10. Cosmin TRG, "Béton Brut" [Hemlock]