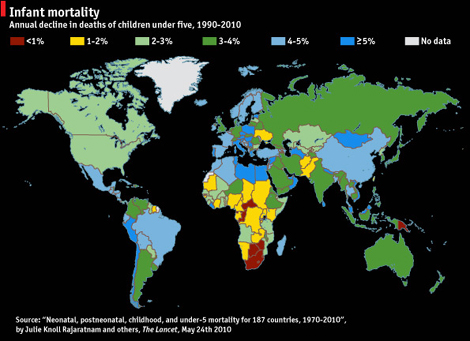 Chart courtesy of The Economist
01. Audision, "Aurora" (John Roberts Remix)
[&nd] (buy)

Audision's debut album, Surface to Surface, might not have excited our reviewer, but at least it has yielded two EPs of solid remixes that inject much needed personality into the tracks. Still new to the remix game, John Roberts manages to best inveterate producers like Robag Wruhme, Roman Flügel and Arne Weinberg with his chilling remix of "Aurora." He does so by making the most of his distinctive sonic bouquet with impeccable sound design: The misty organ chords evoke the blurry distance of staring up through Leandro Elrich's "Swimming Pool" installation; ride cymbal hits fizz up front as Roberts' restless drum programming huddles just below the surface; and a leaky faucet of piano notes dribbles down the side like so much sweat on dancers' brows. Roberts' remix alone makes Surface to Surface: The Remixes 2 worth the sticker price for vinyl lovers and is a must-own digitally.
Audio clip: Adobe Flash Player (version 9 or above) is required to play this audio clip. Download the latest version here. You also need to have JavaScript enabled in your browser.
02. Oriol, "Coconut Coast"
[Planet Mu] (buy)

With the weather finally cooperating with the calendar, it's time to bust out tunes best heard while in a car with the windows down or perhaps on a rooftop. One of my favorite recent examples of this is "Coconut Coast," the debut single from the Barcelona-born, U.K.-based producer Oriol who was recently snapped up by Planet Mu. Unapologetically joyful, the tune splits the difference between the florid synth-funk stylings of Floating Points or Kyle Hall and the bombastic arrangements of Kanye West: splashy drum kit percussion (with glockenspiel) gets heads nodding while incandescent chords and a shucking synth bass line massage listeners' ears. Oriol also makes great use of brass tones, stacking droning trumpet harmonies as a stage for wriggling keyboard vamps. And it's all over in just over three minutes — the perfect length for a summery jam of this sort. If Oriol's forthcoming debut album makes good on the promise of this EP we've got a summer of very compatible music ahead of us.
Audio clip: Adobe Flash Player (version 9 or above) is required to play this audio clip. Download the latest version here. You also need to have JavaScript enabled in your browser.
03. Tama Sumo & Prosumer, "Rarified"
(The Oliverwho Factory Remix) [Ostgut Ton] (buy)


It may have taken a while, but house heads on both sides of the Atlantic are finally getting hip to the hidden genius of The Oliverwho Factory. Having recently appeared on Tama Sumo's Panorama Bar 02 mix, the Detroit duo were an obvious and appropriate choice to remix the latest from Tama and frequent production partner Prosumer. Where their "Rarified" was effective if a bit sleepy, the OWF offer a more full-blooded and memorable take that combines all of what makes them so great: ravishing vocals, beefed up percussion, and catchy if unexpected blends of melodic themes. A flaring synth line carries Shone's soulful praise over buxom drum programming, cut wide open by a toothy progression that gives the tune a sharper edge. The pair does make room for the original ostinato chords and analog bubbles as the girding for their own thicker arrangements. It's rare that my stylus skips over anything from Tama or Prosumer, but The Oliverwho Factory, now in plain sight, crafted a remix that is simply magnetic.
Audio clip: Adobe Flash Player (version 9 or above) is required to play this audio clip. Download the latest version here. You also need to have JavaScript enabled in your browser.
04. Art Bleek, "The Real Thing" (Agnès Remix)
[Sharivari Records] (buy)

Sometimes I feel sorry for artists whose tracks get remixed by Agnès because his talent for rearranging other producers' sounds is so immense it often puts the originals to shame. But in reality no one comes out a loser with an Agnès remix, and the second release from Sharivari Records is certainly a winner for it. Agnès sees through the clutter of Art Bleek's "The Real Thing," playing up the gauzy dub chords while combing out the tangled melodic elements and generally adding more swing — pushing the once hesitant track into the dance floor's middle. Even its disembodied voices make more sense swimming between auxiliary percussion flourishes and avoiding the charged bass notes perched at the end of most measures. Streamlined, swinging and far more useful for DJs, Agnès' astute revision is further evidence of the Swiss producer's standing among the game's best remixers.
Audio clip: Adobe Flash Player (version 9 or above) is required to play this audio clip. Download the latest version here. You also need to have JavaScript enabled in your browser.
05. And.ID, "Erotica"
[Mobilee] (buy)

In spite of not enjoying much of his previous work I gave the latest EP from Greek producer And.ID a spin and founding an intriguing tidbit. As the month went on I kept returning to "Erotica," the track at B2, humming along with its gloriously forthright synth lead well after the record had ended. Its clambering percussion was remarkably engaging (especially compared to his previous drum patterning), pumping underneath airy triplets that prime audiences for the infectious progression (and its even better harmonic twin) that subsequently leap from the speakers. By putting aside so many of the hackneyed and on-trend tactics he often relies on, And.ID's production mettle shines through and leaves me wanting more. Here's hoping "Erotica" presages more such stunners from this potentially promising talent.
Audio clip: Adobe Flash Player (version 9 or above) is required to play this audio clip. Download the latest version here. You also need to have JavaScript enabled in your browser.
06. Roska, "I Need Love" [Rinse Recordings] (buy)
07. Wax, "No. 30003 A" [Wax] (buy)
08. Ross 154, "Until My Heart Stops"
[M>O>S Recordings] (buy)
09. Space Dimension Controller, "J2TCOTUS" (Kyle Hall's I'm Only Breathing Remix) [Royal Oak] (buy)
10. Dissident, "Society of Silver Skeletons" (Headhunter Remix) [Hotshore] (buy)

Staff Charts:
Peder Clark
01. Juergen Junker, "Neighbourhood (Live Mix)" [Naïf]
02. The Nathaniel X Project, The Resurrxion EP [My Love Is Underground]
03. Boo Williams, "Day and Night" [Rush Hour]
04. Carsten Jost, "Days Gone By" [Dial]
05. Actress, "Bubble Butts and Equations" [Honest Jon's]
06. Efdemin, "There Will Be Singing" [Dial]
07. Chicago Skyway, "CP-1" [Uzuri]
08.Kyle Hall, "Ghosten" [Third Ear]
09. Anthony "Shake" Shakir, "Frenchie" [Frictional]
10. Various, A Tribute To Ken Collier [Slow To Speak]
Anton Kipfel
01. Fred P., "On This Vibe" (Original Raw Mix) [Esperanza]
02. Kyle Hall, "Create Your Own Existence" [Moods & Grooves]
03. Wax, "No. 30003 A" [Wax]
04. Mount Kimbie, "William" (Tama Sumo & Prosumer Remix)
[Hotflush Recordings]
05. Radio Slave, "I Don't Need A Cure For This" [REKIDS]
06. James T. Cotton, "On Time" [Spectral Sound]
07. SECT, "Thieve $crilla" [Culprit]
08. Oriol, "Coconut Coast" (FaltyDL Remix) [Planet Mu]
09. ElPierro, "Cast Away" [Gymnastique Records]
10. Filterwolf, "Nocturne" (Bodycode Remix) [Process Recordings]
Kuri Kondrak
01. Jitterbug, "Spencer" [Uzuri]
02. Morphosis, "Musafir" [MOS]
03. Toby Tobias, "Macasu" (Motor City Drum Ensemble Loft Party Remix)
[Late Night Audio]
04. Hugh Maskela, "Don't Go Lose It Baby" [Slow To Speak]
05. Louis Haiman, "Lo Ride Sci Fi" [Abstract Forms]
06. W & P HGG, "Edit Gospel No 3" [Deep Explorer]
07. Frederic Mercier, "Spirit" [Mellophonia]
08. Kyle Hall, "Create Your Own Existence" [Moods & Grooves]
09. Gerd, "Friendly Fire" [Royal Oak]
10. The Oliverwho Factory, "Lady Dreamer" [Planet E]
Chris Miller
01. Mount Kimbie, "Before I Move Off" [Hotflush]
02. Efdemin, "Oh My God" [Dial]
03. T++, "Voices No Bodies" [Honest Jon's]
04. A Made Up Sound, "Alarm" [A Made Up Sound]
05. Robert Hood, "The Workers of Iniquity" [M-Plant]
06. Wax, "No. 30003 A" [Wax]
07. Instra:mental, "Let's Talk" [[Naked Lunch]]
08. Redshape, "Mucky Bones" [Present]
09. Conforce, "Grace" [Delsin]
10. Sepalcure, "Love Pressure" [Hotflush]