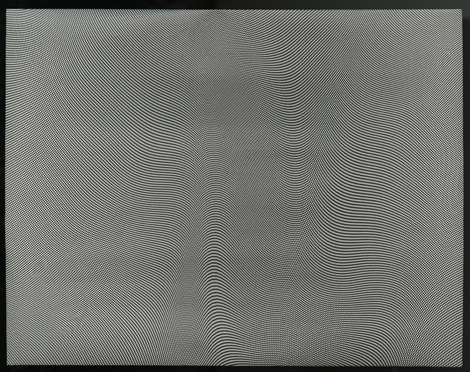 Artwork by Travess Smalley
[Dial]
Like the Missoni their roster modeled in a recent photoshoot for German magazine De:bug, the Dial label is a family affair, with a long history and an instantly recognizable aesthetic. Despite both "brands" diversification into (among other things) hotels and indie lounge-pop respectively, they are still most widely recognized by their original product: knitwear and a very particular brand of romantic, wistful Teutonic house. But I have to end the rather tenuous association and comparison brought about by Dial co-founder David Lieske's interest in high-end fashion, not least because a Missoni cardigan will set you back around 500 euros while a Dial twelve inch costs closer to nine euros. Still, it remains true that the Italian company fits the Dial pin-ups well: Both exude a dandified, European sophistication and continue to experiment, secure in their place in the market, all the while still serving their loyal customer base with pieces cut to the template of their original classics.
Audio clip: Adobe Flash Player (version 9 or above) is required to play this audio clip. Download the latest version here. You also need to have JavaScript enabled in your browser.
2010 is very much a mix of these two concerns. On the one hand, we have a couple of new players, in the form of Isolée and Kassian Troyer. And Dial's somewhat eccentric forays into indie-pop are also present and correct, with Tocotronic main man Dirk von Lowtzow's side-project Phantom/Ghost's louche "My Secret Europe," and the previously released "He Said" by Dominique. But Dial's core aesthetic of chic but understated deep house remains present, with contributions from label founders Lawrence, Pantha du Prince and Efdemin that stay true, occasionally too much so, to the label's sound when it was first birthed in Hamburg 10 years ago.
Dial is a far more international affair these days, with only Lawrence (aka Peter Kersten) of the founding quartet still residing in Hamburg. Pantha du Prince (Henrik Weber) spends the majority of his time in Paris, Philip Sollman (Efdemin) in Berlin, and Lieske (also known as Carsten Jost) having spent the last few years in Tel Aviv. They've also brought in more international talent, in the form of the prodigious American John Roberts. Roberts is an example of Dial's diversification; his drums for example owe more to Dance Mania than the subtle plod of Lawrence's, but his work still retains the melancholy of his mentors. "Lines," his contribution to 2010 is outstanding, matching that trademark thump to a smacked-out concert pianist. Another relative newcomer, Christian Naujoks, puts aside the effete stylings of his self-titled debut and instead pulls out a bumping, bass-driven Detroit house cut. Efdemin's occasional production partner Rndm's effort is a chunky slice of newer deep house, and their collaboration as Pigon splits the difference between the two producer's work as an abstract techno gem that wouldn't look out of place on Ifach, or more recently, Livejam.
Audio clip: Adobe Flash Player (version 9 or above) is required to play this audio clip. Download the latest version here. You also need to have JavaScript enabled in your browser.
Of the aforementioned close friends who formed the label, Carsten Jost's "Days Gone By" makes by far the finest contribution. A hymn of wistfulness to (perhaps) those early days hanging out at the Golden Pudel club, its perfect simpleness and directness contrasts with the other's more complex, and duller, efforts. Lawrence has yet to regain the form of his mid-2000s heyday, but "Treacle Mine" is nevertheless a vast improvement on last year's lackluster Until Then, Goodbye. You can almost hear Kersten straining to try something different from the sound of those years; and while it is a brave effort for an artist who seems to be caught between not wishing to be pigeon-holed and retaining, in Theo Parrish's phrase, a sound signature, it can occasionally sound a little forced. Efdemin's "Time" bodes well for his forthcoming full-length Chicago, a confusing but beguiling melange of chopped and screwed voices and burbling percussion, while Pantha du Prince's "Fountain Drive" sounds like an off-cut from his Rough Trade album Black Noise, with all that that might imply.
2010 is a fine addition to the Dial collection, and as Spring/Summer pieces go, it's certainly cheaper to pick up than Missoni's. It explores some interesting tangents without a wholesale reinvention, and like the venerable Milanese knitwear offers warmth and familiarity while retaining a distinctive look. Dial will stay fashionable for a few more seasons at least.