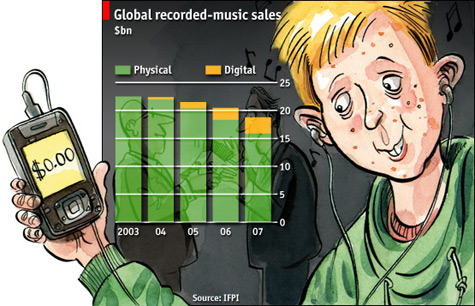 Chart courtesy of The Economist.
01. Radio Slave, "Incognito" [R&S Records] (buy)

Another big year for Matt Edwards and a return to prominence for Belgium's R&S, 2008 saw the former help reboot the latter with the storming "Eyes Wide Open" single. But hiding on the B-side is something better, the gut-punching floor filler "Incognito." Although it's much more fierce and straightforward than its name suggest, the track pumps like a power station — pistoning bass and synth riffs driving dancers wild and sultry female exclamations letting off excess energy. DJs should not leave home without "Incognito."
Audio clip: Adobe Flash Player (version 9 or above) is required to play this audio clip. Download the latest version here. You also need to have JavaScript enabled in your browser.
02. DJ Aakmael, "Get Down" [Uzuri] (buy)


Hitherto a well kept secret from Virginia, DJ Aakmael may be hard pressed to keep a low profile after this killer EP for the up-and-coming Uzuri. Like his Uzuri peers, Aakmael works with a raw toolbox across the "Music EP"'s four tracks. The best of the bunch is the funk-tinged "Get Down," whose tom-dappled groove slides by on backwards stretched pads and is given levity with short bursts of rubbery keys and calls to "get on down." Don't mind if I do.
Audio clip: Adobe Flash Player (version 9 or above) is required to play this audio clip. Download the latest version here. You also need to have JavaScript enabled in your browser.
03. Lawrence, "Forever Anna" [Spectral Sound] (buy)


While busy releasing an album as Sten, Peter Kersten largely left his Lawrence moniker on the shelf until the "Divided EP" for Spectral Sound. By and large, it was worth the wait. Where the title track couches its overcast mood in shuffling grooves, "Forever Anna" offers unrestrained aural beauty. Kersten pulls out all the stops and gets dense and intricate, expanding from a Chicago-inspired bass line into trickling bell melodies and syncopated synth string stabs, all flowing with the stately grace of a classical piece.
Audio clip: Adobe Flash Player (version 9 or above) is required to play this audio clip. Download the latest version here. You also need to have JavaScript enabled in your browser.
04. Wax, "Untitled 2" [Wax] (buy)


Hardwax is a sure hotspot for artists releasing anonymous, hand stamped records, and this sizzler from Wax on, um, Wax, is one of the latest and well promoted. Some have speculated it's the creation of rising star Shed, a suspicion that gains plausibility upon close inspection of the record's particular palette. On "Untitled 2," rigid, itchy rhythms are afforded a dose of relief by knife point synth jabs that blur, waver and hang in the air — defying time and shape. When the hi-hat (and thus, swing beat) kicks in, the creative use of rhythm and space ring true with Shed's style. But whether he's behind Wax is half as interesting or enjoyable as this platter.
Audio clip: Adobe Flash Player (version 9 or above) is required to play this audio clip. Download the latest version here. You also need to have JavaScript enabled in your browser.
05. Spencer Parker, "Improvised Minotaur"
[REKIDS] (buy)


The lead cut of Spencer Parker's latest for REKIDS is something of a Trojan horse, because the front end of things hardly prepares you for the monster track within. Its live drum sounds and Sasquatch-in-an-empty-theater claps meet metallic resonance and feel incomplete; of course, that's when the piano creeps in. Steady waves of warm piano chords lap at the percussion and launch into a catchy hook, and suddenly it's got the charm of a Henrik Schwarz production with a singleminded approach and more troughs for mixing purposes. Use this one to slay a dance floor near you.
Audio clip: Adobe Flash Player (version 9 or above) is required to play this audio clip. Download the latest version here. You also need to have JavaScript enabled in your browser.
06. Pépé Bradock, "Mandragore" [Atavisme] (buy)
07. Sascha Dive, "Deepest America" (Moodymann remix) [Ornaments] (buy)
08. Kassem Mosse, "578"
[Mikrodisko Recordings] (buy)
09. Margaret Dygas, "See You Around"
[Non Standard Productions] (buy)
10. Omar-S, "The Further You Look – The Less You See" [FXHE Records] (buy)
Check out staff charts after the jump.
Staff Charts
(Note: Because of year end coverage, many of our writers are saving their charting energy for year end lists.)
Per Bojsen-Moller:
01. Beat Pharmacy, "Time" [Deep Space Media]
02. Chaim, "No Getaway" [BPitch Control]
03. Scuba, "The Upside" (Martyn's Down Mix) [Hotflush Recordings]
04. Daniel Stefanik, "Hey, Hey What Can I Do" [Freude Am Tanzen]
05. Harmonic 313, "Arc Light" [Warp Records]
06. Peverelist, "Clunk Click Every Trip" [Punch Drunk]
07. Seth Troxler, "Aggression" [Moongadget]
08. Guy Noir, "Delusion" (Argy's Big Room Dub) [District of Corruption]
09. Motorcitysoul, "Hatohay" (Manual Tur & Dplay remix) [Simple Music]
10. Alex Under, "Azul Terio Cerebral" [Cmyk Musik]
Todd Hutlock:
01. cv313, "Subtraktive" [echospace [detroit]]
02. Bruno Pronsato, "Nobody Calls" [Hello? Repeat]
03. Minilogue, "Mr. Mustafa" [Minilogue]
04. Sons of the Dragon, "Motor City Matrix" [Sons of the Dragon]
05. DJ 3000, "Meridian" [Motech]
06. Efdemin, "America" [Curle Recordings]
07. Lawrence, "Miles" [Dial]
08. Guillaume & The Coutu Dumonts, "I Was On My Way To Hell"
[Circus Company]
09. Bvdub, "Wish I Was Here" [Millions of Moments]
10. Luciano & Mirko Loko, "Mousa Big Band" [Desolat]