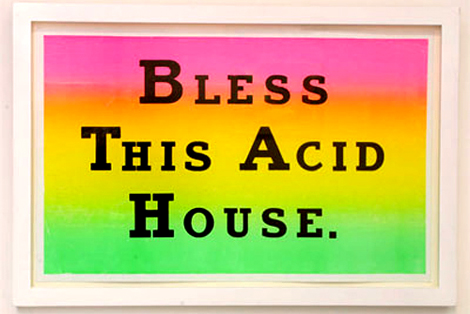 Placard by Jeremy Deller
"We know, we know, the current re-issue wave of classic house music platters is a bit much — especially the unlawful ones with photocopied artwork." These are the words of Running Back's Gerd Janson from the press sheet for his own label's contribution to the tsunami, a reissue of Zaki Dee, Rob Mello and Luke Solomon's Heaven and Earth EP from the Prescription label. And Janson's right, the wave has turned into a deluge. But let's not behave like King Canute about this, nothing can stop the tide. The Dutch powerhouse Rush Hour has probably been most relentless in its retrospective output, particularly now it has taken charge in the latest (and actually greatest) of the many Trax reissue programs there have been down the years. To be honest, I could have filled this entire list with selections from RH, but with apologies to them, Mojuba G.O.D., the aforementioned Running Back, Styrax Leaves, Clone Classic Cuts, Delsin, Prescription Classics, Downwards, Alleviated and all the other labels that have been schooling me, you and anyone else too young, too ignorant or too poor to check these on the OG pressing, here's an essential five.

Drexciya, Neptune's Lair [Tresor] (buy)
Tresor repressed a number of their most sought-after records this year, not least the essential Robert Hood album Internal Empire, but the one that got me most excited was Drexciya's Neptune's Lair. Released in 1999, it seems to somewhat divide opinion amongst the Drexciyian fanbase. Some will claim it to be the finest electro album of all time, while others describe it as a disappointment, a disjointed collection of fragments and sketches. No prizes for guessing which side of the fence I'm sitting on. True, most of the tracks are short, and lack the highly concentrated ferocity of slightly later tracks such as "Digital Tsunami" which made the reclusive duo of James Stinson and Gerald Donald a more natural fit with the hard techno bastion of the Berlin club and label. But its restless, skittish nature is also its appeal, particularly when it occasionally gives way to the moody, meditative beauty of tracks like "Andrean Sand Dunes" before whisking you away again. Deceptively shallow, Neptune's Lair is, as the title and Abdul Haqq's artwork suggests, deep as oceans if you wade around in it long enough.
Audio clip: Adobe Flash Player (version 9 or above) is required to play this audio clip. Download the latest version here. You also need to have JavaScript enabled in your browser.

V/A, A Tribute To Ken Collier [Slow To Speak] (buy)
From a group whose lifespan was cut short by the premature death of James Stinson, to another Detroit legend who died too soon. This panegyric to Ken Collier, organized by the good people at Dope Jams (and not to be confused with the Terrence Parker record of the same name), pays testament to a DJ who inspired more than a few people who have been in turn been pretty inspiring to current generations of DJs: Mike Huckaby, Delano Smith and Norm Talley, just to name a prominent handful. I'm not entirely sure what these three tracks have to do with Collier, aside from the A-side dub of Was (Not Was)'s "Tell Me That I'm Dreaming" which had his production credits, but they're dance floor dynamite now as they surely were in mid-80s Detroit. Anonymously presented aside from touching sleeve notes by Alan Oldham, it is indeed a fine tribute to Collier, who died of diabetic complications on February 19th, 1996.
Audio clip: Adobe Flash Player (version 9 or above) is required to play this audio clip. Download the latest version here. You also need to have JavaScript enabled in your browser.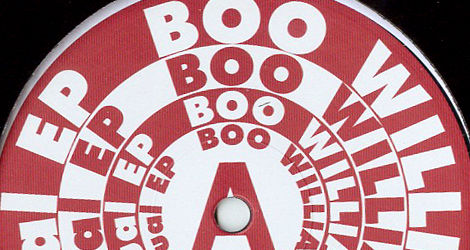 Boo Williams, Residual EP [Rush Hour] (buy)
Amongst the glut of reissues from the RH camp this year, it's been easy to miss the odd one or two. Robert Hood's "Funky Souls" under his Floorplan alias has been deservedly ubiquitous, but these four tracks cherry-picked from Boo Williams two EPs for Titonton Duvanté's Residual imprint seem to have been somewhat overlooked. Although they date from the late 90s, they still sound remarkably fresh, with a smooth style that sounds like an antecedent to Fred P's current productions, albeit bolted to Boo's trademark jackhammer drums. I was previously familiar with Boo's earlier and much rougher sounding records for Relief , but the the soft pads here only serve to make the slamming beats sound even heavier. An iron fist in a velvet glove.
Audio clip: Adobe Flash Player (version 9 or above) is required to play this audio clip. Download the latest version here. You also need to have JavaScript enabled in your browser.

Charanjit Singh, Synthesizing – Ten Ragas To A Disco Beat [Bombay Connection] (buy)
Having popped to the record shop beforehand, I sat in east London's Café Oto a few months ago transfixed by a woman playing ragas on her sitar, with a bag full of house next to me. It didn't occur to me at the time that someone might combine these two divergent sounds, let alone back in 1982, before the latter genre had even been invented. Indeed, when Ten Ragas was released in March, it had more than a whiff of a music nerd in-joke about it. Traditional Indian music performed on a Roland TB-303? Really? Thanks to some detective work by Geeta Dayal (amongst others) it emerged that the 10 tracks included here are indeed genuine, rather than the smirking offspring of Richard D. James or some other sonic prankster. Better to read Dayal's illuminating pieces than try to explain the back story here, but if you've ever wondered what Phuture might have sounded like had DJ Pierre, Spanky and Herb J been born in Calcutta rather than Chicago, this is probably as close as you're going to get. A genuine novelty well worth investigating.
Audio clip: Adobe Flash Player (version 9 or above) is required to play this audio clip. Download the latest version here. You also need to have JavaScript enabled in your browser.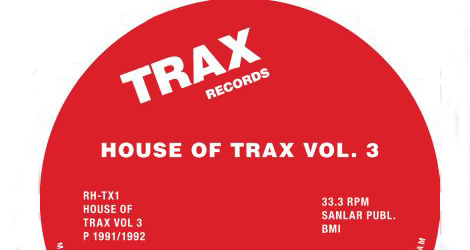 V/A, House Of Trax Vol. 3 [Rush Hour] (buy)
At the time of writing, the RH Trax reissue programme is at Volume 5, and long may it continue. Volume Two appears to have been skipped (apparently something to do with Chicago label Let's Pet Puppies having rights to a rare Marcus Mixx track), but the other four have been seriously enlightening, even to someone well versed in the Trax catalogue. Volume Three is the doozy, with an alternate, rougher (Ron Hardy?) version of Jamie Principle's "Bad Boy" and his Italo killer "It's A Cold World" (originally credited solely to Frankie Knuckles). But the reason I bought this was for Ace and the Sandman's "Let Your Body Talk," as anybody who witnessed me, running, slipping and finally spilling my drink across a crowded dance floor in an effort to congratulate the DJ who played this last weekend will testify. Produced by Eric Lewis and Merwyn Sanders, aka Virgo Four, this stands up to, and even beats, anything on their superb (and also recently reissued) album. Subtle 303 lines, a disarming, sensual vocal and the most heartbreaking, melancholic synths…. Ah, enough rhapsodizing, just go listen to the damn record.
Audio clip: Adobe Flash Player (version 9 or above) is required to play this audio clip. Download the latest version here. You also need to have JavaScript enabled in your browser.