Art by Francisco Infant-Arana
On the reissue front, last year saw a new CD package of Basic Channel highlights, the Gas boxed set, and a repress of Model 500's seminal Deep Space. Can 2009 match that? Six months in, looks like it just might. My picks for the five crucial reissues of the year so far is restricted to tangible products. This means I'm excluding some of the big mp3 arrivals of the year, several of which are news in their own right. In January, Omar S brightened my holiday malaise by making a healthy chunk of his FXHE label available through Beatport. Then, as spring turned to summer, Jeff Mills announced a gradual program to market some of his many career highlights in digital form, with value-added outtakes to boot. This year's also opened up crucial back catalog material from Bine, Cache, Non Standard, Platzhirsch, and R&S to fill your iPod as well. As for discs silver and black, here's what's had me excited.

01. Robert Hood, Minimal Nation [M-Plant] (buy)
At long last, the spine that separated minimal techno lifers from tourists can be had for the price of a Best Buy gift card. Folks, this is simply one of the best techno long-players you're going to hear. And if it weren't enough that we can now revel in the "neutral potency" of the likes "Museum" on the bus, Hood has tacked on a couple of bonus cuts contemporary to the album, plus an entire mix CD. And if you need even more lean, robotic funk, there's a new pressing of "Who Taught You Math" on, of all places, Freak n' Chic. As Hood himself said, "In order to maximize the feeling of the music, sometimes we have to ridiculously spoil the listener with an embarrassment of newly remastered riches."

02. Studio 1, Studio Eins [Kompakt] (buy)
Should you be in the mood for a more austere strain of minimal techno (or maybe just a more Teutonic one), this would be the chef's recommendation. The latest entry in what I hope is an ongoing Wolfgang Voigt reissue campaign, this is every bit as raw and pummeling as Minimal Nation is funky. The tight, aggressive gyrations and morphing effects leave a dizzying impression, but these synthetic dub tracks are, like Hood's, assembled from a handful of elements. Lucky for us this archival restoration is such a rumbling thrill to listen to today. For more information on why you need this disc, do check out Todd Hutlock's review.

03. Rick Wade, Harmonie Park Vol. 1
[Funky Chocolate] (buy)
Rick Wade's routinely jaw-dropping releases have a nasty habit of disappearing from the market. Funky Chocolate's certainly done their part to help remedying this. The numbered title of their latest Wade package muddles things a bit, as this isn't a straight copy of the first record on Wade's Harmonie Park imprint. It does, however, contain the entire B-side of that 1994 deep house masterpiece, two Wade's very best tracks. Impossibly infectious, the chords are thick and buttery, while the vocal micro-hooks deliver the kind of earworms that heads still haven't shaken 15 years later. HP01's "Nothing To Fear" and its DBX remix are tragically omitted, but the disco-gilded "I Feel Good," from the second Harmonie Park plate, makes for one hell of a consolation prize. If this isn't in your crate, your crate's light.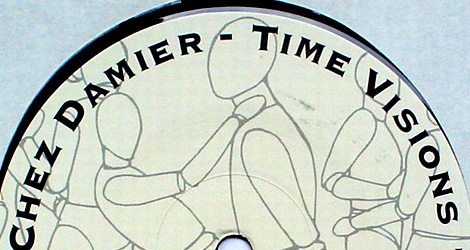 04. Chez Damier, Time Visions 1 [Mojuba G.O.D.] (buy)
Similarly, Berlin house fiends Mojuba have just kicked off an all-Chez-all-the-time sub-label. The gently grooving A-side of the first release is brand new, but on the B you'll find an invaluable pair of sought-after greats from the Prescription vaults. Trippy masterpiece "Sometimes I Feel Like" previously appeared on the unforgettable Hip To Be Disillusioned record back in 1994. The track here is technically an unreleased version, but I haven't found reason for disappointment. The fluttering keys and urgent strings of "Teach Me, Keep Me" also first stirred hearts in '94, when it appeared on The Gift, released under the Noni moniker. Fifteen years on, these tracks don't seem to have lost any of their classy, energizing magic.

05. Jim O'Rourke, I'm Happy, and I'm Singing, and a 1, 2, 3, 4 [Editions Mego] (buy)
Certainly one of the most emotive, affecting moments in laptop naval-gaze, this rare electronic outing from Jim O'Rourke was ambitious and far-reaching, but managed a lightness of touch and warmth I believe surpasses that of any of the busy, multi-talented musician's work. Ruminative but not cerebral, the album's shifts from dread to whimsy to melancholy to glee move with the fluidity of a daydream. Out-of-print for longer than it was ever in-print, this album finally gets the deluxe edition treatment, tacking on an album's worth of top-notch extra material. I'm unsure why Mego always insists on replacing the original covers but, as long as I waited for this reissue, I don't dare complain.