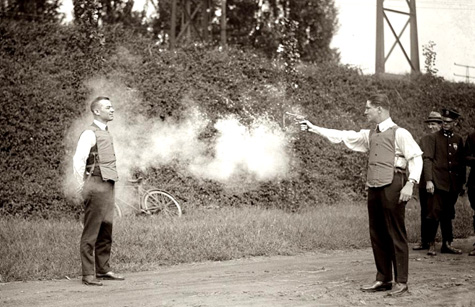 For our fifth report, LWE correspondent Colin Shields offers his top 5 singles (from the first half of 2008) that suggest minimal isn't dead, actually.
It's a familiar story: Life seemed so good in 2006. Minimal, a genre that had simmered along in dance since its conception, had hit the mainstream in a big way. A whole slew of chefs had set out to reduce the sounds of house and techno, and found in their pots a sauce that could instill in beats flavors that ran the gamut from psychedelic to block-rocking. The minimal scene felt like it had discovered both a music and a lifestyle that were a paean to sensual opulence. What came up has come down: faddishness and mediocrity infected what in Rob Hood's time had been a style too off the beaten track to lure pretenders.
In 2008 a craze for all things minimal has been replaced by an Oslo-associated house revival on one hand and a fascination with the Berghain sound of techno on the other. While these scenes prosper, the creative underbelly of minimal has also flourished. At the same time, the deep-house and Detroit revivals have often been little more than uninteresting minimal with a new haircut. This means the (supposedly) pernicious influence of vapid minimal trendiness is probably far from over, but rather just rolls on in a different guise. If all this is true, though, one simple question remains. Since (what's made out to be) the blood sucking parasite of trendiness is gone, shouldn't minimal be in rude health now? Here are five to show it is.
01. Ricardo Villalobos, "Minimoonstar" (Shackleton remix) [Perlon] (buy)

No surprise at who tops my list. Villalobos is certainly one of the minimal producers who needs no defending to anyone. "Vasco EP Part One" has had us bloggers going gaga, but it's also worth noting again how effective Shackleton's mix is here. Berlin minimal techno has had a huge influence on the side of dubstep worth listening to, at least if my ears are any judge, and this is just one more reminder of that ever fertile interchange. After the opening vocal, the feeling of spaciousness and depth developed are really otherworldly. This would be a sublime track to which to die.
Audio clip: Adobe Flash Player (version 9 or above) is required to play this audio clip. Download the latest version here. You also need to have JavaScript enabled in your browser.
02. Ruede Hagelstein, "The Modest Theme" [Souvenir] (buy)


This one distinctly isn't crossover. Instead, it's all about delayed gratification. The soft footed opening is modest indeed; but as the end nears, the bursts of horn that have made a statement of intent since the beginning come back in a brash, proud way. The combination of floor-thumper with intricate long player Hagelstein has pulled off here is deft in the extreme.
Audio clip: Adobe Flash Player (version 9 or above) is required to play this audio clip. Download the latest version here. You also need to have JavaScript enabled in your browser.
03. October, "Go Outside" [Perspectiv] (buy)


Frayed edges and misbegotten elements stitched together insouciantly here. The frequent breakdowns only make the listener pay closer attention; this creates a feeling of surface tension as the track nevertheless builds smoothly in intensity. There's never quite a kick drop to mark the peak, but rather just a feeling of climactic energy that arrives most of the way in before subsiding again. Add to that the lovely, harmonic warehouse-tinged tones and "Go Outside" has found something winning as well as distinctive.
Audio clip: Adobe Flash Player (version 9 or above) is required to play this audio clip. Download the latest version here. You also need to have JavaScript enabled in your browser.
04. DJ Koze, "Zou Zou" [Kompakt] (buy)

Many people might not call this minimal, but if that's your reaction, let's argue about it later. The more important fact: "Zou Zou" is really stunning. As usual, Koze has made a track that feels like a tangle of hirsute limbs, leaving the vocals and the beats and some chords to rub up against each other in a very prickly way. "I work it" is the lyric and I imagine that's just what this would motivate you to do on the dance floor. Even at home, though, the exhortation to movement is immense. For such a melodic track, there's also a sense that every single bit of sound adds something percussive, too. Each element here surprises afresh when the dynamics of the track alter, which they do frequently, and they never sit together fully naturally. They do combine into one beautiful monster, though, and yet again most other producers look like spring chickens next to Koze.
Audio clip: Adobe Flash Player (version 9 or above) is required to play this audio clip. Download the latest version here. You also need to have JavaScript enabled in your browser.
05. Jichael Mackson, "Flatscreen" [Stock5] (buy)

Mackson is never an easy one to pin down and "Flatscreen" is as slippery as he is. A long, lean, sometimes faltering drum voyage is the name of the game. This is another track that creates its own language by hesitating now and again, leaving the listener to swirl in an eddy before being spat back into the rapids. After a few minutes, the mellifluous progress made by the intricate beats begins to be absorbed very deeply, and by the end of fourteen minutes the Beatport version at double that length doesn't seem like such a bad idea.
Audio clip: Adobe Flash Player (version 9 or above) is required to play this audio clip. Download the latest version here. You also need to have JavaScript enabled in your browser.