Photo by Tamara Lichtenstein
One of the great joys of going to your local record shop (or, er, scrolling through menus of WhatPeoplePlay) is the anticipation, nay, expectation of discovering something or someone you had never hear of before. As Innervisions boss Dixon says of their bright young hope, Culoe de Song, "Sometimes tracks appear from somewhere you would never expect." So far, 2009 has been no different, with a host of fresh and (more often than not) astonishingly young talent breaking through. Narrowing it down was a tough job, but here are five artists that have sent our radar haywire in the last six months.
01. Kyle Hall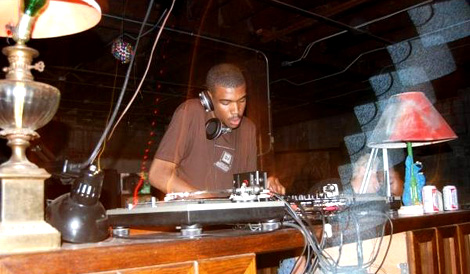 The definition of a wunderkind, 17-year-old Kyle Hall has a resume most producers twice his age would die for. Nurtured by a who's who of contemporary Detroit legends, (Rick Wilhite, Omar-S, Mick Huckaby) Hall released records on FXHE and Moods & Grooves last year. This year, two releases on his own Wild Oats label have further underlined his bountiful potential. Jazzy, frayed-at-the-edges pieces that are nonetheless held together by a thumping low-end, Hall takes the innovations of his Motor City elders and runs with them. Startlingly mature (except for the track titles — "I <3 Dr. Girlfriend" anyone?), his "Worx Of Art" EP is the best introduction to the young man. His recent mix for FACT magazine shows he's no slouch behind the decks either.
02. Mount Kimbie


Most records released on dubstep imprint Hotflush are defiantly urban, but South London based duo Mount Kimbie stands apart from their label colleagues. The clue's in the name — Mount Kimbie paint woozy pastoral aural sketches as opposed to the grimy, paranoid sound of Scuba, Boxcutter et al. Mushrooms instead of skunk, you might say. Debut release "Maybes" was nigh-on perfect, particularly the Basinski-referencing "William," and follow-up "Sketch On Glass" (due shortly) should further cement their place in your heart. Lazy journalists will tag Mount Kimbie as Boards of Canada for the dubstep generation, but they're better than that. Look forward to a further EP on Hotflush later this year, and a debut album early next.
03. Wbeeza


Every other man and his dog in South London is cranking out increasingly derivative dubstep with a cracked copy of Ableton in a never ending how-low-can-you-go bass war, but 24 year old Bermondsey resident Warren Brown goes his own way. Although he's also credited with producing Giggs' grime smash "Ummm!", Wbeeza's main concern is house music; as he says, "Everything comes from the kick drum." Last year's "Heavy Stuff EP" was picked up by a number of influential DJs, including Panoramabar's Tamo Sumo, who included "Disco Dayz" on her LWE podcast. This year, he did one better with the outstanding "New Skank" EP. Again played all over the world by DJs including Delano Smith, Sascha Dive and Efdemin, all four bass-heavy tracks repay the faith that Third Ear Recordings have placed in him. As the back cover of the record proudly proclaims: "THIS IS THE HOUSE SOUND OF LONDON."
04. Dplay


Dplay, aka Dirk Gottwald, has been putting out records with his production partner Manuel Tur for some time now on house labels like Drumpoet Community and Compost Black Label. This year they've been badged as going solo, despite still sharing production duties. Confusing, eh? Anyway, Tur released his unripe debut album 0201 for Freerange Records, but it's Dplay's productions that have been putting his buddy's in the shade. The debut solo release "Huub Sand" (oddly still with Tur credited on production duties) is one of the year's best: a varied three tracker that we declared "the best techno record about football since Reinhard Voigt's banging 'Robson Ponte.'" Another strong release "Browse" (with a great Ribn remix) followed, and while the production credits remain confusing, the quality level is clear enough.
05. Black Jazz Consortium


While everybody else on this list is barely in their twenties, New Yorker Fred P(eterkin) has had to wait for his time in the spotlight. He's released plenty on Jus-Ed's Underground Quality and his own Soul People Music imprint, but 2009 has been the year his Black Jazz Consortium project has really taken off. The sublime CD album Structure is the place to start, with a smooth, deep house sound that is not without its melancholy moments, akin to some fantasy scenario in which Larry Heard remixes Lawrence. Those of a vinyl persuasion would do well to check the "New Horizons" EP with its standout "Watching You Vogue," which makes explicit the "jazz" part of his moniker explicit.